Calvin's Captains – Rd. V8
Swan is not #1… Yes, I repeat… Swan is not #1. WFT is going on? I tell you what, we have some interesting things to consider this week so go and see what Calvin has for you in the greatest DT captain write-up going around.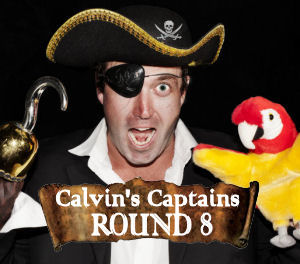 Last Week's Top 5
Dane Swan – 111pts
Garry Ablett – 134pts
Stevie Johnson – 102pts
Scott Selwood – 102pts
Scott Pendlebury – 96pts
Why Is Swan at #4?
Has the pirate gone mad? Are Calvin and Swanny having a lovers tiff? No. No. Everything is fine with my head and Swanny even understands the reasons behind my switch this week.
Firstly, as a captain hunting pirate I can't ignore the stats. I must make decisions with my head and not my heart… even though it hurts. Yes… it might back fire, but it all comes down to eliminating the risks. But stick with me as I will try to explain to you why I have Swan off my #1 spot.
Last year against Geelong, Dane Swan scored 116 and 95. The 95 was when he left the field with hamstring tightness in the 4th quarter but that score of 116, is his highest score against the Cats in his last 5 games. In 2011, he only averaged 89 on them which made them his worst team to play over the last 3 years. These are not nice numbers and it makes me feel sick typing them. Over those last 3 years, in the 8 games that Swan has played against them, he has only cracked the 100+ mark in 50% of the games. Compare that to other great team of that era and time period, such as Hawthorn where he has 7×100+ from 7 games and Sydney (3 from 3) and West Coast (5 from 6) and you can see my point.
Then we need to look at what Geelong have done to other teams over the last 5 weeks and how they have restricted the points in which they have given up. The top 3 scorers in opposition teams have averaged the following against Geelong in the last 5 weeks. Essendon (avg. 112), Richmond (avg. 104), Bulldogs (avg. 98), Sydney (avg. 109) and Carlton (avg. 106). It's clear isn't it… teams don't score well against them! But, at the end of the day… it's still Swanny, it's still the pig, my #1 man who we all love. He'll smash it back in my face I can feel it… but the above info is enough reason and justification for him to have a rest from my top spot this week.
Also in this game we have some other huge players of interest. Scott Pendlebury had 117 and 133 on Geelong last year and even had scores of 131 and 106 before that. He has 6×100+ scores on them in his last 7 games and should be good again. Stevie Johnson will run free again this week as Collingwood never really tag. He had 137 and 95 on the Pies last year and averages 114 on them in his last 5 games. Stevie has been on fire and scored 105 last week which happened to be his lowest score in his last 4 games this year. He averages 129 at the MCG in his last 3 games (and avg. 112 in 2012) with a nice 136 occurring there already this year. Seriously a good option this week based on his history against them and his recent form.
Last year, Ablett had 117 (29d) on the Bulldogs and even had scores of 118 (24d) and 115 (34d) in his first year as a GC Sun. Picken tagged him in all those games but I think this week the Bullodgs will use their #1 tagger in Lower and send Picken to Bennell who had 32d and a goal last week. Lower has been tagging ok, but not great. He had Swallow (80pts till injured) last week but Priddis (124pts) got away from him in Rd. 6, but he always gets the BIG jobs. In the last 7 games Gaz has played the Dogs, his lowest score is only 103 and this week he heads back to Metricon, a ground he averaged 116 at over his time as a Sun. He's averaged 122 in the last 3 weeks and even if he cops a tough tag… Gaz will tackle and has done over the last few weeks where he has had 6+ tackles in 4 of his last 5 games. Safest option, against a dud team on his home track. Done.
Just Quickly…
Dean Cox  – Averages 121 in his last 3 against the Roos with 104, 148, 110, 142 and 125 happening in his last 5. BOOM. He had 82pts last week from just 10d and a groggy head. Big roughie!
Sam Mitchell  – 11 Hawks had 100+ last time they played the GWS and Sam was one of them with 106. He's at Aurora where he averaged 127 in 2011 but hasn't been that impressive there recently with just 88 in his last. Tempting though.
Matthew Boyd – 128 on the Suns last year with scores of 136 and 125 before that. But with scores of 80 and 65 in the last 2 weeks we have to pass. Boyd averaged 115 last year compared to 86 in 2013. He'll come good and it might be this week.
Patrick Dangerfield – 141 and 145 in the last 2 weeks, but Danger hasn't scored a 100+ score on the Saints in his career of 8 games. YUCK. Last year he even avoided the Clinton Jones (went to Sloane) for just 79… this was his best score against them – EVER. Numbers say PASS.
Jobe Watson  – 112 last week from 30d and even had 134 on the Lions last year which was his best score for the year. But those yucky numbers he's had this year do turn me off.
Scott Selwood – averaging 119 in his last 3 games this year and plays at home where he has scored 119 and 127 in his last 2 runs there. Meets the Roos this week.
Lance Franklin – he had 72pts (4 goals) on the GWS last year before being subbed out. Tom Lynch (who?) kicked 10.2 goals on the Giants last week for 165pts. Surely Buddy can kick 27? Another huge roughie that might have 250 million points.
Juicy Options V Melbourne
Anyone playing Melbourne is a great option and this week it's Richmond's turn to cash in. Last year Trent Cotchin scored 106 and 110 on them but didn't play last week. He's form has been very average as well with scores of 84 and 62 coming in his last 2 games. Brett Deledio managed 105 and 109 last year but it's Dustin Martin that has caught my attention this week. Ok, so he only had 64 on them last year with a highest score of only 94 on them in his career of 5 games but it's what he does to teams when the Tigers dominate which has got me excited. Richmond have had 2 'big' wins this year and Dusty cashed in on them both. When they thrashed the Dogs he had 144pts and when they beat Port by 30+ last week… he had another 144pts. Seriously, he sluts it up in these games and should be good again with the Demon taggers (Dunn and McKenzie) surely going to Deledio and Cotchin.
Good luck and follow me for more captain info and for if I ever change my top 5 and for my Tuesday night teasers – @CalvinDT
Who will you have as your captain for the legendary, Round V8?
Gary Ablett (53%, 1,862 Votes)
Stevie Johnson (9%, 303 Votes)
Dusty Martin (12%, 413 Votes)
Dane Swan (10%, 364 Votes)
Scott Pendlebury (2%, 61 Votes)
Cotchin or Deledio (2%, 83 Votes)
Dean Cox (1%, 41 Votes)
Buddy Franklin (7%, 240 Votes)
Someone Else (3%, 115 Votes)
Total Voters: 3,482
Loading ...