The Numbers – Round Seven
It's Tuesday, which means it's time for The Numbers to hit your screens. Read on for the only weekly review of its kind on the inter webs.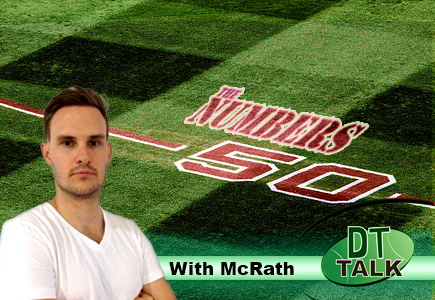 Round 7 has come and gone, with a Monday night game following a cracking weekend of games. There were some massive figures on offer for me this round, which always gives me a bit of a smile. Something about an event that makes you think "that has to go in The Numbers" makes it all the more special (for me anyway).
4 – As a Blues fan, I can't not say something about the elephant in the room that is last night's game. For pretty much the entire game against St Kilda, Carlton were walking wounded as the subsequent lower rotations slowly took their toll. At one point, there were no fresh players on the bench as Hamstring injuries to Ellard and Yarran; whilst Simpson (face gash) and Jamison (shoulder) were forced to play on despite their struggles (four being the number of injuries they had to withstand). To still force a fightback in the fourth quarter with something like 50 less rotations was a testament to their grit and Malthouse's coaching influence.
43 – This number is courtesy of @j_nusk on Twitter and is the % of stand-in hero Tom Lynch's career goals were scored on the weekend against GWS. Prior to this week, he'd kicked a total of 13 goals since his debut in 2010 with the Saints. But after his 10-goal heroics on the weekend, his career tally has almost doubled. Whilst this obviously won't happen every week, he's proven a very handy DT player in 2013 to date, with scores of 90, 82, 82 and now 165 in his four appearances for the season. Just image what Buddy will do to GWS this week – boy do they need Phil Davis back and fast.
116 – Total AFL Fantasy points that North excitement machine Majak Daw had scored prior to R7. He easily beat the total of his previous three games in one fell swoop on the weekend as he led his team to a 54 point victory with 15 touches, 8 marks, 6 tackles and a huge 128 points that was only truly overshadowed by Tom Lynch's insane 10 goal hit-out against GWS on the weekend. Cue Daw pun-related headlines now.
99 – Problems that Melbourne have right now… and the coach aint one. Actually he's a problem too. So we'll round it off at an even 100 then. This club is in such disarray, it's actually saddening. I truly feel sorry for their loyal supporters. When should the AFL step in? My answer would be yesterday. They need outside help and now. Sure, it's all of their own doing as a result of bad decision making over the past 5 or more years regarding their trading, drafting, captaincy choices, coaching and general attitude. But it gets to a point where it's making the game look bad – actually it may well have past that long ago. Andy D – stop smoking that cray cray stuff that Stevo Dank gave you last month and do something about this before the Melbourne Footy Club brings the rest of the league down with them. Disclaimer: I'm not saying they need more draft picks/concessions – just some kind of intervention. I don't have a suggestion, nor do I get paid to give my opinion so I'll just leave it at that and let the powers that be decide.
118 – Yet another of the promising rookies coming through, Sam Kerridge also had a career-best game on the weekend and would be stiff to avoid a more-than-worthy Rising Star nod with his 118 points on the weekend. He is likely, however to be pushed aside by the goal-kicking feat of Majak Daw. Talk about bad timing. Here's hoping the kid gets a decent run in the seniors and gets another chance to put his name fwd for a rising star nomination – he definitely has talent.
25, 837 – Amount of coaches sweating on the knee scans of one Andrew Swallow. At risk of becoming another to fall to the injury curse of the knee variety, North fans and DT Coaches alike will be awaiting the news with open ears. Swallow himself seemed confident of playing again this week, so it may simply be a case of a 1-week rest at worst ala Trent Cotchin from this week (who has since been noted as likely to play in R8). With two others falling this weekend to serious knee injuries (Jon Griffin and Chris Knights) – the footy gods have not been kind to footballers in 2013. Let's hope the gods get it out of their system in time for the MBR's. There's enough carnage with withdrawals and bye's, let alone having LTI's to worry about.
Whore of the Week
Dustin Martin, welcome to the big time. After an up-down start in 2013, many questioned whether he would deliver on his pre-season promises and finally step up this year. 33 disposals (including 23 kicks), 13 marks, a few tackles and a goal combined for a whopping 144 points in Round 7 against Port Adelaide. In a game some thought Port would win, Martin and Deledio worked brilliantly through the midfield to give their forwards the platform to win the game comfortably and put themselves back inside the top 8. Now boasting an average of 103, Martin gets his second wotw nomination inside the first 7 rounds, as well as some well-deserved respect on the back of his positive form. I'll stop short of saying he's 'must-have' but with a game against the lowly Demons this week and Essendon the week after, he should be at the top of your shopping list if he isn't already.
Highlights – Dangerfield (141), Goldstein (127) and Gary Ablett (134) performed well in a week with many ups and downs. The round was perhaps typified by some amazing rookie scores of Vlastuin (101) and Daw (128), whilst those few who have Tom Lynch would've been going crazy with his huge 165 lighting up Skoda Stadium. Deledio (134) and Martin (144) were brilliant, too.
Lowlights – Hamish Heartless and the Portletts (his band of outcasts) are past the point of frustrating their owners now, whilst Jakey Neade's run of solid scores finally crashed to a halt with his 24. Premiums continued to frustrate with Boyd (65) and Swallow (injured for 80) having a turn this week. Whilst not playing, popular guns Gibbs, Stanton and Cotchin were sorely missed and will hopefully make a positive return to their respective teams in Round 8.
Team McRath – After the Port game, I was just about gone  for all money. But a few big games from Gaz, Danger and Rocky pushed me up to a respectable 1991 for the week. With Goodes and Stanton to come back in, as well as Dwyer finding form, our boys are looking forward to a great week (touch wood) with some big inclusions (here's looking at you Buddy).
How did you do? Discuss Your Numbers in the comments below or hit me up on Twitter @McRathDT.