The Draft Files – Round 7
Welcome to the Round 7 edition of The Draft Files! Things are drying up in the Free Agency Pool, but hopefully you have enough depth to deal with the carnage being sent our way over the past fortnight. If not, have a close look at some of the options outlined inside!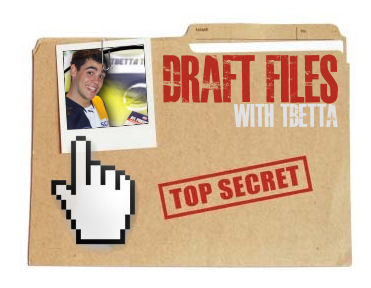 Welcome to the Round 7 edition of The Draft Files! Things are drying up in the Free Agency Pool, but hopefully you have enough depth to deal with the carnage being sent our way over the past fortnight. If not, have a close look at some of the options outlined below!
Note: All references to leagues are based on a standard 12-team H2H Ultimate Footy league, with a 5-7-1-5 on-field structure and Captains disabled. All position eligibilities and ownership & drafted statistics are sourced from Ultimate Footy at the time of writing. If your League varies significantly, adjust the advice in this article accordingly.
Scorecard
It's fair to say that Round 6 was carnage for both salary cap competitions as well as draft-style leagues, and this extended to the fringe players I suggested in last weeks' Draft Files. We had a disappointing pass rate of 28% from last week's Under 500, a low percentage which I expect won't be too rare for the rest of the season, as the value in the Free Agency pool reaches equilibrium. Here's a quick snapshot of the scorecard from Round 6:
Obviously, that's some pretty lacklustre stuff from a bunch of players that we expect more from. Terlich with a career-low blind-sighted me, but Max Bailey's late withdrawal (something he's done a few times in the past couple of years) combined with his history of substitutions basically put a thick line through him as a fantasy option heading forward.
On the other hand, I was very happy with the output from Kane Lucas and Brandon Ellis. Both youngsters repaid the faith, and look like excellent long-term options – particularly Ellis, who has the added bonus of being 'Back' eligible despite running almost exclusively through the guts recently. With a three-round average of 86 for Lucas and two-round 85.5 for Ellis – hold tight and don't let go.
Positional Changes/Theory
As you should know by now, every 3 weeks the Ultimate Footy Gods release updated positional eligibilities; usually for those players who have shown a significant shift in their role to date, with solid evidence that it will continue in the future. A few weeks ago I outlined how these nifty little updates can improve your side – here's a snippet explaining just that:
"Last season I had Hamish Hartlett in my squad as a 'C' only. He wasn't scoring well enough to earn a starting gig in my squad, confined to the bench every week as an emergency. Due to his role in defence for Port, he was updated to B/C status, instantly becoming a Top 3 Defender in my side. By moving him onto the field and removing my worst defender, I was able to gain 20-30 points a week without actually changing my squad."
This sneaky little manoeuvre is based on the assumption that the midfield exhibits more depth than other positions – which we're definitely seeing at the moment (with backmen, particularly) and you can see this from the table below. Note: based on standard league configurations (5-7-1-5 starters) and removing LTIs.
As you can see, Defenders are the shallowest position in draft-style competitions. It might not seem like the Midfield is far behind (just 1.3 average points ahead), but with a plethora of Mid/Fwd options available, you can often easily bring in a decent DPP option like Leigh Adams (70.3 avg in L4) rather than someone like Carlisle (64.2 avg but just 49.7 in L3) off your bench to assist.
So, who benefits from these new updates? Below is a list of players who've had their statuses upgraded:
We can generally ignore players who've had 'Centre' eligibility added, because you'd likely be playing these guys in their 'lower' position anyway. That leaves the big winners as Corey, Petterd (both not playing this week – ouch!), Macmillan, Picken and Prestia owners, who can now strengthen their backline considerably. With the exception of Prestia, those players were all questionable starters in their original positions, yet will all slot in comfortably into most backlines. The additions of Gawn and Daw to the forward line doesn't affect us a really – not many would own these pinch-hitters anyway (31% and 29% owned, respectively), but it does have the benefit of providing you with dual cover in the likely scenario that you'd be using them as Ruck insurance.
Under 500
I'm sure I'm not the only one finding it tough to uncover diamonds in the rough that is the Free Agency pool these days, and the following players highlight that phenomenon. Waiver trawling has slowly evolved from being a high-value exercise into a 'Hail Mary' mission – many of the players left on the Scrap Heap are unlikely to feature in your squad for too long unless something significant affects their personal situation or you run into a stack of injuries.
I, personally, was one coach left combing the Free Agency Pool this week for a starter (Gibbs, Gilbert and Petterd are the notable absentees from ArmaRedden this week), so I know how much these kinds of things can sneak up on you. If you're desperate like me this week, here are the players currently under 50% ownership that I've earmarked for possible acquisitions.
BAC:
B. Smith (B/C, 67.0 avg, 40% owned)
Brodie Smith is the kind of player that's just as likely to throw out a 50-point score as he is a 90-point total. Fringe players often have that unfortunate quality, but I hold high hopes from the Crows rebounder. He's been playing defensive roles since coming back from injury and has scored 60 and 74 in those games; but I've noticed he's been named on a wing this week and I'm optimistic that this will translate to a more attacking role soon, and by extension, more fantasy points. Still available in 60% of leagues.
CTR: C. Smith (C, 73 avg, 45% owned)
Like his namesake above, Clay has the tendency to produce low scores, but unlike Brodie, it's usually due to being substituted. At a glance he only averages 73 points, but his scores when not the substitute are very impressive: 105, 80 and 103. The kid has fantasy written all over him, and it's interesting to see that he kept his spot this week while other youngsters like Macrae, Stringer and Stevens were omitted ahead of him. If Clay is available, I'd jump on in the hope that he can continue to avoid being subbed out of games.
RUC:  J. Redden (R, 34.5 avg, 15% owned)
The best possible scenario for Redden has come to fruition: he's been given a game, while both of the ruckmen ahead of him in Round 6 have been dropped (Renouf and Lobbe). Chances are that this little coup isn't on your fellow coach's radars, so if you're looking for a cheeky ruck emergency, then Redden could be your man in the mid-term – provided he performs as the sole ruckman this week.
FWD: C. Dawes (F, 43% owned)
After hearing news of his impending inclusion earlier in the week, I quickly jumped on Dawes in my own league. There is no guarantee that he'll average enough to become a starter – he could fit in perfectly at the Demons and produce squat – but he has excellent job security and the potential to put up 80-point scores when he's on-song, and that's enough for me. He averaged 72 points per game in 2011, which is usually enough for a starter in standard leagues.
DEMONS: M. Shaw (B, 67.0 avg, 26% owned)
Unfortunately Shaw was snapped up in my league, because I would have been all over him in the midst o this rich veign of form. He's ticking all the boxes; Form  – tick (notched scores of 99 and 88 in the past fortnight), Role – tick (named on the wing after running through the middle recently) and Opposition – massive tick (coming up against the helpless Demons in Round 7). It's far from a sure thing, but he's only of the decent options still sneaking around on the scrap heap.
SNEAKY: J. Gwilt (B, 76.0 avg, 24% owned)
As I mentioned earlier, I was looking for a Defender to start this week and I landed on Gwilt. I actually picked him up earlier in the season when I noticed his role had become much looser than in the past (Fisher more lockdown freed him up, perhaps?), but had to let him go when he injured his knee. It was only one game, but 76 points from him was promising and something I hope he can replicate this week against Carlton – particularly with Gilbert on the sidelines, who's been an effective user for the Saints off half-back lately.
ROUGHIE: T. Adams (C, 66.0 avg, 43% owned)
Taylor Adams is your classic speculative pick. One score of 120 has everyone jumping on in the hope that he will push on with this form, a why not? It's a long shot, but players like Palmer (87, 104, 88 in his last 3) and Spurr (95, 84 in last two) have shown that it's possible. A strong outing against the Crows this week will solidify his job security and hopefully have him scoring 80's in the weeks ahead. He's definitely capable of it – his last three scores in 2012: 96, 105 and 78.
That's it from me this week. There's still a bit of time until lockout, so hit up the comments on here (or @Tbetta9 on Twitter) if you have any last minute Add/Drop or Bench/Play dilemmas. Good luck!