Jeppa's Juniors – Round 6
Here's another complete rookie review from last weekend's action. In this article, Jeppa takes an in-depth look at those rooks on the bubble as well as who to keep, hold and trade out of the three-or-more gamers. Enjoy.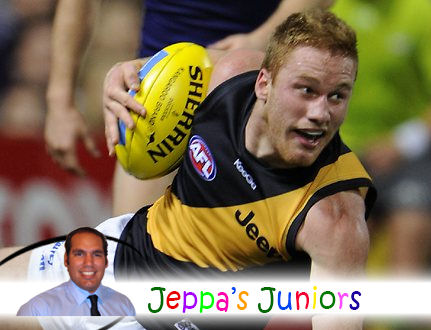 1,647. That's the number of ridiculous 'in the back' free kicks paid so far this year and it was also my Round 6 score. Everything that could have gone wrong did go wrong and it doesn't look like there will be any short-term relief. Injuries to Grimes, Stanton, Maric and Waters and the high breakevens of Westhoff, Cotchin and Franklin means that most of us will make at least one forced trade.
Vlastuin is the only rook on the bubble worth considering this week so you may want to think about trading in undervalued premiums like Daisy, Dangerfield, Bartel and even Joel Selwood to make a bit of coin. Trade for the long term and not the short. Pay attention to the bye rounds and ensure that you have a healthy cash balance to increase your trade options the following week because there's nothing worse than falling just short of an ideal trade.
To help you with your trade decisions, here's my take on the 'juniors' from Round 6…
Three-Or-More Gamers
KEEPERS
One of the few highlights from Round 6 was the performance of Matt Jones (MID, 104, $306,600 & BE 19). Like he has done all year, Jones battled hard for his team and continually ran to space to win the footy. He's an important member of the Dees midfield and has been named in the bests 3 out of 6 games. If Jones maintains his average of 78 then he'll top out at $400,000 so I strongly suggest keeping him for a while yet. The same goes for fellow Demon, Michael Evans (MID, 84, $244,300 & BE -1). After a slow start, Evans scored 62 in the second half to put a smile on the faces of his owners. Evans 80 average makes him one of the highest scoring rookies this year so don't be shy to start him on the field this week because he goes up against a young Suns midfield.
Jaeger O'Meara (MID, 98, $323,000 & BE -14) is killing it on the field at the moment and it's no secret that his recent high scores have been timely. Don't trade out O'Meara till after the bye rounds. Sam Kerridge (FWD/MID, 70, $156,000 & BE -4) was big in the last quarter when the game was in the balance and his performance on the weekend convinced me that he will be in the Crows senior line-up for a while yet. If you don't have Kerridge, don't rule out trading him in just because he's already had a price rise.
DON'T PANIC
Ollie Wines (MID, 72, $370,100 & BE 84) continues to play an inside midfield role for the Power. If you want to maximise the earnings from Wines then entertain the option of trading him out but keep in mind that he has a high ceiling and even if he does drop in value this week, it won't be by much. Brent Macaffer (FWD, 59, $233,000 & BE 24) was surprisingly used as a tagger against the Saints and it paid dividends. He was named in the bests for the Pies after keeping Dal Santo to just 16 possessions. I suspect Macaffer will play a similar role and be exposed to more midfield time in the rounds to come.
Mark Blicavs (RUC/MID, 65, $169,900 & BE 18) played the best game of his short career last weekend and looks to have one more decent price rise in him before he makes way for Nathan Vardy. Hold on to Blicavs this week but look to trade him out in Round 8. Max Gawn (RUC, 40, $156,000 & BE -2) was quiet up forward but didn't have a whole lot of opportunities. With Dawes likely to play this weekend, a lot of the attention will shift away from Gawn so I suspect that he'll improve on his current average of 60.
Brisbane got completely outplayed by last year's premiers and as a result, Sam Mayes' (FWD/MID, 65, $277,600 & BE -5) and Marco Paparone's (FWD/MID, 32, $141,900 & BE 10) scores were well below their potential. The Lions come up against the loose checking Eagles and Bombers over the next two rounds so expect better scores out of these two. Dean Terlich (DEF, 41, $236,800 & BE 20) was also disappointing but he did have his hands full minding Yarran and Betts. He'll have a better outing against the Suns this weekend.
The smooth moving Jackson Macrae (MID, 58, $181,400 & BE 29) performed pretty well against the Eagles and it appears he's getting better with everything game he plays. The Bulldogs need to expose their young pups to the AFL if they're going to improve so don't worry about job security, but be aware of those dreaded rest periods. Jake Neade (FWD/MID, 55, $242,200 & BE 26) and Jackson Merrett (MID, 68, $227,200 & BE 7) continue to play a role for their respective sides and that shouldn't change in the short term. Keep Neade and Merrett for a couple more rounds yet.
In my opinion, it's too early to offload George Horlin-Smith (MID, 18, $217,200 & BE 35), Jake Stringer (FWD, 22, $166,500 & BE 23), Kane Mitchell (MID, 38, $131,800 & BE 5), Nathan Wright (DEF, 38, $144,000 & BE 1), Josh Thomas (MID, 70, $150,000 & BE -16), Sebastian Ross (MID, 54, $155,800 & BE 1) and Majak Daw (RUC, 54, $129,300 & BE -13) so keep them for now and enjoy the steady earnings.
TRADE, TRADE, TRADE
Port's defender rooks struggled to win the footy against the Roos and failed to run the ball out of the backline with any conviction. Lewis Stevenson (DEF, 33, $242,900 & BE 35) was tagged by Sam Wright, Campbell Heath (DEF, 40, $253,900 & BE 47) was more worried about stopping Daw than winning the footy and Cameron O'Shea (DEF, 52, $286,600 & BE 36) drifted in and out of the game. With Trengrove out for a while, Heath becomes a key member of Port's back six so trade out Stevenson before Heath. A popular and sensible trade this week will be Stevenson to Vlastuin, assuming Vlastuin is named!
Nic Nat is back and unfortunately Callum Sinclair (FWD/RUC, 47, $209,600 & BE 15) will be dropped for team balance. Sinclair was very good against the Bulldogs before being subbed out in the third quarter and it's a shame that he wont get more of a go because he's proved that he's got what it takes to play at AFL level. Sam Dwyer (FWD/MID, 42, $229,700 & BE 52) was poor against the Saints and hasn't scored over 50 in his past two matches. I suspect that he'll either be dropped or cop the green vest this week, so avoid the carnage and look to upgrade him to Daisy if you can.
Less popular selections like Dane Rampe (MID, 42, $145,200 & BE -7) and Luke Brown (DEF, 36, $182,800 & BE 57) don't look like hitting big scores so you may want to consider trading them out sooner rather than later because they may become dead wood in the rounds to come.
Two Gamers
Nick Vlastuin (DEF/MID, 78, $147,700 & BE -38) played through the midfield against the Cats and finished with 8 kicks, 12 handballs, 4 marks and 5 tackles for the game. He did make a few skill errors but you can't fault his second and third efforts. I don't want to jinx it but don't be surprised if Vlastuin is dropped this week for Tuck or Foley after both were named in the bests in the VFL last weekend. Richmond could do with the addition of these experienced midfielders especially after they struggled to win the clearances against the Cats. Fingers crossed Vlastuin continues to play because he is the only rook on the bubble that has any potential.
If you want a unique forward backup then trade in Hayden Crozier (FWD, 70, $175,200 & BE -14). Crozier had 11 kicks, 3 handballs, 2 marks, 3 tackles and two very good goals against the Suns. He's a skillful kid that plays forward of centre but has been in and out of the Dockers 22 so far this year. Approach with caution if Crozier is named this week. Crozier's teammate, Jack Hannath (RUC, 48, $102,700 & BE -8), performed significantly better in his second AFL hitout. He's not dominating the stats but on Monday night, Ross Lyon had nothing but praise for Hannath during his interview on @6PRSportsToday. His ability to compete in the air makes him a required player at Freo with all their injuries so if you have a spare trade, consider bringing in Hannath.
Josh Saunders (DEF/MID, 41, $102,700 & BE -16) and Justin Clarke (DEF, 40, $108,500 & BE -9) did little in their matches and are on the cusp of being dropped. Clarke will soon make way for Goose Maguire and Watters apparently doesn't gift games to youngsters (source). Zach Williams (MID, 24, $89,300 & BE -15) and Brodie Murdoch (FWD, 7, $102,700 & BE 22) were green vested in their games and are in the same boat as Saunders and Clarke. Pass on all four.
Please note that Sam Docherty (DEF, $108,500 & BE -12) is still on the bubble after playing two games this year and should earn a recall after his BOG performance in the reserves last weekend. Rory Laird (DEF, $108,500 & BE -53) could also find himself back in the seniors after overcoming a corked thigh. If I had to decide who to trade in between Docherty and Laird, I'd pick Laird.
One Gamers
Jesse Lonergan (MID, 50, $129,700 & BE -20) caught my attention after he laid a very solid bump on Crowley in a marking contest. This hard nut played as an inside midfielder and although he looked quite comfortable amongst the bigger bodies, Lonergan did at times appear 'lost' out on the field. Sure, Lonergan only scored a 50 but some leniency has to be given to a player in their first game. In my opinion, Lonergan is in the Suns best 18 so it would be foolish not to trade him in this week or next.
Running half back, Will Sierakowski (DEF, 41, $108,500 & BE -15) tried hard in his first outing against the Power but had little influence on the game. His job security is a huge concern and the last thing we all need is more defenders out! I'd stay away from Sierakowski but if he scores 80+ this weekend then I may reconsider. Fellow rookie defender, Aidan Corr (DEF, 26, $125,200 & BE 25) also struggled to rack up the Dream Team points after managing a mere 26 from a full game. With Phil Davis expected to miss another 5 weeks with a back injury, Corr is a likely suitor so if he gets his hands on the ball a little more then he might be a worthy pick.
Big man Jarrod Witts (RUC, 34, $108,500 & BE -1) was an imposing figure in the ruck but lacked skill around the ground and as a result was subbed off in the third quarter. For a bloke who is 6ft 10 inches tall, Witts didn't have the influence up forward that he would have liked but to be fair his teammates didn't really kick it to his advantage. It's obvious that the Collingwood hierarchy is giving Witts some exposure to AFL to help fast track his development. Witts wont be a regular feature in Collingwood's best 22 so stay away.
Dean Kent (MID, 29, $102,700 & BE 5), Ben Kennedy (FWD/MID, 27, $102,700 & BE 9), Jaryd Cachia (MID, 27, $111,300 & BE 15) and Jed Lamb (MID, 25, $108,500 & BE 17) all started their respective careers in the green vest. Out of these four, Ben Kennedy looks a likely type and I thought Jed Lamb played very well in the limited opportunities that he received. Hopefully, a couple of these young guns get a longer go at it in Round 7.
Keep Your Eye On
There's not a lot of excitement coming from the 'juniors' yet to play a game this year. Viv Michie (FWD $108,500) and Tom Mitchell (MID, $108,500) are outside chances to debut after both performed well in the reserves but that's about it.
Got a question? Ask me on Twitter @JeppaDT.