Calvin's Captains – Rd. 7
After one of the shittest weeks I have ever witnessed in Dream Team, it's nice to know that the week is nearly gone and we can start fresh. Picking ourselves a great captain is one of the best ways to do it. So let's get going and find out what rippers I have for you this week. Argggg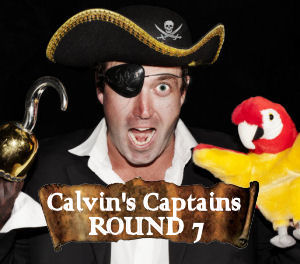 After one of the sh*ttest weeks I have ever witnessed in Dream Team, it's nice to know that the week is nearly gone and we can start fresh. Picking ourselves a great captain is one of the best ways to do it. So let's get going and find out what rippers I have for you this week.
Last Week's Top 5
Dane Swan – 106pts
Gary Ablett – 101pts
Marc Murphy – 124pts
Brent Stanton – 51pts
Steve Johnson – 136pts
Does Crowley have Swinophobia?
Ok… here we are again Mr. Crowley. You and me. Head to head. Captain Vs tagger. Pirate Vs DT wrecking jerk. Oh ok, that's probably a little harsh. Ryan Crowley can play and more importantly here… he can tag. We all know that but the biggest question is… who will he tag this week against Collingwood on Saturday night and does he have Swinophobia and will he stand with the Pig?
To answer my question, which I have asked many… I don't think so and here is why.
Over the last 2 games against Collingwood, Crowley has gone to Beams (113) and Leon Davis (76). Pendlebury, never played the Dockers in 2012 but did have a huge 145 on them in the year before. He was brilliant last week with 28d but damaging with his 2 goals. He is my first pick to receive the tag. Second on the list would be, Daisy Thomas who dominated off back half last week with 34d with 28 of them being uncontested! If he is playing that floating role… there is no way Ross Lyon will just let him run free. Maybe a job for Matty DeBoer, but at the end of the day, he's back in form and needs to be monitored.
Dane Swan last week only had 26d but did 'pig out' with 11 uncontested piglike marks (106pts). Far from damaging and that's way I feel that the other 2 guys mentioned above will get the tag ahead of him and Swanny will run free like he did last time he played them when he had a huge 172pts (43d). Before that he had scores of 125*, 131* and 158. He had 119 in his last game at Patersons and like many midfielders… he loves it there as he has averaged 125 in his last 3.
So is Ryan Crowley allergic to bacon? Or does he have Swinophobia? Let's hope so! AND… for the record, yes it is a real word… Swinophobia = phobia of pigs. Thankyou very much.
*Night games at Patersons, like this week!
Oh me oh my! Have a look at that! Not the great image from Paint Shop Pro, but the stats that are on it. Yep, last year Gary Ablett had 43d, 9m, 8t, 2g against the Hawks. 33d, 7t against the team he plays this week (Melbourne) and 53d, 9m, 7t against Collingwood. Those numbers are truly amazing and it just shows that when Ablett comes back to the MCG he really turns it on. He plays Melbourne. One of the easiest teams to score on and he has done well on them in the past with scores of 130, 96 and 124. He racked up a solid 101 last week with Crowley on his tail and is carrying an average of 117 over the last 3 weeks. Marc Murphy (124) and Rocky (125) found plenty of it against the Dees in recent weeks and Gaz should dominate again. An interesting stat I have for you is what Ablett averaged against top 5 teams last year compared to the bottom 5 teams. Amazingly, he averages 114pts a game against the duds and a huge 144pt average against the best. Mad hey? The thing to watch this week though is Lynden Dunn. He gave Juddy (51pts) a hella good tag last week in his second game for the year. He will be named again and given a similar job this week (or it will be McKenzie). Either way, Melbourne suck (check out Nix's work) and Gazza is awesome. It's as simple as that.
Just Quickly…
Stevie Johnson – On the radar with 141 and 136 in the last 2 weeks. Averages 114 on the Bombers in his last three with scores of 107, 110, 125, 96 and 132 in his last five. Should continue his awesome run.
Justin Westhoff – I don't think so you muppet. #tradebait
Scott Selwood – Is averaging 127 in his last three games this year after having 119 last week, his lowest score in his last four games. The dude is on fire, even though he only had 93 and 76 on the Lions last year (different man though). Form says YES if he has recovered from his calf issues.
Trent Cotchin – 62 and 84 in the last two weeks. Plays Port this week but…. no thanks
Dean Cox  – 107 and 101 last year against Brisbane but Mumford only had 74 against L'Berger last week. Roughie maybe, but we have way better options this week.
Brent Stanton  – Injured for just 51 last week. Might not even play.
Patrick Dangerfield – Killed it last week but only had 66 and 76 on GWS last year and after what they did to Jobe… it's way too risky.
Jobe Watson  – Headshake at your 54 last week. Give yourself an uppercut.
Brett Deledio –He only had 77 on Port last year and has had nothing over 85 in his last 3 games for 2013. Yuck, yuck, yuck. Will be a bargain soon (along with Cotch).
Travis Cloke  – Just 42 on Freo last year but did have 3×100+ scores on them in his three games prior to that. Jack Riewoldt only managed 49pts on them recently though. Not for me.
Kane Cornes – Will he ever flop? 100 and 108 in his last two this year and even had 109 on Richmond in 2012. Surprisingly…. he should get it done again!
Marc Murphy – 124 last week but only has 1×100+ score on the Saints in his last seven. Nah!
Jimmy Bartel –  Loves playing Essendon and has had 82, 137, 114, 117 and 136 in his last five against them. Looking good JimBob.
Good luck and follow me for more captain info and for if I ever change my top 5 – @CalvinDT
Who will you have as your captain for Round 7?
Dane Swan (35%, 1,027 Votes)
Gary Ablett (55%, 1,625 Votes)
Stevie Johnson (3%, 94 Votes)
Scott Selwood (1%, 44 Votes)
Scott Pendlebury (2%, 59 Votes)
Someone else (3%, 90 Votes)
Total Voters: 2,938
Loading ...