The Numbers – Round 6
Fresh from a trip to Melbourne and a first-hand view of many AFL Fantasy stars, The Numbers have dropped for Round 7.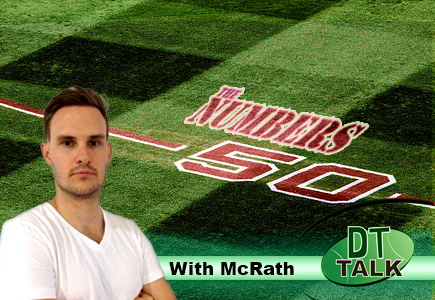 I'll keep it short this week, with a trip to footy's capital hanging over me and a blessed Monday off work (spent mainly in transit) the catalysts behind the shortened version of The Numbers for what was another troubling week in the world of AFL Fantasy. So let's start with one of the massive, bearded elephants in the room…
1 – NUMBER of seconds fast-fading forward Justin Westhoff spent in my team (and many others) after lockout ended on Monday morning. Dropping $50k this week, many coaches (myself included) have likely already replaced him with Dale Thomas whilst pocketing (ironically) a nice $50k in the trade. Mark my words: DO NOT hold him any longer. Westhoff should be your #1 priority on the trade table this week (barring long term injury). If anyone deserves a visit from Chopper, it's this guy. Can we make it happen Roy, Warnie?
4 – THE specific number of letters that, when placed together combine for a popular profanity that would have particular relevance following the news that gun defender Beau Waters would be a late withdrawal on Sunday. Even more annoying for those who had just traded him in (with no bench cover in many cases I might add). Oh, did I mention that he'll now miss this week too? Don't shoot the messenger.
6 – TRADES I wish I had this week as several issues have arisen that are screaming for me to fix. With many rookies approaching their peak BE/price trade-off; and several planned trades I'm wanting to execute, there are simply not enough trades on the table to fix them all. Whilst I've been generally nonchalant about the 'use-it-or-lose-it' trading system, I'm bloody thankful for it so far this season. Additionally, to fix my team I'd also need $2m in cash and a squad that doesn't have holes in it to the magnitude of Jeff Gieschen's lies.
8 – GOALS scored between in-form goal-scoring Carlton dynamos Eddie Betts and Jeff Garlett. Against a borderline-uncompetitive Demons outfit, the goal sneaks had a field day, enjoying the added freedom given with the successful return of spearhead Jarrad Waite, who chipped in with 10 marks and 2 goals of his own. Too bad his return was short-lived following a certain 'headbutt' on Joel MacDonald. Should the Blues have won by more than 10 goals? Probably. Will they take the four points and newly-found top-8 position on the ladder? Absolutely!
78,100 – AMOUNT of money that was 'lost' as a result of a certain 'safer' trade that was completed on Friday. In a move that could've made you $300 and brought in a fantasy stud in Stevie J for topped-out Westhoff, the backline carnage ruined this plan for many (myself included) – instead seeing many ditch premium defenders to plug holes and avoid singular donuts. Given the man many brought in (Hartlett) had a rubbish week, the following number has spawned…
Number of the Week
71 – ADDITIONAL points you would've had if you had copped a donut in the backline and kept Gibbs, Heppell and Goodes, instead choosing to ditch Justin Westhoff for Stevie J – gaining the 136 points that came with him. The example I'm using relates to myself and many others – in going Gibbs>Hartlett, coaches effectively got his 32 points along with Westhoff's 33 (totalling 65). Hindsight you wonderful son of a bitch, you strike again.
Whore of the Week
AVERAGING 82 points prior to Round 6, Patrick Dangerfield finally exploded in 2013 with a best-on-ground 35 touch, 8 mark, 2 goal and 145 point game on Saturday afternoon against the Hawks. I'm bloody glad I didn't trade him out now – was worth the wait! Now the task for him is to use this game as a platform for him to launch his assault on this season.
Highlights – Those who've kept Scooter Selwood would be smiling with yet another cracking performance as he now averages 113.7 for the year (4th overall). Cats duo Bartel (138) and Johnson (136) were fantastic against Richmond, whilst young-gun Jaeger O'Meara continues his swift rise with a 98-point score to average 86 in his debut season.
Lowlights – Stanton and Grimes' sub-age and subsequent injuries; followed by several low scores by popular premiums Hartlett (32), Cotchin (62), Watson (54) and  Birchall (50) typified a horrible round for all (only one coach managed over 2200 for the round). The Hoff's second sh*te score in two weeks has sealed his fate, whilst his fellow teammates and Port defensive rookies' time appears to be running out with the highest being Heath (40).
Team McRath – My biggest issue becomes who else to ditch this week as Daisy Thomas is already in my side at the expense of the Hoff. I managed 1,854 for the week, which usually would be disastrous – but it seems 1,900 was a solid score this week with most copping the same carnage. I'm slowly climbing the rankings whilst trying to stick to my plan with all of the injury/suspension issues presenting themselves.
How many issues do you have to fix this week? Are the DT Gods stopping you from sticking to your plan? Let us know Your Numbers in the comments below. Alternatively, tweet me @McRathDT.