Trigger Happy: Round 6 – The defender edition
This is the sort of round that sets the men from the boys. The good from the bad. The Johnson's from the Westhoff's. This is the first week of DT that we have a decisions which can start to make or break our season and we have to actually think about our trades.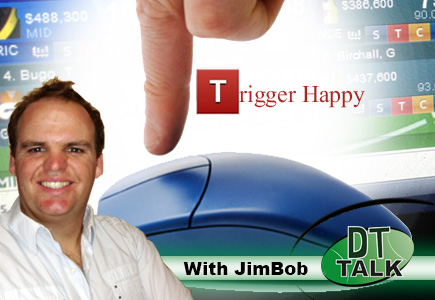 This is the sort of round that sets the men from the boys.  The good from the bad. The Johnson's from the Westhoff's. This is the first week of DT that we have a decisions which can start to make or break our season and we have to actually think about our trades. Will you make a short term band-aid solution to get you through the weekend or maybe cop something less sweet knowing you'll l be better in the long run? Did you ever think you could be possibly copping a donut with 2 trades a week?
Defenders
The defenders must of felt left out with all these trades happening for the first 5 weeks and now, when it rains, it pours. In case you have been living under a rock, Gibbs, Goodes, Heppell, Pittard, and Hutchins are all going to miss this week,  and it's likely this is where all the trades are going to be needed. You doing the double downgrade? Money in the warchest to do the double upgrade, or one each way? and who the hell is the best to cull? Lets have a look at the candidates
| | | | |
| --- | --- | --- | --- |
| Player | Value | b/e | Weeks out |
| Bryce Gibbs | $451,100 | 129 | 1-2? |
| Dyson Heppell | $477,000 | 89 | 1 |
| Brett Goodes | $274,100 | -8 | 2 |
| Jasper Pittard | $213,200 | 7 | 1? |
| Jack Hutchins | $190,700 | 20 | ? |
The stats from Assistant coach tell us Gibbs is leading the way as the most traded out player this week, involved in almost 15% of all trades. Personally, I'm not so sure about pulling the trigger on Gibbs so quick. While you have two trades a week I still believe that once a player leaves your team, it becomes harder to get them back in, as there will always be problems each week and especially when the cows are fully mooing. With Goodes, I find it hard to trade a player with a negative breakeven and especially someone that could finish as a D6/7 for the season. Heppell is just being rested despite them saying  a 'groin injury' so nothing to worry about there and should be the last person traded out this week. Pittard and Hutchins seem to be the best of the worse to sacrifice but don't hold as much value as the other blokes. So who the hell we gonna trade in?
Nick Vlastuin $147,700 Only played one game, but hey desperate times call for desperate measures. A little pricey, but better job security  and he is named on the ball, so likely to miss the vest. A good trade with the future in mind.
Josh Saunders $102,700 – Another 1 gamer who scored 38 in a 1/4 and a bit after getting the vest in his debut. Also DPP (def/mid) and may get a run in a team which is likely to play the kids for a lot of the season.
Will Sierakowski $108,500 – plays his first game and has sub written all over him, surely you can't be that desperate?
Brandon Ellis $217,000 b/e 11 Yes, it is 2013 and not 2012. Escaped the vest last week and showed us why he was a first round pick with 86 points. Looks a good stepping stone to a premium in a couple of weeks again if you don't have billions of dollars in the bank.
Hamish Hartlett $458,000 b/e 47 – Has genuinely arrived as a premier DT defender with 116 points and 3 votes on the weekend and still represents great value. Probably no one better to get unless you have the money for Birchall.
Midfielders
Just in case the backline didn't cause enough headaches for you, Fyfe  gets a couple of weeks rest for a little kick, Whitfield the yoyo continues to frustrate owners after getting a rest, which could stretch your mid bench cover if you're still holding Crouch. It's probably my conservative stance, but I think it's crazy that 4.13% of trades involve getting rid of Fyfe , no loyalty these days! In the bigger picture, a couple of weeks out will be a blip on the radar, as he would still play 91% of games for the season. Do you have spare trades to fix any midfield problems? luck you!
Jesse Lonergan – $129,700 There is not many rookies I would recommend bringing in without playing a game, but Lonergan is one of them. Would of debuted in round if it wasn't for a hand injury and has the body to match it straight away in AFL. If you're desperate get him in straight away, but a tasty downgrade in 2 weeks.
Bradd Dalziell$197,500, b/e 1 Don't worry, I almost laughed too.  Back in 2008, Dalziell burst onto the scene, averaging 94 points over 7 games, and probably winning a few people some grand finals along the way. Since then, he has pretty done done sweet FA. Dalziell finally lost the vest last weekend and showed his potential with 88 points. Always one bad game away from the WAFL and with the eagles getting back a few guns in Rosa and Wellingham isn't  asured a game every week. If he gets a clean run could make money as quick as a rookie.
 Michael Barlow $482,900 b/e 93 – A good direct swap for Fyfe and in form with 122 last week. Probably a little undervalued for some who is averaging 100 for the season.
Marc Murphy $527,800 b/e 92 Averaging 114 in his last 3 and starting to hit his straps. Carlton has a good run coming up and likely to be 7-3 after 10 rounds. No reason why this bloke won't be at the top of the DT tree for points in this time. Jump on!
Rucks
Max Gawn $108,500 b/e -73 Woo hoo a Ruck cash cow! Has pretty good job security for at least a couple of weeks with Clark and Jamar out of the team and could make more this week than Blicavs has made all season and a logical swap of you have room for the trade!
Not much else happening in ruck land now, only Cox averaging about 90 points a game! ouch!
Forwards
Injuries to Tex Walker and Cyril Rioli will have to force your hand in trading them out. As these two would be classified as premos they need to take priority if it means a donut in the fowards, or a donut for a rook in the backline.
Steve Johnson $515,500 b/e 68 I talked him up last week and he did not disappoint with 141 against the bulldog puppies.  Looks to take the mantle as the best forward in the game and also plays his 200th game this week. Trade him in now as he will go big again.
Tom T Lynch $258,900 b/e -13 Finally this bloke may get a solid run in the 1's! Is a largely unknown quantity but has come out with a 90 and 82 and now looks to have good job security with Tex out for the season. I'm backing him to average 90 for the season as he LOVES to mark which will turn into lots of plus 6s ( and few + 12s!).
Marco Paparone $107,200 b/e -50 The best of the worst for cash cows this week. while a -50 b/e is a good thing, he is never too far away from a vest or the NEAFL. Could be deadwood in a couple of weeks, which is not what you want coming into the bye rounds.
Stubby's Holders and Folders
Premo backman – I still like to cull/sideways a cow for more cash generation and a slight decrease in points before getting rid of a premo whose out for 2 weeks. It's a long season and there will be more problems! – HOLD
Nat Fyfe – As above – HOLD
Mark Blicavs – We all picked him in round 1 because he was playing, and that's all he has done. Blicavs gets a participation award, good work mate. – FOLD
Lachie Whitfield  – So glad I dodged this rollercoaster it must be frustrating! if can trade him do so, but you are missing out on an inevitible ton next week! – FOLD
Ty Vickery award
Contenders
Justin Westhoff. I thought I would be so happy when this bloke spudded it up, but I'm not. Watching the game on Saturday night, I was revelling in the fact that Westhoff was running round like a drunken sailor and getting towelled up by our fringe backmen Mitch Brown, 
but then port started to win and he decided to pop up and take the final mark circa Leo Barry 2005 that prevented the eagles from any further chance of a win. While I still don't believe he is the real deal, I'm giving him the benefit of the doubt for one week, like any player should have. Don't worry, if he does the same this week, heads will roll.
But the winner is…..
Yep, Travis Cloke hasn't changed too much. A couple of big 100's followed by a 67. Thank god he kicked a goal in the last 1/4 or it could of been a whole lot more uglier! As a KPP he is never going to be super consistent so beware!
Running Review
A solid 2128 for me despite Danger once again causing headaches but happy that my initial pick of Marc Murphy is starting to pay off. Slight move up the rankings to 851 but plenty of headaches this week. Still not sure of trades but is likely to involve Pittard and Goodes so I don't get a donut as I want to keep my premo's. As usual backing the pig as captain.
So how are you going to get out of this mess?
discuss it all below!
As always give me a follow on Twitter @jimbobholder