The Friday Scramble: Rd 6
Well, here it is… our first real need to Sramble since our opening squads! Up until now, things have been just travelling along, no real major dramas. This week though, all that comfort is gone! Thanks to the well documented injuries and suspensions, we now have some carnage in the backlines.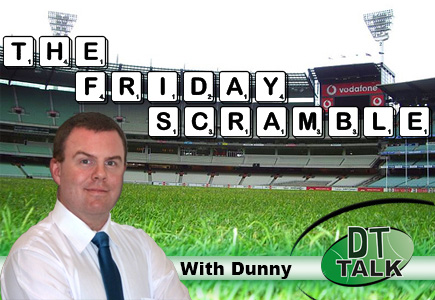 Well, here it is…  our first real need to Sramble since our opening squads!  Up until now, things have been just travelling along, no real major dramas.  This week though, all that comfort is gone!  Thanks to the well documented injuries and suspensions, we now have some carnage in the backlines.
This is another example of what makes the two trades a week a good thing.  Ordinarily we would hold a few of these guys and inevitably would have had some donuts this week.  But thankfully we won't have to put up with that!  So the big topics this week and no doubt throughout today will be who are we trading and out and who are we going to bring in!
Help!  I've got a bad back!
Just when we think we know what to do for the weekend with guys like Goodes, Gibbs and Pittard known to be out all week we then get to Thurs night and find out that Heppell is out too!!!  On top of that!  Docherty is also out.  If you have all five then I am truly feeling for you!  Oh, and the other bad back I need to mention here is Ken Hinkley who ended up in hospital with his bad back, but thankfully he isn't in our teams!
So… who hates two trades a week now??  Not me that is for sure!  So what to do?  Well I have a few scenarios for you that we can look at.
Upgrades
One of the options that you have is to do some culling of the cows and cash them in to upgrade to some premos a little early.  If you have been diligent and been stashing away the cash over the last few weeks then you can use that to perhaps upgrade Goodes and Pittard.  If we didn't have to we would keep these guys with their BE's of -8 and 7 respectively they still have some cash to make.  You may want to upgrade them to any premos that you can afford like Hartlett, Scotland, Heater or Birchall just to name a few.  You will only be limited here by the amount of cash that you have been able to stash away in the bank.
The risk that I see here is that you are going to be losing cash growth potential and at this stage of the season that is key.  You are also going to have to use some of your war chest.  So unless you are like DT Talk Writer @Cruttonhutton who apparently has about $1m stashed away you may get rid of your bank which you have worked so hard for.
Premo Swap
This is the other main option that you have here.  You can stash Goodes and Pittard on the bench and trade out Heppell and Gibbs.  With our new trading structure this is not the big no no that it used to be.  What you can do here is to trade them to other Premo's (basically anyone at all that you want).  What this trade does for you is leaves you with the majority of your cash in the bank and you may even make some cash on the trades depending on who you trade to.  So when next week or the week after come around and these two guys are back (I have a feeling they could be two weekers) then you have the cash in the bank and the players with cash generation power to get you Hepp or Gibbsy back into your teams.
A Little of Column A and a Little of Column B
Well clearly this is a mixture of the two options.  What you can do if you are game is to swap one of the premo's for another and then either upgrade one of the rookie priced guys to a premo or you could, if you want some cash or have none, downgrade your cash cow.  The issue here is that there aren't too many downgrade options now!  So really the only option that you have is Vlaustin.  The risk here is that he didn't score brilliantly (51) and he has only played the one game.  But desperate times call for desperate measures!
Which way am I going to go?  At the moment I am thinking I am going to go the Premo Swap.  I want to have the cash in the bank so that I can upgrade again next week and I want to keep Goodes and Pittard because of the amount of growth they still have in their prices.
Risky Rookies!
So to add to our back pain, we know that Docherty didn't get named.  This is going to hurt.  But not only that,  someone that we were also looking at for a downgrade in the back line was Rory Laird from Adelaide.  Unfortunately he also didn't get a guernsey.  So as I said above, Vlaustin is the only back rookie worth bringing in this week.  Another guy in the backs that people have is Lachie Plowman from the GWS.  He has a BE of 30 and has actually lost $4k.
We also see the return of the Dark Night Kane Mitchell this week.  I hear DT Coaches screaming this week as many of them traded him out when he was returned to the rookie list after he lost some cash!  For those that held him, well done!  However, I think he is still a chance to get his fourth green vest.
Mark Blicavs is someone that I wanted to trade out this week as he is now unlikely to get his BE of 44.  And the guy to trade him to was Max Gawn who has a BE of -73 and, with Mitch Clarke now out for a while, has good Job Security.
Things to Remember
Just when you think it's bad, it will get worse! – There will always be something shocking come up at the selection table!  Be ready for it.
Carlton have a great run coming up – They have Melb, St Kilda, Port, Bris and GWS in the next 5 so guys like Scotland will do well.
Plan beyond one week – Don't bring a guy in for one week thinking you will just trade him out next week.  There is always carnage which will force you to fix something else first
Have alternate plans – See above… there is always carnage!
Your opponent probably has the same problems as you! – So just put the best team out there that you can!
I hope that you all survive the carnage this week and you are able to field a side without any donuts.  I know that many teams won't have any bench cover in the back line particularly!  I know I probably won't have any.  Remember to check out a couple of key articles during the week,  Jeppa's Juniors and Calvin's Captains, to get your team ready and then also check out later today for Trigger Happy that should help you with your trading plans.  Catch you all on twitter this weekend @pkd73 and I will try keep you all up to date with anything I hear.