Calvin's Captains – Rd. 6
Welcome back to another week of reading about my love obsession with Swanny! Argggg ha ha or maybe not? Ablett plays a team he had 175pts on last time he played them… so who will be #1?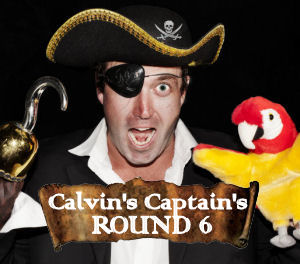 Welcome back to another week of reading about my love obsession with Swanny! Argggg ha ha or maybe not? Ablett plays a team he had 175pts on last time he played them… so who will be #1? Check out my handy work from Rd. 5 first!
Last Week's Top 5
Dane Swan = 120pts
Tom Rockliff = 125pts
Gary Ablett = 131pts
Scott Pendlebury = 108pts
Brent Stanton = 114pts
Giants… Giant Killers?
Last year when the GWS played Essendon we didn't believe our eyes when we saw the scores from players we expected to smash them. Surely Jobe Watson and Brent Stanton would have a field day and carve them up? NAH… it didn't happen. Jobe had just 91 points with a tag from McDonald (not playing anymore) and Stanton copped a tag from Scully for his 93. Stanton was in much worse shape though with just 27pts at the half but junked it up with 41pts in the last term. He's good at that! However, Stanton is the 2nd best DT scorer so far this year and has had a nice 130 at Etihad already this year and if he can avoid a Scully tag, he should be much better this time round. Ablett had 131 on these guys last week, but I tell you what… it's still a small gamble either way.
Tag! You're it!
Gary Ablett this week comes against a tag from Ryan Crowley. Now, firstly for the record, I'm not massively worried about this as I think Ablett will kill him. But we do need to respect what he has done over the season so far. As you can see by my handy work in 'Paint Shop' he has claimed some big guns already this year. Gaz didn't play the Dockers last year but has slaughtered them like no other in the past. He had 175 (34d, 14t) on them in 2011 as a Gold Coast player. Whilst at the Cats he used to monster these guys where he had a lowest score of 109 in his last 7 games against Freo.
Verdict: Gazza will be awesome, I'm not even 100% convinced Crowley will go to him… but I have a small area of doubt and therefore he can not be my #1 for this week. Especially when Swanny hasn't put a foot wrong for us so far this year.
Not a Foot Wrong
That's what I said… not a foot wrong from the big fella! With previous scores of 120 (31d), 137, 83, 141, 138 and 112… Dane Swan looks the goods once again. He's the 3rd highest scorer for the year and is coming off scores of 120 and 130 in his last 2 games this year. The man is getting it done! He avoided tags in the past from Armitage and Clinton Jones and as for that dirty 83 he had? Well, rest easy my friends cause that was just days before he was shipped off to Arizona to get his injuries and fitness under control. He has had 123 already at Etihad this year and he is just the safest bet at the moment who hasn't let us down! Oink Oink Oink!!
Explanation: When we (DT Talk) call Swanny a PIG (oink), we are referring to way he feasts on points. A pig in the mud! A pig just keeps feeding and feeding, even when he's full. It's not a mean or rude comment but a compliment. Some people just don't get it (insert headshake).
Just Quickly…
Stevie Johnson – had a huge 141 last week and averages 125 Vs Richmond in his last 3. Will be awesome and you should be excited if you're an owner.
Justin Westhoff – Finally the run came to an end with just 45 last week. Ouch! This is why you can never have him as captain. He'll crack a few rippers… but then a few 45's. This week he plays the Roos, a team he has played 8 times… for zero hundreds. YUCK!
Scott Selwood – Owners of Scottie are crying for a quick mention after he has averaged 135 in his last 3 this year. He's at home where he had 127 in his last to average 95 in his last 3 there. With scores of 98 and 79 last year on the Dogs and a possible tag from Picken or Lower, it's too risky sorry.
Joel Selwood – The other brother has great numbers as well. He has had 130, 108 and 126 on Richmond in his last 3 games and should be ok again based on these numbers.
Grant Birchall – He has only scored 1×100+ in his career of 11 games against the Crows and even scored poorly (80) as I predicted last week. Avoid again!
Dean Cox – With previous scores of 107, 155 and 125 against the Dogs, he must be considered.
Patrick Dangerfield – plays the Hawks this week but he has sucked too much to even talk about. 1×100+ in 5 games this year… pffthhhh.
Sam Mitchell  – 91 and 95 on the Crows last year and 111 last week. Solid.
Brett Deledio – Tagged by CROWLEY to a poor score of 83 last week (called it again) and plays Geelong at the MCG. A team he has had 5 tons on in his last 5 games. Very solid against them!
Kane Cornes – Currently the #1 player in DT and has averaged 128 in his last 3 games and just 100 last week. He had 60 on the Roos last year and will crash at some point.
Marc Murphy – He's my Rockliff of Rd. 6… yep, playing Melbourne and we know what that means! He averages 110 on them in his last 3 and is carrying a lowest score of just 111 in his last 3 games this year. Will go big!
Trent Cotchin – 84 last week and 105 on the Cats in his last game against them. Pass.
Good luck and follow me for more captain info and for if I ever change my top 5 – @CalvinDT
Who will you have as your captain for Round 6?
Dane Swan (58%, 1,691 Votes)
Gary Ablett (13%, 382 Votes)
Marc Murphy (7%, 191 Votes)
Brent Stanton (4%, 107 Votes)
Stevie Johnson (3%, 89 Votes)
Dean Cox (2%, 64 Votes)
Scott Selwood (2%, 52 Votes)
Watson or Stanton (7%, 204 Votes)
Someone else (4%, 116 Votes)
Total Voters: 2,896
Loading ...