The Numbers – Round 5
After a huge week of AFL Fantasy, McRath is here to dissect the facts and figures – bringing you The Numbers for Round 5.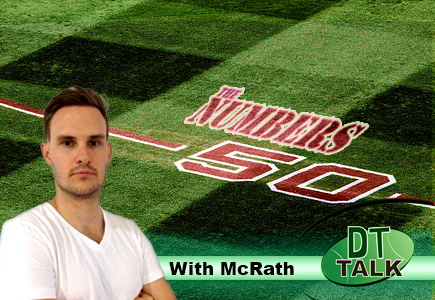 Numbers… let's be honest – it's what DT is all about. Price changes; averages; break-evens… the list goes on. In 2013, on a weekly basis I will strip the records clean and scour the AFL for the numbers different to those we spend our days staring at… Staring at in the hope that we'll have a fantasy football epiphany; and all of the secrets of the DT Universe will be revealed.
The Numbers… a unique look at the world of Fantasy Football.
1.24 – This was the time on the clock when Fremantle sunk the hearts of Tigers' fans everywhere as Hayden Ballantyne kicked through the game-winning goal in the Friday night clash with Richmond. Controversy aside, this match was as close as they come as the Dockers held on in that final minute to get the four points in a hard-fought contest.
6 – Games thus far in 2013 that game been decided by a goal or less. In a round that was filled with close games, half of the six 'one-shot-in-it' contests occurred in Round 5. The largest win of the weekend was actually the Anzac Day clash with Essendon downing Collingwood by 46 points.
12.5 (79) – This is the difference in points scored (12 goals, 5 behinds) for Budd Franklin comparing this weekend's narrow win over North Melbourne and 2012's demolition of the very same side. That was the day Buddy kicked 13.4 and topped to 200 DT mark for the first time. In reasonably good form, what was the difference between the two games and Buddy's performance? Maybe Hawthorn felt bad for North and didn't feel like a repeat – who knows. But that's the thing with Lance Franklin and the Haws… every time they take the field you get the feeling they could pile on a huge score – a very, very dangerous team.
14 – Dom Tyson, Jonathan Patton, Ryan Shoenmakers, Daniel Menzel, Anthony Morabito, Alex Woodward, Daniel Markworth, Alan Toovey, Claye Beams, Alex Johnson, Kepler Bradley, Jamie Bennell, Matthew Suckling, Taylor Walker. What do these names have in common? Five rounds into the 2013 AFL Season and all of these blokes have already injured their ACL, effectively ruling them out for the entire season. Confirmed by Doc Larkins Monday morning, the average yearly ACL injuries as of last year was (you guessed it) – 14! So five rounds in and we've already seen that many – one has to question how the changes to the game are affecting the players.
16 – Number of players who tallied up 30+ possessions in what was a great weekend for big numbers. The best of the lot was former-Demons Brent Moloney, who absolutely smashed his former club on the weekend and held no mercy as he tallied a round-high 36 touches in a stellar performance for his new club. This high number has become a regular thing in the AFL nowadays, as the 30 + disposal game is far more common than a player kicking a bag of 5 or 6 goals. For the record, rounds 1 and 2 had just 12 players manage this, whilst the trend has risen since then – with 15 topping the count in round 3 and 17 in round 4.
22 – Back to the topic of winning/losing margins, and this weekend had the lowest average margin of the season to date – with no real 'blowouts' occurring. Compare to this to Round 2's average margin of 42 or Round 3's 41; and it seems that round 5 treated us to a far more even fixture. Perhaps this was because the two expansion clubs GWS and Gold Coast played each other? Wrong! The Suns actually gave GWS the second-highest shellacking of the round in 44 points. Maybe it's just because Melbourne finally 'stood up' and only lost by 28 to the Lions in Brisbane. Whatever the reason, I for one would love to see more close games – that's what brings fans through the gates, not 150-point drubbings…
34 – What is seemingly an unspectacular disposal tally was made amazing on Thursday night as rising Bomber David Zaharakis became the first Essendon Player to total both 34 touches AND 4 goals when he was the undisputed best of ground against Collingwood at the MCG. A deserving winner of the ANZAC Day Medal, 'Zaha' continues to build his profile as an emerging, elite goal-kicking midfielder.
41 – That's how many points unbeaten Port Adelaide were behind when they decided to turn the game on its head when they played rival West Coast at the weekend. In what has been an inspired start to the campaign by new coach Ken Hinkley, the Power, led by Westhoff, Cornes and Hartlett have been fantastic in their opening five games; and now sit unbeaten at the top of the AFL Ladder prior to round 6. Did anyone expect this? Honestly? Surely not even Power supporters could have – but I can tell you now that they'd be making the most of it while they can! (Wins haven't exactly come easy these past few years).
28, 150 – On a weekend where Australia and New Zealand remember those that fought and died for our freedom, it would be un-patriotic to make mention of those that were killed or injured fighting with valour so that we can enjoy the many freedoms we have today. Respect and thanks must also be paid to the thousands more who have served our country since Gallipoli, and continue to do so to this day. If you're a member of the armed forces or Australian defence force – your contribution to this country is greatly appreciated. Also – interested to hear from any DT-fanatical military-men (and women) so give us a shout of twitter or in the comments! 
36,365 – Amount of fans at the Freo v Richmond game on Friday night that saw the ball run into the umpire in the fourth quarter. In what was a certain goal, the result was just the beginning as both coaches and several media streams have put pressure on the AFL to increase the measures regarding the supposed 'Goal Review' protocol; to avoid ridiculous circumstances such as that from the weekend. Alternatively, just get the bloody goal umpires to move out of the way! Surely they can still see just fine 30 centimetres back?
Send me your 'Numbers' for the week @McRathDT
The Benchmark 
Straying from the usual individual shout out, I couldn't pass up the opportunity to give credit where credit is due in relation to DT Talk's own. At the start of the year, several DT Talk coaches from all around Australia put together a 'DT Talk State League' to go up against the other states to see which state is best when it comes to AFL Fantasy. As the Queensland 'Captain' it hurts a little to say, but WA is clearly the best at this stage. A huge congratulations to tBetta and his league 'DT Talk – WA' who are currently the #1 ranked league in AFL Fantasy. With an average of 2040.82, they are a team full of champions – unfortunately for us QLDers, were somewhat a little way back, ranked at a respectable 83rd with a clean avg of 2011 per team.
Talk of the Town
Jaeger O'Meara has exploded onto the AFL scene in 2013, with an incredible 115 DT Points in R5 to help his team to a club-record 148-104 (48 point) victory. In what will surely be recognised as a NAB Rising Star performance, his 25 touches (17 kicks), 5 marks, 4 tackles and 2.3 goals are numbers you'd expect from a seasoned star of 200 games. But from a kid that's playing his 5th game of AFL football? This guy is a freak! To imagine him in 200 games would be mind-blowing, as it's easy to see why the Gold Coast did what they needed to do to get this kid in their colours.
Whore of the Week
Despite many solid performances in round 5, the WotW nomination for this week goes to a young Magpie who has now played 85 games in the black and white. Steele Sidebottom was absolutely everywhere in the first half of Thursday's ANZAC Day clash with Essendon. Tallying an incredible 98 points to half-time, he tallied a lazy 31 touches, 9 marks, 6 tackles and a sausage roll in a great all-round performance that netted him a season-high 143 points. With the absence of Luke Ball and Dayne Beams, he's stood up – averaging 103 over the first 5 weeks of the competition. A star on the rise, expect his name to be around for a long time.
The Round Up
Highlights – Those that kept the faith with Scooter Selwood (136) would be happy with his past 3 rounds averaging 135 points. Zorko may be back to form with an encouraging 120 points against the Dees at the weekend. O'Meara (115) and Mayes (111) were brilliant on field – anyone else not bring in Mayes? Yep, I'm feeling pretty stupid right about now.
Lowlights – Westhoff crashed back down to earth with West Coast's Mitch Brown doing a fantastic job curtailing his output for just 45 points. Not so great for his many fantasy owners who were perhaps expecting, I don't know – at least 80 points?! Others to disappoint were Sam Rowe (31) and Sam Dwyer (47) who are fast reaching their peak as rookies. And you know what that means? Culling time!
Team McRath – Another solid week for our boys as I totalled 2072 to stay inside the top-8000 – am yet to top the 2100 mark in what has been a so-so start to season 2013.
How was Round 5 for you? Are you firing on all cannons or sinking to the bottom of the ocean?
Feel free to shout out some feedback in the comments, or perhaps put forward your own creative Numbers for the week. Also – if you're not already… follow me on the Tweetvine @McRathDT