Calvinator and buying trades in ESPN Footytips.com.au Fantasy
Want to buy extra trades for 50pts? Well, join Calvin as he gives us a run through of how this can be done and how his Footy Tips team is travelling. After coming 6th overall in Round 4, he is finally up and about in the Fantasy world and experiencing some success in 2013. Check it out!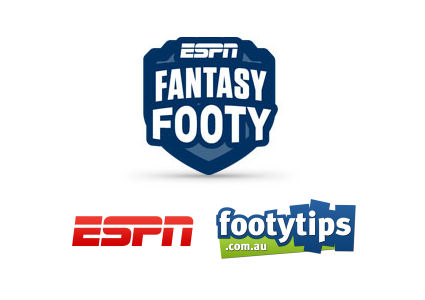 This year we are playing the ESPN Footytips.com.au Fantasy game.  It's not too late to sign up as if you can pick a side that has the highest weekly score for the year, you can win an iPad. Plus it's a fun game to play week to week alongside your tipping over on footytips.com.au.
My Team
I love this game. It's simple and sweet and has many easy aspects to it that none of the other games have. I'm currently ranked inside the top 200 but have used my last two weeks cashing in on the rookies coming through.  I had a ripper of a week in Rd. 4 and although it's old news, I just wanted to show you all and show off a little.
BOOM! I'm proud of myself I must admit. Even though my Team Calvinator is going reasonably well, I have really been trying to 'cash my team up' over the last few weeks by jumping on these new rookies that keep coming though.
If you can jump on these guys before they play, you can get them for an extremely cheap price of just $1. Take last week for example, Vlastuin, Murdoch, Hannath and Saunders all played their first games… and I traded them ALL in. Yep, them all. "But don't you only get 2 trades a week?" Read on my friends.
What's an Extra Trade Worth?
As I said, many people play this game thinking that you only get 2 trades a week. This is not the case and you can use as many trades as you like… but it comes with a 50 point penalty off your score. Which leads us to the question, what's a trade worth? Personally, I think it's about on the mark at 50pts but you need to use this wisely by trading out the rookies who have made you some money and grabbing guys who are about to play their first game. Vlastuin has already gone up to $2.30 in price (from 1 game) and Mayes who has now played 3 games is already worth a massive $8.70.
My tip here is to invest in these rookies as early as you possibly can and use the extra trades and take the 50pt penalty if you need too. Your team will be better in the long run and you'll come storming home in the latter half of the year.
Easy Runs
Once you off load these rookies you will then need to use this hard earned cash wisely and selecting players who have an easy run coming up is a great thing to do. Mitch Robinson ($7.80) and his Carlton team mates have an easy run coming up with teams of Melbourne (146pts on them in 2012), St Kilda (87), Port (84), Brisbane (102) and GWS (123). All games Carlton should win and all games where they will score big points. So use your rookie cash wisely and dominate the competition.
Good luck and follow @CalvinDT on twitter for more words of wisdom.