Trigger Happy – 77.7% of Round 5
Mayes and Evans are flavour of the week this week, but there are other players out there! JimBob looks at other players you may want to consider, and one of my favourites gets the Ty Vickery Award!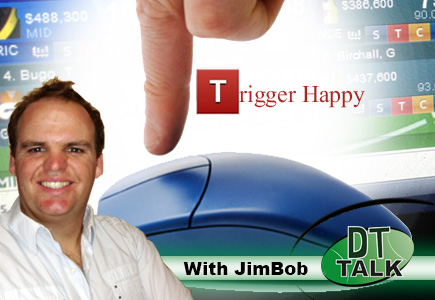 Funny old week in Fantasy land this week with 2 games being played on Thursday and a lot of people already possibly pulling the trigger.
Have your trades already ruined your round 5 or are they setting you up for a monster score?
Defenders
A quick review of last week's recommendations
Birchall –   (23K, 14H, 12M, 3T, 1.0G) 151 points. Boy oh boy! I thought he would do well, but not that well!  Is now the 'must have' defender of the competition. So far, my best initial pick. Likely to get more attention from negating forwards but getting 90 -105 points all day everyday is just a forgone conclusion. Get him in anyway you can!
Pearce D – 82 points – Solid yet unspectacular for Danyle with 23 disposals in a losing team. Has a consistency rating (CR) of 9 which is want you want from any player averaging  87.
Hartlett – 118 points – A DEF/MID now kicking sausage rolls? You little ripper! Scored 3.1 among 29 possessions and now has 3 tons in 4 games. Scored the 7th most points of any defender but does have a harder run coming up now he has played all of the easy teams.
Pearce Hanley  ($463,0000 b/e 109) and Lewis Stevenson ($194,900 b/e 10) are the only defenders of note to be omitted down back this week so it's not exactly panic stations.  If you can't afford to get Birchall in are there any other notable ins?
Shaun Burgoyne ($428,700 b/e 23 ) Burgoyne has always been a highly regarded AFL player, yet hasn't really been fantasy relevant for the past few years. I'm not really sure if he is just in a purple patch or has a new role in the team – from what I have seen he has been all over the place and may only be one game away from a negating role which will send his fantasy scores plummeting quicker than Ashton Hams in a tackle. Is averaging a very healthy 99 so far and is the 6th most popular player traded in this week. Not sold quite yet.
Michael Hibberd $387,600 (b/e 36) Was part of the famous Heppell/Hibberd rookie double in 2011 and has largely gone under the radar since. In his magical third year, looks to have taken a step up as a chief ball carrier out of defense and is averaging a very handy 88 which is hugely undervalued for his price as he has already played yesterday and scored a handy 97. Will be above $400k by the the time lockout ends. Will be a POD for now.
Why is Brett Goodes still in the top 10 most traded in players?
Midfielders 
Quick review from last week
Kane Cornes – Wowie! 156 points! Is the tagger going to start getting tagged? Wait and see how he/Port Adelaide in general go when they lose (somewhat hoping that will happen on Saturday).
Travis Boak – 116 points 4th straight ton for Boak and still only in 3% of teams.
Redden – Didn't smash it like I hoped and luckily junked it up for a 97. Now has points hanging over his head for a guilty plea from the game against the Roos and now only has to tease Jack Watts to be suspended. At least he is under $500k
Once again our rookies continue to cause the headaches  with Viney, Mitchell, Crouch and Kommer all in the top 10 players traded out.  The positive of round 5 is that the stream of rookies on the bubble is still flowing. Every man and his dog are all over Sam Mayes ($152,200, b/e -78) and Michael Evans ($108,500 b/e -104) and these two account  for 1 in every 4 trades this week. It's sideways trades galore this week and probably the right move so we can make hay while the sun shines (and the cows can eat that hay!)  and capitalise on that cash generation. I can't believe there are still people  who are only trading in Ollie Wines now. Yes he has a negative b/e, but for $300k?
If you want to use that cash in your bank, who else is of some value? Here are some blokes whose early season form is above their output from last year and are still undervalued. Do you jump on now?
Rory Sloane ($497,300 b/e 68) Fresh off the 3 votes at the Brownlow last year for the best looking bird, Sloane has increased his output by 15 points a game  and just notched up his 3rd consecutive ton.
Scott Selwood ($526,800 b/e 48)  Scooter has now been let back off the leash for the past fortnight as a genuine midfielder and is almost the Eagles most important midfielder.  Coming off scores of 142 and 127, if he stays off the leash anything could be possible. Plays Port, Bulldogs,  Brisbane, North and GWS in the next month. Jump on.
Joel Selwood ($516,400 b/e 122) – Not too many people thought that Geelong would still be undefeated but Jelwood is one reason why they are. Apart from a blip of the Carazzo tag in round 3, he has gone to another level this year with 123 against the negative Swans last week. Will always attract the best negater from the other team, but I think he is good enough to deal with it.
Rucks
Not much happening this week in the rucks, people are still getting in Leuenberger!
Forwards
Review from last week
The Hoff  – to my disappointment, a 120.
Monfries – a solid 88
Motlop – a respectable finger twirling 79.
With old man Chapman  being the only notable omission from the forwards this week, my personal opinion is to trade him out. Chappy is on the downward curve for yearly averages (113, 102, 97 and this year 88) and may be past his best. Add that to the fact that he is likely to be 'managed' this season with his hamstring and calf issues, he may not get on the park every week. Can obviously trade down to Sam Mayes for the cash grab or go get the cream of the crop. We have some flat track bullies this week in the forward line too!
Stevie J – ($501,700 b/e 103) Johnson loves picking on lesser teams and the Bulldogs are now that. Has come back from a knee injury with no real worries and a 100 point average – he is due for a big one.
Buddy ($504,400, b/e 93) Buddy is actually showing some pretty good consistency this year! Also returning to face the team where he got his double ton last year and a softer draw coming up (GWS, GC and Melbourne in a 3 week streak before the bye), lock him in now before he is worth $600k!
Matthew Stokes  ($403,000 b/e 11) While not a flat track bully, Stokes is another forward-come-midfielder in Geelong! Has come form nowhere for a 97 average which includes a green vested 60! Is he a candidate for more green vests for 'structure'? Still undervalued for his price.
Stubby's Holders and Folders
Pearce Hanley – Knew he was injured, so got suspended for a week too! He's a top 6 defender and its a long season. Would need to be out for a bit longer for my liking – HOLD
Nick Suban – Nope, not this years Scooter Selwood, a Pumpkin!  – FOLD
Jack Viney – With that 18 in his system he will have to score Wines-like totals to get his cash-making ability. Not beyond him but I'm not hanging around to find out – FOLD
Brad Crouch – Not quite sure how bad his hammy is but its always good to have cash cows peaking at different times. You could see this as a blessing in disguise for him to peak just before the byes. Will get back into the Crows lineup once fit – HOLD
The Ty Vickery Award
The Contenders
Luke Hodge – Captain courageous looked better for the extended rest in his first 2 weeks back and then pulled out a 51! lets hope he gets his defender eligibility back cos midfielders can't do that!
But the winner is…..
He was always gonna end up on here!
After a 144 against the Bulldogs, Dustin Martin was going along very nicely against Collingwood, on track for a ton and then stopped. Dead. Just when you thought he was over his second half fade outs!
You would be pretty annoyed if you traded him to Cloke this week!
 Running Review
2092 for The Running Man this week with the pig servicing me well as skipper. but Viney cost me 2 league losses. On the brightside, I'm up to 878 overall! As I said before, Birchall is probably the sole reason for this! This week I will ditch Kommer and Viney for Evans and Mayes. Really Vanilla but hey, the cash generation is going to be good. Need to keep the bigger picture in the fore!
Also on a personal note, it's now been a year yesterday that I decided to first pen an article for DT Talk. Thanks for all the support and well wishers along the way, it went pretty quick and looking forward to getting better! Bad news is that bad jokes are guaranteed to continue!
Are you NOT getting in Mayes and/or Evans?
Discuss it below!
As always give me a follow on Twitter @jimbobholder