The Friday Scramble: Rd 5
Even though we have had two games already, this doesn't stop our panic as we try to get our teams set for the remainder of round 5!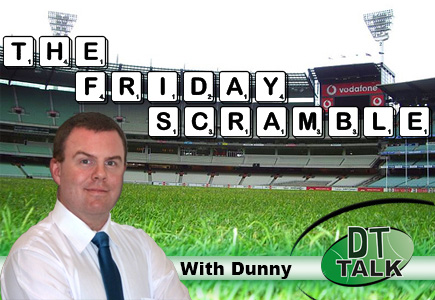 What a ripper of a day Anzac Day is.  I made my way down to Glenelg for the Dawn Service with a heap of other people and it was just fantastic.  It is great to sit back and reflect on the diggers and what they gave up so that we can have what we have today.
And what a day we had yesterday.  Two games of footy to keep us going once the morning's functions were finished.  The key thing to remember about our DT today is that Trades are NOT reversible now for this round.  Any trade you confirm today sticks!  So beware of this fact and treat it like an old school DT round.
Even though we have had two games already, this doesn't stop our panic as we try to get our teams set for the remainder of round 5!
Should he stay or should he go?
This is a question that many of us are faced with this week thanks to Jack Viney.  The kid started with a bang but unfortunately hasn't been able to keep up with his hot start getting subbed out last week with a grand total of 9.  His BE is still low, and under our previous trade restrictions none of us would consider getting rid of him.  But now that we can fairly safely chase cash we are all looking at what we can do with him.  Personally I will be trading him out and will be going with one of either Mayes or Evans.  To find out exactly who you should be going for make sure you have read Jeppa's Juniors from Wednesday morning.
 Check your Loophole
If you had a crack at the loophole for your captain yesterday, make sure that you have a check of your team and haven't stuffed up.  If you selected Steele Sidebottom  or David Zaharakis with their scores of 143 and 130  then you would probably want to keep them, this means you have to put a non playing player on your field.  This would be a guy like Crouch or Currie.  If you do that and put the C on them make sure  that you have put the E on your other player on the bench!
Swanny's score of 120 is an awkward one.  120 is often our benchmark.  This one is going to come down personal choice and who you have in your side that you think can do better.  I think the best bet is to consult Calvin's Captains to gain his wisdom as to the guys that you have left to play.  Personally I will lock in Swanny's score. However Calvin Tweeted to us @calvinDT yesterday that you take the 120 to the bank!
However, if you took Stanton, Watson or Pendles who didn't score quite so well with 114, 109 and 108 then you may want to put your C on another player as you normally would.  So someone like Ablett or the others mentioned in Calvin's Captains would be the way to go.  If my description of Calvin's Loophole has been a bit dodgy, then check Calvin's article for a better explanation!
Cash in the Bank or Points on the field?
I am seeing a lot of tweets about people having massive war chests by doing a lot of downgrades.  Whilst this is a great option, there comes a time where you don't want to have to rely on all of these youngsters on the field.  I find myself relying on Dwyer, Rowe, O'Meara and Terlich.  Whilst using Rookies at the moment isn't anything new, some people are running with somewhere around 10 or so Rookies on the field.  This can curtail your scoring potential.
So I would suggest that people start to look at picking up some of the Premo players that have gotten off to a slower start to the year like Buddy and Daisy.  Particularly Daisy will be very cheap in a week or so.  So if these are guys that you ahve on your watchlists then this may be the time to get them.
Just don't get too cute and try and wait for the absolute last minute to get them as you never know what might happen, but don't rush either, keep an eye on their BE's but just as important is to keep an eye on their upcoming opponents.  If they have a large BE but also a very easy run of teams coming, then they may actually reach that BE and leave you short when you try to get them in the following week.
Things To Remember
Fix up your Captain and Emergencies – If you went the loophole then make sure you have it fixed up before lockout.
Trades are now NON REVERSIBLE – So don't stuff around with it, get them right first time.  Think two years ago!
Mumford needed that tough facial hair when everyone calls him Mummy! – Seriously do you want people calling you Mummy all the time? (Ladies excluded of course)
Keep an eye on the fallen premos – Some are under performing so will have a big price drop.  Make sure you have the cash ready to go when they do.
Thanks to the ANZACs and those still serving our country – Please make sure that our younger generations coming through understand the true sacrifice from our Diggers.
Great Thursday of footy, let's hope that the rest of the weekend is good too!  Watch for the late changes to teams tonight and leave your trades as late as you physically can.
Team Destroyers had a bit of a shocker last week again with 2044 and I dropped a few rankings to be 9,230.  We are looking to be back on track this week despite having 3 league wins last week.
Unfortunately I won't be able to answer your comments below  due to another commitment which will take me out of play today.  So show a bit of ANZAC mateship,  help each other out with your questions and I will be back on Twitter later tonight @pkd73.
Lest We Forget