Jeppa's Juniors – Round 4
With a few key rookies on the bubble, this weeks trades could shape your season. So take a look at what Jeppa has to say about all the rookie performances from Round 4.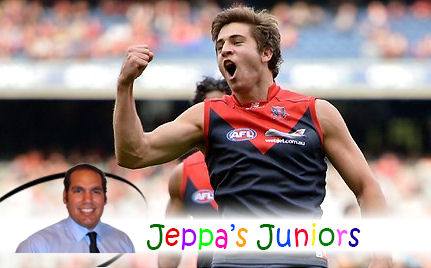 After eye catching performances from Michael Evans and Sam Mayes, coaches face trading out their not-yet-fattened cash cows this week. These decisions are however, being made easier with the likelihood of green vests (Neade & Dwyer), piss weak rookie performances (Viney) and suspensions (Kommer).
In my opinion, banking some cash this week will become invaluable in the short term because other than Marco Paparone and Sam Kerridge, there aren't many good quality rookies coming through. So pre-plan your next handful of trades and ensure that you have enough money to make your first Rookie to Premo upgrade in the next couple of rounds. If you fail to plan then you plan to fail!
Three-Or-More Gamers
Yay for Melbourne! They finally showed some fight (albeit in the last quarter) and most of their rookie priced players showed form. Matt Jones (MID, 92, $217,800 & BE -47) was everywhere again but had little involvement in the Demon's 12 goal last quarter. His current average of 74 is the third highest average from the three-or-more game rookies and this type of output should continue. You've got to love how Dean Terlich (DEF, 63, $158,900 & BE -42) goes about it. He does whatever it takes to win the football. Yes, Terlich sometimes gets outplayed in the one on one contest but his hardness, desperation and determination is exactly what lacks at Melbourne. Last week's score of 63 isn't amazing but it's respectable for a back up defender.
So much promise yet so little return from Jack Viney (MID, 18, $182,800 & BE 29) who was very disappointing against the Giants. It's a massive concern that he scored only 18 dreamteam points in two and a half quarters playing on the ball! So far this week, approximately 8,400 coaches have traded Viney to either Sam Mayes or Michael Evans.
Ollie Wines (MID, 101, $315,500 & BE -37) again showed his ball winning ability against the Suns and he finished with 16 kicks, 9 handballs, 8 marks and 3 tackles. It's just a given to start Wines on your field. Campbell Heath (DEF, 80, $204,300 & BE -6) and Jasper Pittard (DEF, 96, $213,200 & BE 4) were allowed to run free against the Suns and both players hit their highest scores of the season. Lewis Stevenson (DEF, 67, $194,900 & BE 10) struggled early but managed to get some classic junk time in the last quarter to finish with 67. It's a role of the dice when deciding whom to start between Pittard, Stevenson and Heath. This week against the Eagles, I reckon Heath will have his hands full with Josh Hill and Stevenson will be a bit nervous facing his former teammates thus, out of the three popular Port rookie defenders, I'd start Pittard ahead of Stevenson with Heath third.
Cameron O'Shea (DEF, 69, $233,800 & BE 5) continues to contribute in defence and do the one percenters for his team. Jake Neade (FWD/MID, 53, $201,600 & BE 6) however, is a worry after being subbed out in the third quarter for Robbie Gray. I think we'd all agree that Gray is in Port's best 18, so it will be interesting to see how Neade will be used against the Eagles. Hate to say it but I can see Neade in the green vest this weekend.
After a quiet game in Round 3, Brett Goodes (DEF, 115, $242,000 & BE -17) proved his worth against the Crows and went beyond all expectations scoring 111. Those who started Goodes on the bench, and there are a few of you, have unfortunately learnt the hard way not to doubt brother of Adam. Lachie Whitfield (MID, 86, $256,300 & BE 32) was also disappointing in Round 3 but performed very well against the Demons gathering 24 disposals, 4 marks and 4 tackles. I suspect Whitfield will have a similar scoring output this weekend against the Suns.
After 20 possessions and a goal against the Power, Jaeger O'Meara (MID, 72, $231,700 & BE 14) should have a day out against a young Giants midfield so start him on your field. Jack Hutchins (DEF, 66, $160,300 & BE -42) still looks sharp in defence and his owners should be satisfied with his ouput.
Brad Crouch (MID, 88, $171,300 & BE -48) had his best game of the season after collecting 11 kicks, 11 handballs, 2 marks, 6 tackles and a goal but I still wouldn't start him ahead of Wines, Jones, O'Meara and Whitfield. Crouch's teammate Luke Brown (DEF, 62, $186,500 & BE 34) was assigned to Luke Dahlhaus and did a pretty good job. He followed Dahlhaus up the ground and as a result, got his hands on the ball a little more than he's used to.
Collingwood pair Sam Dwyer (FWD/MID, 73, $196,400 & BE -6) and Brent Macaffer (FWD, 64, $175,200 & BE -25) both played okay against the Tigers. Dwyer continues to contribute as a forward pocket/half forward but his days may be numbered with Didak and Krakouer killing it in the 2's. Macaffer was a late inclusion for Goldsack and was played in defence. He didn't perform badly but he didn't impress either.
Ruck DPP's Sam Rowe (FWD/RUC, 62, $161,100 & BE -33), Callum Sinclair (FWD/RUC, 51, $148,900 & BE -29) and Mark Blicavs (RUC/MID, 33, $160,400 & BE 19) all failed to hit the big scores. Rowe is the most threating of the three with his presence up forward and Sinclair just needs to put in a solid four-quarter effort and kick straight when he lines up for goal.
Notable mention to Jackson Merrett (MID, 46, $172,500 & BE -13) for his efforts last weekend against the Saints. I still find it hard to believe that Merrett is getting a game before Jetta.
Two Gamers
For many coaches, this week will be a choice between Sam Mayes (FWD/MID, 75, $152,200 & BE -78) and Michael Evans (MID, 111, $108,500 & BE -104). Mayes has got class written all over him. He hits teammates on the tit time and time again and although he had a slow start to the match, he'll put in a good four quarter effort against the Dees this week. A 3 goal last quarter from Evans helped Melbourne getting over the line against GWS. It's great to see him run hard to space to win the footy but he only runs hard one way. Early scores of 58 and 111 suggest that he may be an inconsistent scorer but with a breakeven of -104 and an expected price rise of $73,600, Evans is very, very tempting for the short term. I am likely to trade in both Mayes and Evans this week because I need all the coin I can get to be able to upgrade Dwyer to Daisy/Bartel/Buddy in two rounds. If you can only pick up one of these cash cows then I'd lean towards Evans but only because he is $43,700 cheaper and the probability of Mayes copping the green vest makes me nervous.
George Horlin-Smith (MID, 69, $171,900 & BE 19) started in a blaze of glory against the Swans scoring 47 dreamteam points to half time. He finished with 23 possessions, 1 mark, 2 tackles and a goal. Horlin-Smith's efforts against last year's premiers have seen him take out the NAB Rising Star award for Round 4 but never the less, his job security will always be an issue. With a hefty price tag of $171,900 and a breakeven of 19 it would be silly to bring in Horlin-Smith this week. Taylor Duryea (MID, 73, $108,500 & BE -64) is a also a risky option. Sure, he scored well but it was a free flowing game dominated by Hawthorn. Duryea turns the ball over too often for my liking and in my opinion; he's facing an uphill battle to cement a spot in Hawthorn's best team. Pass.
Nathan Wright (18, $102,700 & BE -25) was hardly sighted against the Bombers managing only 7 disposals from a full game. I suspect that Scott Watters will however; stick with Wright given their lack of back pocket options. However, trading in Wright is dangerous given that he faces the hard running forwards from Sydney, Collingwood and Carlton in the next three weeks. Red vested Josh Thomas (MID, 38, $108,500 & BE -30) and lock down defender Dane Rampe (MID, 39, $89,300 & BE -17) came back into their respective sides this week but were quiet achievers. You'd have to be crazy to pick up these midfielders ahead of Mayes and Evans.
One Gamers
Surprisingly, Max Gawn (RUC, 81, $108,500 & BE -97) was the best performer of the one gamers this week scoring an 81 which included 2 goals in the last quarter…not bad for a bloke coming off 2 knee reconstructions. Gawn teamed up well with Jamar in the ruck and his performance will see him line up in the Demons 22 in the short term. Let's hope the big fella can stay fit and injury free. Another player coming back for his first game after a knee reco is Setanta O'hAilpin (FWD/RUC, 75, $157,700 & BE -55). The big sultana bagged 5 goals but only managed 75 dreamteam points. O'hAilpin played as a stay at home forward and if this continues I suspect that he'll average around the 50 mark because there is no way he is kicking 5 goals every week. Approach with caution.
Brenton Sanderson must really rate Sam Kerridge (FWD/MID, 79, $108,500 & BE -93) to give him the tagging job on Ryan Griffen. Sure, Griffen went off injured at three quarter time but Kerridge still held him to 15 possessions and more importantly limited his impact on the game. He also won 14 possessions of his own and had 7 tackles. With Vince on the outer and van Berlo at least 3 weeks away from a return, Kerridge becomes DT relevant and I'll be watching him closely this week. Sam Docherty (DEF, 58, $108,500 & BE -51) finally showed us why he was taken at pick 12 in the 2011 draft. He had 7 kicks, 13 handballs, 2 marks and 1 tackle and was named in the bests for Brisbane. If he can get a few more marks and tackles then he'll be a decent dreamteam scorer so watch intently when he takes on Melbourne this weekend.
Jackson Macrae (MID, 64, $161,200 & BE -31) didn't look out of place against the Crows. He ran up and down a wing and worked hard to become that running, linking player but found the going tough in wet conditions. He had a crack none the less and should improve under the roof of Etihad this weekend against the Cats.
Even though he conceded a few goals last weekend, Tanner Smith (DEF, 40, $102,700 & BE -18) did compete and win some crucial contests. He was on 23 at quarter time but faded badly and finished with a mediocre 40. On Monday night, Ross Lyon suggested on @Sportstoday that Smith could get more opportunities if they decide to go with McPharlin up forward this week and beyond.
A green vest wasn't enough to hold back the likes of Marco Paparone (FWD/MID, 71, $107,200 & BE -77) and Jake Stringer (FWD, 24, $165,700 & BE 52). Paparone scored 71 in only three quarters, which included 7 marks and 3 goals. He reads the play really well and looked comfortable against the bigger bodies. According to coach Michael Voss, Paparone will get continue to get senior opportunities (source). Even though he only played a quarter and a bit, Stringer made an impression at AAMI stadium on Sunday. He's a brut of a kid who loves to attack the footy and I have no doubt that he'll be a great forward target for the Bulldogs. Stringer is likely to play a full game this week (source) so let's see what he produces against an experienced Geelong backline before we consider trading him in. Stay clear of Mitch Morton (FWD, 92, $217,800 & BE -47) and Sebastian Ross (MID, 21, $144,300 & BE 45) who also copped green vests.
What an anticlimax! Majak Daw's (RUC, 23, $108,500 & BE 19) mark and goal in the first few minutes of the game was enough to make us excited but he was knocked out by friendly fire soon after. Majak did enough in his short time on the field to suggest he'll be a threat up forward and in the ruck. Stay tuned! Rory Laird (DEF, 39, $108,500 & BE -13) showed little DT promise in his game against the Bulldogs. He was responsible for Tutt and only had 8 touches for the game. If he's selected this week, he's gonna need to play out of his skin before being considered DT relevant.
Keep Your Eye On
Nick Vlastuin – Recent reports suggest that Vlastuin will make his debut this weekend against Freo (source). Vlastuin has narrowly missed selection a couple of times this season but I suspect Richmond will need to add some toughness to their side with Morris out suspended. He's a competitor and there's no doubt he will leave it all out on the field if he does get a game. I expect him to play and play well, not sure if he'll avoid the vest though.
Josh Saunders – Saunders looks set to make his debut tomorrow after being named in the forward pocket for the Saints. He's a quick, hard-at-the-footy type whose earned selection through some good VFL form. Saunders is listed as a $102,700 DPP defender/midfielder so let's see what he can do in the first game outside of Australia for premiership points.
Got a question? Ask me on Twitter @JeppaDT.