Calvin's Captains – Rd. 5
Oink oink oink! You who what I'm saying right? Last week, Dane Swan blessed us with a nice 130pts and this week is shaping up to be one of tricks, turns and LOOP HOLES!!! So you better gte yourself in there and find out why this pirate knows everything about Dream Team captains.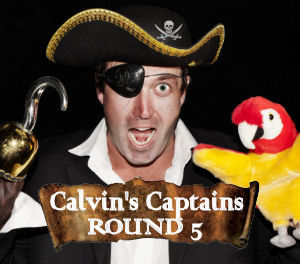 Arrggggg welcome back to the greatest captains advice going around. Wow I have a big edition lined up for you, it's going to be huge. Make sure you read it VERY carefully, especially the info about the Loop Hole because it can be a little tricky for the dummies out there.
This week is going to be verrrry interesting as we have a LOOP HOLE ©. When the first Thursday game starts (Coll/Ess), all Collingwood, Essendon, St Kilda and Sydney players will be locked in. Yep ALL. Plus, you can not reverse trades after this time either.
Simply… put your VC on someone playing in these games, such as Swanny/Pendles/Kennedy/Watson and if you like their score, place your 'C' on a player NOT playing (maybe Patton/Currie). This will score you a 0 and the score from the VC is doubled and stays. Make sure you have also selected an Emergency in this position so their score replaces the 0 as well.  If you don't like the score from your VC, then place your 'C' on another one of your superstars as you normally would. Easy hey!
You just need to really make sure you DON'T have a guy playing if you are doing this. A late inclusion will devastate you and completely 'balls up' your weekend.
ANZAC Day Specialists
What an amazing day ANZAC Day is. A day of reflection and thanks … and a day to sit back and watch our DT scores pile up as well. In the past this has been just the case. Scott Pendlebury is an absolute ANZAC Day specialist. He has scored 113 and 166 in the last 2 years in this game and had 106 and 113 on the Bombers last year. He only had 86 last week, but there's not many better on this big day on the MCG. Jobe Watson will be there and he had scores of 112 and 104 last year against the Pies. They won't man him up and if he can find enough of the pill, he too should be pretty good. As might his teammate in Brent Stanton. Despite never carving the Pies to pieces, he's the type of player who just might have a field day with all their head-to-head match ups. He's averaged 127 in his last 3 games this year and had 142 (vs Melb) last time he was at the MCG. Over his career of 17 games against Collingwood, he has cracked the 100 mark 42% of the time with his only massive score occurring in 2011 (155pts). But it's the DT scoring pig, Dane Swan who once again gets me barnacles bouncing this week. He averages … (wait for it)… 176 on Essendon in his last 3 games with scores of 187 and 171 (42d) last year when he won the ANZAC Day medal. Add to that the 171 and 104 he had on them in 2011. This year he has averaged 119 at the MCG and is a dead-set no bloody brainer this week; the DT pig will be an oinking monster once again.
Just Quickly…
Patrick Dangerfield – Pumped out a huge 142 against the Blues last year… his best DT score in his entire career. Sadly, his form hasn't been solid enough, averaging just 85.
Justin Westhoff – Keeps getting it done and is currently averaging 138 in his last 3! Had his second-best score of 2012 on the Eagles last year (104) and is back at AAMI where he has had 140 and 154 already this year.
Grant Birchall – Despite his 151 and a great start to 2013, don't chase him this week. He hasn't cracked the ton on the Roos in his last 10 games. Gotta pass based on that.
Brett Deledio – Copped the Crowley tag twice last year for scores of 78 and 78. Will certainly get it again as taggers tend to go to guys they have beaten before.
Tom Rockliff – Vs Melbourne is juicy! He had 119 and 130 on them last year and is coming off 117 last week in a 10-goal hiding. In games Melbourne have lost this year, they have allowed the top 5 opposition scorers to average 127 (WC), 134 (ESS) and 113 (PA). Look out!
Matthew Boyd – First game back for the legend last week for just 89. He had 131 and 111 on Geelong last year and will slowly start to get back to his best.
Trent Cotchin – Had 101 and 112 last year on the Dockers without a tag. Destined for a tag of some sort (De Boer) he might go ok considering what the Hawks did last weekend when they had 6 guys over the 100pt mark. If you're listening Matty… go easy mate and tag the muppet King ha ha.
Good luck and follow me for more captain info and for if I ever change my top 5 – @CalvinDT
Who will you have as your captain for Round 5?
Dane Swan (62%, 1,421 Votes)
Tom Rockliff (8%, 192 Votes)
Gary Ablett (13%, 305 Votes)
Scott Pendlebury (6%, 134 Votes)
Brent Stanton (2%, 42 Votes)
Justin Westhofff (5%, 116 Votes)
Someone else (4%, 93 Votes)
Total Voters: 2,296
Loading ...