The Numbers – Round 4
What a week of footy; and more importantly – what a week for numbers! Get around The Numbers for Round 4 as we look at the week that was in a more… statistical light.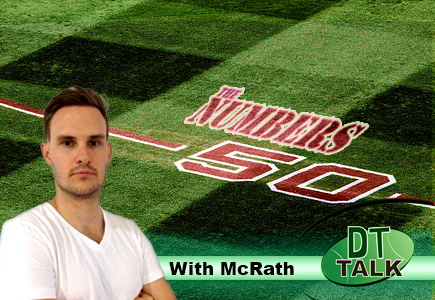 Numbers… let's be honest – it's what DT is all about. Price changes; averages; break-evens… the list goes on. In 2013, on a weekly basis I will strip the records clean and scour the AFL for the numbers different to those we spend our days staring at… Staring at in the hope that we'll have a fantasy football epiphany; and all of the secrets of the DT Universe will be revealed.
The Numbers… a unique look at the world of Fantasy Football.
1 – Coach by the name of Mark Neeld who will be extremely relieved after his side's drought-breaking win over GWS on the weekend. After more than a few shaky moments during the first three quarters, where it looked like GWS would triumph – the Dees kicked away in the fourth, taking advantage of some of the worst umpiring decisions (all against GWS) of 2013. Whilst only beating last year's wooden-spooners in what some would say a fortuitous victory, Neeld is safe – for now. How much time the Demons' hierarchy give him is the question he'll no doubt have at the back of his mind.
1.28 – % of teams who currently own current competition points leader Kane Cornes. With a Round 4 average of 129.75, he is in the form of his life. How long will this run continue for? How long is a piece of string?
2 – Clubs that popular clubman Brendan Goddard has shed tears in whilst wearing their colours. In an emotional post-match interview with Cam Mooney, Goddard admitted to being quite emotional about playing his old club, before breaking into a tear-fest. What do you think? Should he suck it up; or is it okay for footy players to cry over an ex?

3 – Dustin Martin crashed down to earth again this week after his previous huge score. Put in another increasing well-known '3-Quarter' performance as he fell away for a disappointing 58 DT points against the Pies. Maybe we should nickname him Dustin '3Q' Martin?
4 – Quarters of football that injury-magnet Scott 'Gumby' Gumbleton got through on the weekend without hurting himself. Time will tell how long this amazing streak lasts, but if he keeps performing this well (18d and 4.2 goals) then the Bombers will be very happy he chose to stay loyal to the red and black after several cross-town offers in the trade period.
7.7 – % of coaches who took the plunge on underpriced gun forward Travis Cloke at the start of 2013. I was one who had him in my team then took him out for other, 'safer' options such as Dayne Zorko and Jimmy Bartel. He scored an impressive 147 on the weekend against the Tigers, and now averages an awe-inspiring 108.2 points so far in 2013. Hands up if you wrote him off prior to Round 1? *curses in highsight*
8 – Total points between popular Port rookie defenders Lewis Stevenson, Campbell Heath and Jasper Pittard as at Round 4. In what is becoming the handiest rookie trio this year, the boys in black n teal are growing nicely as cash cows and proving solid players in our D5 and D6 spots in defence. The only problem? Trying to work out which 2 will score the highest each week. Now, Jeppa will no doubt go through who to pick on your ground this week. But based on the stats so far, each player has been the highest scorer of the three at least once, with the same to be said for the lowest scorer. At this point though, I'd suggest your order be Pittard, Heath then Stevenson.
18 – Touches managed by early-season bolter Andrew Swallow in his side's win over Brisbane at the weekend. In a rare quiet game for the Kangaroo's captain, he only notched up 6 kicks and 5 tackles to tally a paltry 64 DT points in a winning team. He joins the likes of Watson (65), Murphy (84), Selwood (66), Ablett (84) and JP Kennedy (86) to have had the odd poor game inside the opening 4 rounds. Expect the champion midfielder to bounce back this weekend against the Hawks.
74 – Hands up if you traded in Sydney breakout contender Luke Parker this week. This would've been one of the worst trades you could've made as he went missing to post a low score of 41 on Friday night. The difference in his best (high score of 115) and worst (Round 4) is still too wide to suggest Parker as a reliable option in 2013 – however all things considered, this kid will be a star – it's just a matter of time. The Swans have developed their midfield beautifully as the ageing stars of Bolton, Goodes and ROK are quickly making way for the talented and hardened youth brigade of JPK, Jack, Hannebery and Parker.
204 – The highest recognised DT score of our generation was posted on that fateful day in R10 last year. It was a day when Star Hawk and gun forward Buddy Franklin smashed the North Melbourne team with one of the great modern-day games. It may be a case of 'shotgun not' for the North defenders on Sunday as Buddy will look to capitalise on his team's form and rack up another massive score for his owners as he looks to once again kick a bag on the Roos.
Send me your 'Numbers' for the week @McRathDT
The Benchmark
It's the girls' turn for a shout-out this week, as Kimmy_Kat coach Kim topped the Leaderboard for Round 4 with a huge score of 2355 – the highest of 2013 to date! Her gun-heavy backline of Birchall, Heppell, Gibbs, Goddard and Grimes fired for her, with Goodes not letting anybody down with his handy 115. Here's where it get's interesting – she only has 2 'Guns' in the midfield as she backed in the Swan/Ablett combo to take her through the opening of the season – with Wines, O'Meara, Jones and Whitfield holding the fort before upgrade time. Maric and Roughead combined beautifully in her ruck division, before her star forward line of Hoff, Cloke, Rocky, JJK, Cox and Buddy catapulted her team to the top of the tree for the week. I question whether this structure can get her into the top 100 at this stage due to the vulnerability of the midfield rookies – but she's beating me at this point, so keep on keeping on!
Talk of the Town
After notching up 2 x DT Talk Golden Stubby awards inside the first four weeks, Port young gun Oliver Wines has proved to live up to the expectation and be an absolute revelation for DT Coaches so far. His opening month in the AFL has brought about 2 tons (and a 99), giving him an average of 102 points. Selected on the ball every week, he has AFL Rising Star written all over him. And at just $2.50 odds – the punters agree.
Whore of the Week
With several notable mentions this week, including Birchall (151) and Cloke (147) – there was one who stood out above the rest, and that man is Kane Cornes. A previous DT Stud of yesteryear, Cornes is turning back the clock as he leads the competition in points scored with 519 for a Swan-like average of 129.75. His performance on the weekend against a fighting Gold Coast was simple sublime as he went on to accrue 35d (25 kicks), 16 marks and a huge 156 DT points. Time will tell exactly how long his form holds up, but given the form of Port Adelaide – who knows. Either way – a well-deserved nominee for this round's WotW.
The Round Up
Highlights – Westhoff continued to repay the faith with another ton (121); whilst Birchall is having a ball mopping up down the back for the Hawks after a career-high 151 against Freo. Cloke (147) kicked a career-high 7 goals and GAJ overcame his supposed hand injury to score a solid 118. Wines (100) and Goodes (115)
Lowlights – If you jumped on Dale Thomas early, you would've been disappointed with his sub-affected 35; whilst there was once again a raft of underperforming superstars, with Swallow (64), Bartel (66), JP Kennedy (59), Shaw (66) and Deledio (80) all failing to get close to their respective averages.
Team McRath – My season is back on track after last week's debacle. Swanny finally delivered as captain with a handy 130; whilst Hoff was a great inclusion and Berger continues his good run of form back from injury with a nice 86. 2085 points and a rise in rankings gave me something to smile about as I somehow managed 4 wins.
How was Round 4 for you? Are you sailing forward or stuck in reverse as our teams start to really take shape.
Feel free to shout out some feedback in the comments, or perhaps put forward your own creative Numbers for the week. Also – if you're not already… follow me on the Tweetvine @McRathDT