Golden Stubby – Round 4
Round 4 Golden Stubby nominations are in! Who deserves the coveted award between Brent Stanton, Grant Birchall, Brett Goodes, Dane Swan and the talk of the DT town, Justin Westhoff? Vote now!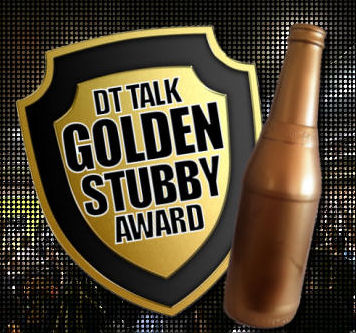 Golden Stubby – Round 2
Every round I'll be asking for your nominations on twitter for the player most deserving of this prestigious accolade. This isn't necessarily the highest scoring players of the round. But the players who stepped up in a fantasy scoring aspect when you most needed them to. Whether it's a highly paid premium who put in a massive effort to drag your team over the line in a head to head battle or a rookie priced player who stepped up and scored well above his expected average.
Lets have a looks at a few players who narrowly missed out.
Kane Cornes – 156 – This is a massive score to have missed out on a nomination. Unfortunately I think this is due once again to a low ownership rate, but once again the few coaches who have him are licking their lips looking at their uniquely inflated scores. Just ask Jeppa! ;)
Tom Liberatore – 115 – Little Libba let down a lot of coaches last week after they brought him into their mids following consecutive scores of 120 to start the season but his 46 was quite disheartening. He seems to have bounced back again this week, once again supplementing his score with intensive tackling.
Jack Grimes – 122 – Grimes has struggled this season, not getting as much time through the mids as we thought he would be. But with more mid time against GWS we got to see what Grimes is capable of. Not sure how many coaches benifited from this score though…
The Nominations are in!
Brent Stanton – 130 – Stanton and Reliable rarely go work together in the same sentence. But with him yet to score under 100 and his latest score pushing his average to 124 he has really rewarded the coaches who took the chance to start with him.
Grant Birchall – 151 – Birchall was absolutely everywhere against Fremantle. Racking up 37 disposals, linking up for plenty of kick/mark combo's and even sneaking forward for a goal. It's getting very hard to find a way to fit this expensive def into our side as his price just keeps rising. Well done if you already had him!
Brett Goodes – 115 – Goodes is what this award is all about. With many of our teams scores looking quite sad coming into the final games of the round, Goodes jumped up and dragged our score into a more respectable zone. The first year, mature age recruit had a below average score last week but more than made up for it this weekend.
Dane Swan 130 – I saw a lot of coaches doubting Swan when he was he started a bit slower than his team mates. Talking about him not being a 'perma-captain' option anymore and starting to look for other options. Swan in his usual fashion went ahead and gorged himself on the rest of the game. Finishing with a total any coach should be happy with!
Justin Westhoff – 121 – Can Westhoff keep up this average? Pumping out massive scores and adding an extra 121 to his total. Who knows if and when if this bubble will burst, but in the mean time I think we're all enjoying the ride.
Cast your vote below for the player most deserving of this rounds Golden Stubby.
Loading ...
Tune in to the boys live webshow during the week to see the winner!
Was there a player you felt was more deserving? Don't forget to get your nomination in during the round next week by tweeting me at @AnthonyDSmith86 and including the hashtag #GoldenStubby