The Draft Files – Round 4.
Now's the part of the season where the astute coaches gain a massive advantage – combing the Waivers, predicting Positional Changes and constructing beneficial Trades all become critical squad-improving tactics from this point forward. Check out the Round 4 Draft-style preview within!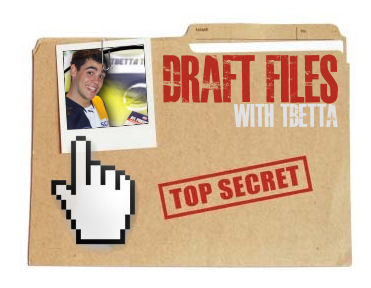 While all the salary-cap coaches worry about prices changes and all that rubbish, it's business as usual in our Draft Leagues. As you've probably noticed, all the value is drying up in the Free Agency pool as we reach equilibrium after gathering three rounds of solid data. Now's the part of the season where the astute coaches gain a massive advantage – combing the Waivers, predicting Positional Changes and constructing beneficial Trades all become critical squad-improving tactics from this point forward. Good luck!
Note: All references to leagues are based on a standard 12-team H2H Ultimate Footy league, with a 5-7-1-5 on-field structure and Captains disabled. All position eligibilities and ownership & drafted statistics are sourced from Ultimate Footy at the time of writing. If your League varies significantly, adjust the advice in this article accordingly.
Scorecard
With 3 games worth of data under our belts we now know enough to make better, more educated list management decisions. The same goes for advice offered in this column. From now on, we'll review how each player mentioned in the Draft Files performed and give a few notes on their situation. It's a good way of tracking the fringe players we talk about here – not to mention holding myself accountable for the things I say in this forum.
Here's summary of the players discussed last week:
All in all, I was pretty happy with how the players on that list performed. We always knew Watts wasn't going to play thanks to the Thursday Teams, making Lewis Jetta was the biggest disappointment. I really don't know what's going on with him at the moment… Is it fitness-related? A new role? A lack of effort? I'll be watching closely over the next couple of weeks, but I completely understand if you drop him to the Waivers based on his pathetic early efforts.
Strings to a Bow
I mentioned possible positional updates last week, and you'd have seen the first wave of transformed players if you've enabled that particular setting with Ultimate Footy this season.
As you can see from the table above, we've been blessed with two extra eligibilities in each position. The Motlop/Stokes/Yarran/Dixon additions aren't as useful as you would have been playing them in their lower positions anyway, and Blicavs isn't averaging enough to become a legitimate option anyway.
The real winners here are Mullett (B), Stanley (B) and Wingard (F) owners, who can improve their squads considerably by moving them to their new positions. For instance, I could move Mullett (96.3 avg) to my defence, benching Sam Butler (64.5 avg). This would allow me to play Heath Hocking (79.3 avg), who's been sitting there as my midfield emergency.  This is an increase in around 15 average points – just by swinging Mullett into a lesser position.
Players to miss out include Joel Corey and Ricky Petterd, although this is probably because they've only played the two games so far this season. They'll likely be granted extra B eligibility if their current roles continue until the Round 6 positional update – keep a close eye on that pair!
Under 500
BACK: Dylan Roberton (B, 75.0 avg, 38% owned)
If there's a Backman averaging 75 in the Free Agent pool, I'd be snapping them up pretty quickly. Roberton has shown he's pretty reliable so far, producing a low of 60 in his three games – solid for a famously inconsistent position. He had 102 against the Giants last week, but I think his output will be more in the 60-75 point range; still making him worthy of a pick-up as a Back emergency at the very least.
CTR: David Mackay (C, 67.7 avg, 43% owned)
Mackay has spent almost 6 years in the AFL system now, yet he's struggled to get comfortable in that time and it shows in his scoring. The fact that he didn't top the ton in 23 games last year shows that he has serious ceiling issues as well. However, he only dipped below 60 on four of those occasions, proving that he's normally good for a 65-point total – which is actually start-worthy for a lot of sides.
RUC: Sam Rowe (F/R, 63.5 avg, 35% owned)
With Kreuzer, Sandilands, Ryder, Naitanui and McIntosh all out for the new few weeks, there's a bit of a squeeze on for back-up ruckman at the minute. Max Bailey (53.7 avg, 36% owned) is still a consideration, but I'd be strongly considering Rowe over him. While Kreuzer is out for the next month, Rowe's job security just taken a massive shot to the arm, and he showed with 68 points last week what he can do when unshackled. Warnock's inclusion means his role shouldn't change too much; he'll still be that key forward/pinch-hitting ruckman hybrid.
FWD: Aaron Hall (F, 71.3 avg, 31% owned)
With back-to-back 82 point scores, Hall has to be on your radar. I'd normally write this off as a bit of an aberration, but looking at the Suns' fixture coming up, I'm strangely optimistic. The Gold Coast has the Power, Giants, Demons and Bulldogs in their next 5 games, which means they should at least be competitive in most of those matches. As a small forward, this is great news for Hall.
Demons: Anthony Miles (C, 17% owned)
We all know Miles could be a great fantasy player if given a clear run at it, but opportunities have been few and far between for him in his first two season with the Giants. But did you know this; In 7 games for GWS, he's never been the sub – averaging 74.7 points across those games. If he can survive the Friday Cull, strongly consider getting on Miles for as long as he's in the squad.
Vanilla: Luke McGuane (F, 69.7 avg, 27% owned)
McGuane is the type of player that you hate seeing in your line-up, mainly due to the stigma attached to players like himself. However, the reality is that he's scoring reasonably well in that 3rd-tall role for the Tigers, and should be owned by more than 27% of coaches with the numbers he's producing. With a low of 67 in three games, surely he's worth a speculative bench pick-up, if nothing else?
Roughie: Kepler Bradley (F, 55.7 avg, 25% owned)
With Matthew Pavlich out for 4-6 weeks after having surgery on his Achilles, who picks up the slack? Fremantle resisted the temptation to bring in another key forward, which means that 'Kepley' will be expected to step up. His scores have been confined to the 50's this season, but he's shown in the past that he can be a big scorer when it all falls into place for him – taken a four-game stretch from Bradley just last year where he averaged 87.8 points as an example.
Lock 'Em Up
Whenever we see injuries or suspensions hit key position players, our first thought should be to 'Handcuff'. Two starting ruckmen in Kreuzer and Ryder will both miss the next 3 weeks at a minimum, which gives a couple of back-ups a chance in the big time. If you are a proud owner of either of the pair above, strongly consider picking up these players in their absence:
David Hille (R/F, 59% owned)
Hille is probably one of the better players that regularly miss AFL selection, the unlucky victim of having the younger Bellchambers and Ryder on the same list. Don't forget that he was a Premium ruckman just two years ago and still averaged 73.8 points in a cameo role last season, where he played exclusively when either Bellchambers or Ryder was out. Simply, get on him Ryder owners – he will score at will when out on the park.
Robert Warnock (R, 27% owned)
In Warnock's last full-ish season, he averaged 73.3 for the Blues in 2011. So yes, he can play, it's just that Kreuzer can play better and Warnock is about as useful in the forward line as a blindfolded Zac Dawson. He's certainly in good form too, notching 20 touches and 51 hitouts in the VFL last weekend! If you have the Kreuz, get on Warnock if he's still available.