Calvin's Captains – Rd. 4
Justinnn West… West… Westcough! I can't even say his name but this Pirate must eat his words. But will he feature in my Top 5? Surely not! As for #1 – Gaz? Swan? Gaz? Swan?…. Ummmm, you better get it there and find out what rippers I have for you this week in the greatest captains advice going around.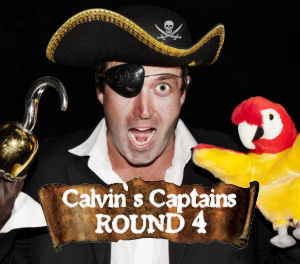 I'll Eat my Words… But I Feel Sick
Justin Westhoff. Need I say anymore? At least I am pirate enough to say that I always thought he was a dud, a loser and a muppet of a footballer but I will eat my words… but I don't like it.
Westhoff is currently the best player in DT at the moment and has had 140 and 154 in his last 2 games… and just quietly it might continue this week when he plays the Gold Coast Suns. Last week, Jonno Brown played them and carved them up big time. He had 106pts on them with 5 goals, 19d and 8 grabs. Rory Thompson will go to Westhoff (as he did Brown) and I'm tipping he can have another decent score again this week. But please don't expect him to keep this up, cause surely it has to end at some point. Surely…
'What if…?'
So this week, Gary Ablett plays Port at Metricon where he has had scores of 135 and 105 this year. He should kill them right? I hunted hard this week to find someone to have as my #1 other than Swan. But…
What if… Cornes tags Ablett like he did to N. Jones (62pts) and Dangerfield (95) in recent weeks?
What if… He scores like he has on them in the past (106 and 83)?
What if… Port keep restricting teams to score very little points like they have only allowing 5×100+ scores to be had on them in the last 3 rounds?
What if… yep, sadly too many 'what ifs' for me here.
Stats Don't Lie
"Swanny is a gun. Guns go BANG. Make sure you are at the right end when it does."
Calvin the Pirate
Oink, oink… This is not meant to be a predictable article, but one of guidance. But once again the stats don't lie and it's his 200th game this week! Swan averages 126 on the Tigers in his last 3 games with a nice 116 on them in 2012. Before that he had scores of 131, 133 and 125 on them. Impressive hey? He averages 138 at the MCG in his last 3 there with an average of 113 there already in 2013. The great man hasn't set the DT world on fire yet, but he is still ranked as the 7th best overall. Look, don't be fancy. Keep calm and lock the gun in once again. Stats don't lie.
Just Quickly
Toby Greene – He's dropped $57 and has a break even of 138 but… he had 146 on Melbourne last year, his best ever DT score. But with many dumping him to stop the bleeding, you can't blame them.
Trent Cotchin – Averages just 95 on the Pies in his only 2 games against them. Love it at the MCG though averaging 114 in his last 3.
Brent Stanton – Averaging 122 this year and only had just 74 and 76 on the Saints in his last 2 games with just 1×100+ score at Etihad in his last 4 games. Ummm.
Ollie Wines – Yep, people ask me… He is averaging 102 but he's a rookie for Christ sake. C'mon people! Please! This pirate has better things to do.
Scott Pendlebury – Had 122 against Richmond last year averaging 119 in his last 3. Will get the Jackson tag but should be good.
Brett Deledio – will be amazing! He had 135 last week with scores of 140 and 118 against the Pies in his last 2. Hodge (135) and Burgoyne (122) were good against Collingwood last week and Delids will dominate.
Sam Mitchell – Tagged by Crowley last year to 73 but with scores of 100, 129, 102, 129 and 141 on them in the past, he should be ok this week at Aurora a ground he averaged 127 at in 2011, but just 90 in 2012.
Dean Cox – goes against Carlton without Kruezer. Had 96 on them last year.
Jobe Watson –Usually scores well against the Saints despite a poor 82 on them last year. He had just 65 last week… so based on that alone, you have to pass.
Andrew Swallow – is averaging 126 this year but will struggle this week. Raines usually tags Brent Harvey and with him out… Raines will surely tag Swallow this week. Guaranteed. Had 93 on them last year and will crash back to Earth this week. Hot tip.
Patrick Dangerfield – Not bothering with him anymore. Ok last chance… Has a highest score of just 78 against the Dogs in his career 4 games and will be tagged by Lower… oh sh*t.
Good luck and follow me for more captain info and for if I ever change my top 5 – @CalvinDT
Who will be your Captain for Round 4?
Dane Swan (56%, 1,710 Votes)
Brett Deledio (5%, 141 Votes)
Gary Ablett (8%, 258 Votes)
Scott Pendlebury (8%, 257 Votes)
Justin Westhoff (16%, 475 Votes)
Someone else (7%, 215 Votes)
Total Voters: 3,056
Loading ...