Golden Stubby – Round 3
Cast your votes now for the round 3 Golden Stubby!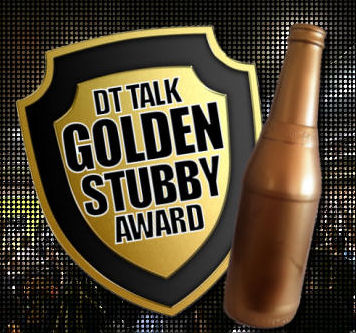 Golden Stubby – Round 2
Every round I'll be asking for your nominations on twitter for the player most deserving of this prestigious accolade. This isn't necessarily the highest scoring players of the round. But the players who stepped up in a fantasy scoring aspect when you most needed them to. Whether it's a highly paid premium who put in a massive effort to drag your team over the line in a head to head battle or a rookie priced player who stepped up and scored well above his expected average.
Lets have a looks at a few players who narrowly missed out.
Scott Selwood – 142 should have Scooter up for Golden Stubby contention but he was just edged out. Many coaches who started with him were let down by his first two rounds, where it looked like he'd returned to his tagging role. But those who kept him were given the treat of seeing Scooter let free to rack up the points. Further proof that 'playing Melbourne' should be a consideration in your trades now.
Josh J Kennedy – 113 – Standing up to become the pick of the mid price forwards, JJK is scoring well above his predicted average and should net his coaches some handy cash.
Todd Goldstein– 114  – Ignored by a lot of coaches due to his inconsistent scoring in the past and preseason rumours of Currie taking the #1 ruck spot, but those who stuck with him have received a (relatively) cheap ruck who has so far managed a 100 point per game average. Could see a lot more coaches jumping on with Kreuzer out for 6 – 8 weeks.
The Nominations are in!
Dean Cox – 132 – With a lot of coaches saying Cox is below par, he used this game against the Dee's to monster his way to a very nice score (especially for a ruckman). Here's another fun fact. His scores this year have all been higher on average vs his opponents last year. 75 average vs Fremantle, 80 average vs Hawks and 106 vs Melbourne last year. So far he's had 82, 88 and 132 respectively.
Dustin Martin – 144 – When Martin was 70 points at half time, many coaches expected that'd be all we'd see from him for the rest of the game. Martin looks to have found his tank today, powering on to more than double his first half score.
Justin Westhoff – 140 – What can we say about 'The Hoff'? At what point do we stop calling his scores flukes? Hoff's ownership percentage went from 0.7 to 7.4 this week with a lot of coaches hoping to cash in on his price rise. They were rewarded with an incredible score and a +$70K rise. Did you get on the Hoff Express?
Ollie Wines – 126 – This kid is an absolute jet. If he keeps up these scores we'll have to name the award after him! (although something doesn't sound quite right about the 'Golden Wines') Played another brilliant game and was largely responsible for Port getting over the line.  Amazing impact for an 18 year old in only his 3rd game!
Andrew Swallow – 123 – 28 Disposals and a massive 11 tackles pushed Swallow's score to over 115 for the 3rd week in a row. Looks to have taken his game to a new level, rewarding coaches who've chosen him from the start with dare I say, a super premo average?
Cast your vote below for the player most deserving of this rounds Golden Stubby.
Loading ...
Tune in to the boys live webshow during the week to see the winner!
Was there a player you felt was more deserving? Don't forget to get your nomination in during the round next week by tweeting me at @AnthonyDSmith86 and including the hashtag #GoldenStubby