The Draft Files – Round 3
Welcome! Lockout's not too far away, so let's get straight into all the Draft-style issues facing coaches in Round 3!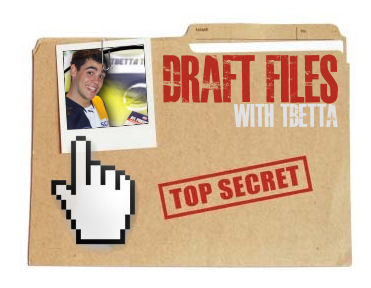 Welcome! Lockout's not too far away, so let's get straight into all the Draft-style issues facing coaches in Round 3!
Note: All references to leagues are based on a standard 12-team H2H Ultimate Footy league, with a 5-7-1-5 on-field structure and Captains disabled. All position eligibilities and ownership & drafted statistics are sourced from Ultimate Footy at the time of writing. If your League varies significantly, adjust the advice in this article accordingly.
Positional Changes
For those playing in Ultimate Footy leagues, one of the most enjoyable services offered is the in-season positional updates. Straight from the horse's mouth:
"From time to time players' positions are reviewed. If a player has been playing primarily in a position that they are not originally eligible for in Ultimate Footy, a player positional change may be made."
Basically, every three weeks, the powers-that-be analyse player trends and update deserving player eligibilities. Note that a player's current positional status will never be removed – only added to. Identifying these players before they are officially updated is an underrated yet highly effective way of improving your squad.
For instance, last season I had Hamish Hartlett in my squad as a 'C' only. He wasn't scoring well enough to earn a starting gig in my squad, confined to the bench every week as an emergency. Due to his role in defence for Port, he was updated to B/C status, instantly becoming a Top 3 Defender in my side. By moving him onto the field and removing my worst defender, I was able to gain 20-30 points a week without actually changing my squad.
Identifying these players and acquiring them can give you the same boost this season. Below is a short list of fantasy relevant players who might gain positional statuses in the first or second wave of updates – typically taking place every three rounds. Of course, the most influential additions are where player is gifted the 'weaker' eligibilities; obviously, Hartlett earning B status is more valuable than someone like Newman being granted C status, as you'd just play him in your weaker line anyway, which is usually defence.
Ricky Petterd (F – 75 – 39% owned)
It was Petterd's first game in Round 2, and as he did all pre-season, he lined up in defence. He averaged 79 points in his last full-ish season (I realise that's like saying that Lindsay Lohan gave a great performance the last movie she filmed when she was sober-ish) as a forward – what can he do for a finals contender like Richmond in the backline? 75 points last week was a great start, and being named to start at CHB this week leaves no doubt that he'll be given 'B' status in the near future. Petterd is a great option for coaches who are looking for an extra Backman, given that the Free Agent Forward pool is traditionally so much deeper.
Charlie Dixon (B – 104avg – 82% owned)
Whether or not Dixon can continue his current form (98 and 110) isn't important – he can still average 70, meaning he'd still be a guaranteed starter in standard leagues. What intrigues me is that he had more hit-outs than Zac Smith on the weekend (which is like saying that Ashton Kutcher bedded  more women last year than myself – it's not hard), given that it's commonly accepted that Zmith is the ruckman and Dixon the part-timer. Keep an eye on the Suns ruck situation this week – if my hunch is right, we will see Dixon with B/R eligibility in the near future.
Chris Yarran (B – 67avg – 75% owned)
Yarran has returned to the forward line under Malthouse, peeling off a HFF in the two games so far this season. Any change in eligibility won't be as effective as some, but if you have more depth in defence than in the forward line, then this could come in handy – Yarran's almost a monty to become F eligible.
Joel Corey (C – 68 – 65% owned)
The best in-season updates are the ones that morph fringe midfielders into instant starters. Joel Corey is still available in 35% of leagues, thanks to missing the first round and only scoring 68 in the second. Corey has played key defensive roles when there have been injuries at the Cats in the past, so a more permanent role in the backline for the veteran isn't out of the question. It'll be interesting to see whether he stays in that 3rd-tall post for Geelong in the next few weeks, and whether that translates to updated B/C status.
Seek
With two games of data under our belts, now is that to seek out underperformers that have sewn the seed of doubt in their owner's minds. It's unlikely you'll be able to steal these players off the Waivers like other unwanted disappointments, so you'll have to attempt to trade for them if you think their form trends are reversible. Everyone knows about the popular flops – the Greene's, Zorko's and Adcock's of the fantasy world – but the seven that I'm suggesting you look at slide under the radar, so prying them away from rival coaches mightn't be as difficult…
DEF: Houli (54 and 38, ADP: 110.9) / Watts (20 and 38, ADP: 140.1)
To say that these two players have been disappointments would be like saying Wayne Carey isn't a great best mate, or the Demons don't play great footy. Comically, they are to the fantasy world what Hamish and Andy are to middle-aged Christian ladies. I'm not going to make excuses for their form so far, but I will say this – they are better than what they've shown so far.
I mean, they went at 93 and 87 DT/100min in the pre-season, so the ability is there – they're likely just being given more attention from the opposition. I fully expect them both to get considerably better, so consider bringing them for a steal. Yes, I realise that Watts has been dropped this week to learn a lesson, which only means you should be able to get him cheaper!
MID: Bennell (66 and 44 ADP: 100) /Gaff (63 and 45 ADP: 95.8)
If there's one thing in this world that I hate more than mouth ulcers and teenage facebook statuses, it's taggers.  Just ask Daniel Kerr – his autobiography reads something like: "Round 1; Tagged, managed 16 possessions. I promise I'll beat it next time! Round 2; Tagged again, had 12 possessions. Frustrating day. Round 3; Tagged again, so I punched him in the groin. Suspended for a few weeks. Tagger asshole."
Bennell has been tagged by Clinton Jones and McVeigh so far, and given its success, I can't see it changing. What I can see changing is how he copes with the tag, and the only way is up. Gaff has been a similar story, tagged by Shiels against the Hawks on Sunday. He's the safer bet of this pair as the Eagles have Kerr and Shuey, and quelling them is normally a priority for opposition sides. Expect his output to increase dramatically against the Casey Scorpions, or Melbourne – whichever shows up this week.
RUC: Giles (66 and 68, ADP:102.6)
The first thing I notice about Giles, after his ridiculously large head, is that he's been playing up forward a lot so far this season. It seems that Brogan (seriously, is it a prerequisite to have a massive noggin to become a ruckman at GWS?!) is soaking up the bulk of the ruck time, which explains Giles' reduced fantasy impact this season. There's a reason why Jon was a top seven 'pure' ruck selection in the ADP rankings this pre-season, and it's because he score consistently. Definitely seek him out, especially if you have a Ryder/Cox/Roughead that you can move into the forward line once Brogan has a stroke or something and Giles starts getting full minutes again.
FWD: DeBoer (51 and 62, ADP: 127) / L. Jetta (44 and 68,ADP: 168.2)
DeBoer has been the forward-tag extraordinaire so far this season, which understandably puts you off him right away. He did this all of last season though and was still successful at scoring himself (a breakout season average of 84), particularly when curtailing midfielders. Meanwhile, Jetta is always the taggee, never the tagger. His role sucks at the moment, playing deeper forward than he did last season. Sydney won't keep this up for long, so expect him to move into the midfield on a more regular basis over the coming weeks. He'll never be the kind of guy who averaged 100 points in a season, but he does have the potential to average 80. He started poorly last year too, and let's face it; he can't score any worse than he has so far.
Under 500
When it comes to supplementing your side with talent from the Free Agency pool, it's not often that you'll be gifted the perfect addition. No, you'll probably have to get your hands dirty, and that's when we start looking at players under 50% ownership. Here's the best of the lot:
I don't understand why someone like Stevenson is still in the Free Agency pool when the depth of defenders is so shallow this year. He'll rarely set the world on fire, but he's the perfect emergency defender – if not your last starter in standard leagues. He'll play every week, his role will never be 'lockdown' thanks to his sublime foot skills and he'll fetch you 60 points a game.
Jasper Pittard (B – 70avg – 42% owned)
Like Stevenson, Pittard is on the Waivers more often than he is owned, which is an absolute tragedy when some hack like Geary boasts 75% ownership. He's perfect for that intercept-marker role in Port's new-look defence, just like Mark Wahlberg is the Number 1 choice for any role that involves a gun. He's been playing deeper than Stevenson so far, so I'd see if Lewis was available before moving on Jasper.
Chad Wingard (C – 89 avg – 45% owned)
Coaches are more than justified in being wary of Wingard's early form, given Port have taken on the Demons and Giants so far this season. For that reason, I'd still take Hocking (87 avg, 53% owned) or even Mullett (95.5 avg, 53% owned) as pure mids, but beggars can rarely be choosers. Which probably explains why Nicholas Cage is more The Sorcerer's Apprentice than Face/Off these days. If Wingard can continue to notch 20 disposals a game, then the points will flow.
Max Bailey (R – 64 avg – 37% owned)
If you're looking for a back-up ruck option (if you got stuck with the 6 foot 8 human potato, Zac Smith, for instance), then Bailey is one of the only reliable options left in the Free Agency pool. 65 to 70 is probably his average range – provided he stays healthy. He's about as durable as a virgin on Prom night, but his output is reliable when on the park.
Josh Hill (F – 65 avg – 35% owned)
Josh Hill isn't normally the kind of player that I'd recommend grabbing, mostly because the only thing he does consistently is his inconsistency. He's a bit of a front-runner, and given that the Eagles play a spiritless Demons outfit this week, it's a good chance that Hill can provide more than his usual witches-hat quality forward pressure and score some serious fantasy points.
Craig Bird (C/F – 19 – 50% owned)
Bird was the sub last weekend after missing through injury in Round 1, which I think is a huge reason why he's only at 50% ownership. He's shown what he can do last season, averaging 101.2 over the first 5 rounds of 2012. Obviously, this decreased considerably as he was asked to tag more often, as well as wear a few green vests. He's still a fair chance to be subbed this week, but he'll get his opportunity to run out a whole game in the next couple of weeks – jump on before he becomes a Waiver Wire must-have.
Outside Looking In…
Chris Knights (F – 52% owned)
With 41 disposals in the VFL last weekend, Chris Knights has to be close to displacing someone from the unbeaten Richmond squad. Much has been said about Knights' fantasy potential in the past, which is evident in the fact that he averaged over 83 points for three years running once upon a time. He'll play that high half forward role for the Tigers you'd think, but will probably be a serious vest concern in his first couple of games. If you have the space on your bench to make a speculative add, stash Knights away for a fortnight or too and see what he dishes up.
Robbie Gray (C/F – 45% owned)
We all know what Robbie Gray can do when he's not snapping legs or pulling hammies, so hopefully he gets a clear run at it this season.  He averaged 82 points from 21 games in 2011 and he's named on the extended bench for Port this week, so he could be worth a speculative add. He won't play this week and obviously he'll cop a few vests early on; but with a player of Gray's quality, it's a calculated long-term risk that could pay high dividends.
 Jason Winderlich (F – 34% owned)
With 8 goals in just three quarters in the VFL last Friday, it's safe to assume that Winderlich will come into calculations for Essendon over the next few weeks. He has a history of scoring well, particularly in 2009 and 2010 where he had almost full seasons and averaged 94.1 and 87.7 respectively. If you have space on the bench, I'd stash him away early while he's still flying under the radar.