Jeppa's Juniors – Round 2
Some things never change. The Demons are still terrible and Geelong continually finds a way to win. However, one thing that is about to change is the value of our players. So check out which rookies Jeppa regards as the must haves ahead of the first price changes for Season 2013.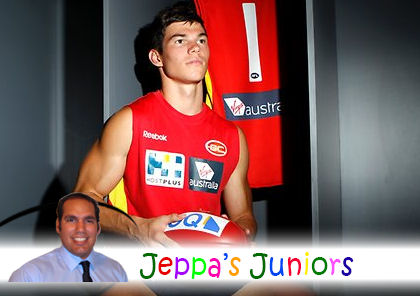 Do not underestimate the importance of your trade decisions this week! A balance of good earnings accompanied with consistent scoring is the aim and funnily enough it's not just about the rookies. Liberatore, Dixon, Moloney, Monfries, Mullett and Jesus, I mean Westhoff are a few surprise packets taking some attention away from this year's crop of rookies. Let me take this opportunity to remind you that good performing rookie priced players earn you a lot of money in a very short period of time! Thus, make sure that you are confident with all your rookie selections before you go chasing other potential cash cows.
Two Gamers
Even though everyone's got him, it's still pleasing to see Jaeger O'Meara dominate. In an old fashioned wet weather slog against last year's premiers, Jaeger had a whopping 104 dreamteam points from 12 kicks, 13 handballs, 5 marks and 7 tackles! Typically, rookies struggle in the wet against the hardened bodies of the opposition but not O'Meara. His performance last weekend ensures that he remains an automatic starter in your team until you can afford eight premo midfielders.
Lachie Whitfield had a massive 41 dreamteam points at quarter time after roaming all over AAMI stadium and he went on with it, scoring 102 by games end. Whitfield started on a wing and then played a bit of half back which, appeared to be a tactic to free him up. The most impressive aspect of Whitfield's game was his gut running which led to him taking 9 uncontested marks. Jonathan Patton was a great target for the Giants kicking a goal and scoring 67 dreamteam points. He's doing pretty well considering the quality of football entering the Giants forward line so expect similar scores from Patton in future rounds. Lachlan Plowman was disappointing scoring a dismal 23 dreamteam points. Those with Plowman need to weigh up whether its worth off loading him to a cheaper defender with a much higher break even.
After his game against Carlton, I reckon Sam Dwyer now believes that he belongs at AFL level. In front of 84,000 fans, Dwyer made a name for himself after collecting 10 kicks, 13 handballs, 6 marks, 3 tackles and a goal for 90 dreamteam points. Given that he was one of Collingwood's best players, there is no doubt in my mind that he'll hold his spot. However, with a host of stars coming back for the Pies through the VFL, the pressure will be on Dwyer to perform week in week out. Brent Macaffer is steadily improving after a year out of the game. He looked far more threatening this week against the Blues than he did in Round 1. Macaffer had 11 touches, 4 marks and an impressive 6 tackles for 66 dreamteam points. He's an important role player for Collingwood so I reckon his spot in the side is safe…for now.
The Power rookie brigade of Oliver Wines 81, Lewis Stevenson 71, Jasper Pittard 78 and Campbell Heath 74 all contributed to the win over the Giants and all have secured their spot in Port's best 22. You need at least three of these players in your team to remain a dreamteam threat! Cameron O'Shea chipped in with 59 dreamteam points and even though he has been a reliable defender for the Power, you wouldn't pick him at $164,900 ahead of his cheaper defender teammates.
Last week I was very critical of Jake Neade but after scoring 75, I now have to eat my words. The pacey Port forward proved a handful for GWS with his ability to continually hit targets in the forward 50. Interestingly, my trusty stats website, www.footywire.com tells me that Neade currently leads the AFL for goal assists at 3 per game. As great as Neade has been, I'm still very doubtful that he'll score well against the more hardened and experienced teams. He'll be named in Port's best 18 for the Showdown and then in Round 4, the Power face the Suns so for those with Neade, enjoy the cash grab.
It's Round 2 and already Brett Goodes cops a tag. Are you surprised? You shouldn't be. Even with the tag from de Boer, Goodes managed 13 kicks, 8 handballs, 6 marks and 3 tackles for 82 dreamteam points. Continue to start Goodes on your field.
Melbourne trio Jack Viney 59, Matt Jones 48 and Jimmy Toumpas 32 all performed well below their best. Lets hope the Demons can improve collectively so these guns can increase their dreamteam scoring output. If you've got Toumpas, get rid of him!
Luke Brown played really well against the Lions and I now see why the Adelaide Football Club rate him so highly. He's a competitor and he definitely held his own against McGrath. Brown had 12 kicks, 7 handballs, 5 marks, 2 tackles and 74 dreamteam points. If you've got Brown then you're a better judge than me.
Jackson Merrett, 71 enjoyed the training drill against Melbourne but he's still on the outer at Essendon in my opinion. Mark Blicavs, 57 picked up more possessions this week and provided a better presence around the ground but his ruck work is still average. Jed Anderson, 54 is a fiery little bugger and his pace complements Hawthorn's aging midfield. Anderson is doing a lot right at the moment so I'd be surprised if he was omitted in the short term.
Kane Mitchell, 19 and Nick Kommer, 25 were the only rookie priced players to wear the green vest in Round 2. Don't be surprised if Kommer is the sub again this week but surely the Port coaching staff will give Mitchell a full game in the Showdown. It's rare that a player is a sub three games in a row.
One Gamers
Brad Crouch was the best performing of the debutants this week, scoring 62. He collected 7 kicks, 11 handballs, 3 marks and 3 tackles playing a half-forward/midfield role. Brenton Sanderson was very impressed Crouch's performance and went as far as saying that his non-selection in Round 1 was a mistake (source), so expect him to be a regular in the Crows 22. Now that he's got his first game out of the way, I reckon Crouch will have a significant impact in the Showdown this weekend.
Dean Terlich was good for 56 dreamteam points, which is a decent effort considering Melbourne got pumped by 148 points. Assuming Melbourne can be more competitive in the coming weeks, I reckon Terlich can average between 70 and 80 dreamteam points. He loves to run and carry, tackle and win the hard ball but wait and see how he goes against the Eagles this week if you are considering trading him in.
Even though he has been around for a while, Sunday's Blues v Pies blockbuster was Sam Rowe's first AFL career game. He scored 59 dreamteam points (7k, 4h, 4m, 8ho & a goal) and competed pretty well. His job security is still a massive concern and in all honesty, I reckon Hampson is a far better forward/ruck option for Carlton at the minute. Rowe's teammate, Marcus Davies was rarely sighted against the Pies and accumulated only 34 dreamteam points. If he's getting a game before Nick Duigan he must be doing something right but he's still not a good dreamteam rookie option in my opinion.
In less than three quarters, forgotten Sun Jack Hutchins scored 48 dreamteam points (9k, 4h, 3m, 1g) on a wet and muddy SCG ground. He came into the Suns line-up for dreamteam villain Greg Broughton and played across halfback. Even though he did get subbed off, keep an eye on Hutchins because he could be a real rookie smokey this year if he can stay fit.
With Ballantyne suspended, Hayden Crozier came in this week to play his role. To his credit, he presented well to kick 2 goals and score 52 dreamteam points. The fact that Crozier only collected 8 touches in a very free flowing game is a bit of a worry and he's likely to be dropped when Ballantyne comes back in this week.
Callum Sinclair, 47 was a decent target for the Eagles up forward against the Hawks. He took a couple of good marks as well as competing admirably in the ruck. I reckon Sinclair has done enough to hold his spot this week but with Lycett waiting in the wings, his job security will always be a concern.
If any one cares, Mitch Brown is rookie priced and he scored a massive 12 dreamteam points after getting the run around from Buddy Franklin.
Keep Your Eye On
Nathan Wright – The Saints were licking their wounds after Friday night with both Sean Dempster and James Gwilt both injured. These injuries could open the door for Wright who is your typical running back pocket/half back flanker. The Saints picked up Wright with pick number 24 in last year's draft. He was named as an emergency for both Rounds 1 & 2 and the fact that he was one of the best afield for Sandringham on the weekend means he should make his debut against the Giants in Round 3.
Jackson Macrae – Macrae is a likely inclusion this weekend after the Bulldogs poor showing against Freo. After just missing senior selection in Round 2, Macrae performed very well for Williamstown in the VFL. His run and accurate skills are needed at the Bulldogs so expect him to be named soon.
Jake Stringer – For those who haven't seen it, here is Stringer's first kick at AFL level (source). Not bad ay? Stringer has been working his way back from an ankle injury sustained in the NAB Cup. He played in the VFL on the weekend and even though he wasn't named in the bests, he impressed with his work rate and forward pressure. Stringer would be a welcome addition to the Bulldogs forward line so expect him to debut very soon.
Sam Mayes – Last year's number 8 draft pick is also very close to a senior debut. In his NEAFL match on the weekend, Mayes was taken off at three quarter time as insurance for the Lions game that afternoon (source). If Mayes does line up this weekend, I'm pretty confident that it will be as the sub but don't let that put you off because quality midfield/forward options are limited this year.
Good luck with your trades this week!
Got a question? Ask me on Twitter @JeppaDT.