The Draft Files – Round 2
It was a bizarre week in Fantasyland in Round 1, from both its split & elongated nature, to the sheer range of surprising scores that were posted by our players. Things will even out in a couple of weeks though, so check out this week's Draft Files to get the edge on your competition!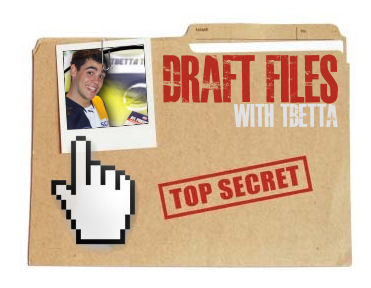 Welcome to the 2nd edition of The Draft Files! It was a bizarre week in Fantasyland in Round 1, from both its split & elongated nature, to the sheer range of surprising scores that were posted by our players. Things will even out in a couple of weeks though, so don't go all Jurrah-machete-style on squad if they had a tough one on the track. Bunker up, put some feeler trades out there and supplement your squad with encouraging Free Agents -but don't make wholesale changes to your team based on one peculiar round of footy!
Note: All references to leagues are based on a standard 12-team H2H Ultimate Footy league, with a 5-7-1-5 on-field structure and Captains disabled. All position eligibilities and ownership & drafted statistics are sourced from Ultimate Footy at the time of writing. If your League varies significantly, adjust the advice in this article accordingly.
Early Wins
Brad Ebert (129 – ADP Rank: 36)
It was a brilliant start to the season for Ebert, who really looks like he's going to approach returning first-round value this year.  He was one of the few fantasy swans amongst the ugly ducklings at Port last year, but if the Power can remain competitive, the sky is the limit for this rare beast. An unlikely combination of elite endurance and marking ability means that he is often on the end of his teammates kicks, contested or otherwise. Most coaches grabbed him in the 4th round, so this is a huge win so far, and looks like it will pay dividends all year long.
Bryce Gibbs (133 – ADP Rank: 16)
Drafting philosophy differed coach-to-coach and league-to-league as you would expect, but using an early pick to secure a non-mid like Gibbs is a gift that looks like it's going to keep giving. He's like the 'special' chinaware your grandparents keep in that glass cabinet to be used only for special occasions, and Mick Malthouse has stormed in and said "Screw that, we're eating in style every night, bitches", and proceeds to pile up your Gibbs-plate with a large helping of DT points. High-averaging non-mids aren't common, and Gibbs could average the most of them all.
Andrew Mackie (109 – ADP Rank: 120)
Sometimes I'm out of clean clothes, so I'm forced to delve into the terrifying reaches of my wardrobe in the hope of finding something that doesn't make me look like a bum or a paedophile. It's not easy. Sometimes though, I find this awesome shirt or these on-trend shorts that I completely forgot about, but had all along. That's Mackie. He's been a fantasy fixture for a long time now, yet coaches only looked to snap him up once they were forced to delve into the bargain bin. He's averaged 78 or more for the past 6 years with a high of 91, and to get a reliable defender like Mackie at Pick 110 or so is a steal.
David Armitage (112 – ADP Rank: 118)
Unlike the majority of his fellow teammates, Armitage is in his prime right now. Montagna, Dal Santo, Hayes, Fisher, Gilbert, Riewoldt and Milne are all on the decline now, and the new crowd of Steven, Stanley, Newnes and Siposs are still a few years away from their best footy. It's Armi in the middle. He's ticking all the boxes; he's 25 this year, he's already produced a fine year of football last season and he's slowly assuming the role of prime-mover in the Saints' midfield. Armi should average above 95 this year, which is an excellent return if you got him at any pick past 100.
Jonathon Griffin (77 – ADP Rank: 188)
Griffin is the sweet, quiet and pretty younger sister, the shy one you only notice once you stop lusting over her more popular and less-clothed sister after she crushes your tiny shallow heart. It's only then that you realise that Griffin has been there all along, always there for you in your time of need for a hug, or another 80-point DT score, or whatever. With that slut Sandilands out the picture for the foreseeable future, you finally realise that Griffin is the girl for you. Well done to all the coaches who appreciated the inner-beauty of Griffin before the rest of us caught up, and took him after pick 180 or so – it looks like he'll reward you for as long as Sandilands is off becoming an 'actress' in the big city.
Shaun Higgins (ADP Rank: 144)
As much as simply reading Shaun Higgins' name raises my core temperature, I can't believe he survived until the 12th Round in most drafts. Yeah, he's a massive sissy and he's wronged us in the past, but the base truth is that the kid can score. Any guy that has the potential to average 90, particularly non-mids, shouldn't go undrafted for so long! Who cares if you are repulsed at the sight of him in your squad – I guarantee the feeling of winning will overcome that. Until he gets injured again, of course.
Seek

/

Stash

/

Shop
Jarryn Geary
Flashback time…
It's the year 2012. I'm a fresh-faced fantasy coach, 'working the waiver wire' just like I learned in College. Between sips of my Dr. Pepper and to the killer tunes of 'Call Me Maybe', I notice that this Geary fellow has scored 77, 80, 98 and 81 in his first four matches! I instantly click the 'Add' button and leaned back in my chair, admiring my cunning in securing an 80-point defender in mere free agency.
The next few weeks hit me hard. I just… lost the touch. The magic was gone. Geary was the infection slowly eating away at my side, scoring at an average of just 33 points over the next 6 games of the year. The best thing I ever did was convince another naïve young coach to take him off my hands, unashamed that I'd just doomed his side for inevitable failure. In many ways, I'm the man I am today because of Geary, and I guess I thank him for that. Not for the 20-point scores, though.
If you have Jarryn, then shop him, hard. Don't get me wrong, I don't think he's a hack or anything. It's just that he changes roles more often than Taylor Swift changes boyfriends (Let's do the maths. Every song she writes is pretty much about some ex-boyfriend, so 4 studio albums and 64 songs in 6 years… That's a new dude every 5 weeks), and this kills his scoring. Check this out: Rounds 1-4, averages 84. Round 5-12 averages 33.5. Round 14, scored 101. Rounds 15-17, averages 52. Then Rounds 18-22, he averages 86 again. What's going on?! The only advice I can give is to cash in on his early score(s), and force another coach to ride the devastating rollercoaster that is Jarryn Geary.
Verdict: Shop
Toby Greene
Did you know that 37 is Toby's career-low score? Wow, even in his first year he dodged the vest and poor performance every week to at least post 50 DT points. Enter Ryan O'Keefe, and 80 minutes later he's squealing like schoolgirl in a narrow alleyway, with the only escape blocked  by a drunk Ricky Nixon, who's whistling gently and slowly walking towards her, dragging a half-empty bottle of gin across the rough brick wall. Anyway, the point is, everyone knows how good Greene is and can be, so ward of any and all trade offers, and hold firm. He'll bounce back.
Verdict: Stash
Embley/Zaharakis/Lower/C. Beams/L. Anthony
It's amazing how much a substitute vest or a tagging role can irk a fantasy coach, especially in draft leagues where they are the only poor bloke that cops it. This makes it perfect for poaching their sub-affected players, particularly if you have sufficient cover in these lines.
If you can afford to hold Embley, Zaharakis and Anthony on your bench and wait for them to shed the vest, then definitely attempt to acquire them; particularly Embley, who won't have it for long while other injured Eagles are eased into the side in the same way he did. Surely Claye Beams gets a full run this week given that the Lions were bent over and he showed encouraging signs when unleashed late into a fizzling contest. Lower is probably the easiest and riskiest to acquire as many coaches will be put off by his tight tagging role – which was particularly effective on Rich (46) last week – but only totalling 50 points himself. I think he'll continue to tag, but he'll accumulate more than 50 points on a regular basis.
Verdict: Seek
Dayne Beams
By the time you read this, you'll probably know whether he has been named to play In Round 2 or not, but at this stage it's likely Beamer will be out for another fortnight with that thigh strain. It's reasonably short-term, so there's no reason to panic and start shopping Dayne around, because you're only going to get unders in return. Snap up a midfield Free Agent and count the weeks until you have the Beamertron back, pumping out tons as usual.
Verdict: Stash
Bandaid Station
1. Fast Forward
Many coaches are still addressing the issues that we had last week, which is covering the plethora of first-choice forward options (Wellingham, Harvey, Stevie J, LeCras, etc.) for the short-term future, so we'll take another look at the fringe forwards still on the market in a lot of leagues.
Brandon Matera (64 subbed – 58% owned) is an excellent Add prospect this week if he's snuck under the radar of other coaches in initial waiver bids. Because he was subbed, his score of 64 doesn't look that pretty, but it was earned in practically a quarter. After a performance like that, I can't see him being subbed next week, so get on if he's out there. Tory Dickson (107 – 67% owned) is much less likely to have evaded other coaches, but if you're in a shallow league he could still be available. Dickson won't top the ton every week, but he showed last year by averaging  77 in a 13-game stretch that he can return starter value as a forward. Michael Walters (82 – 49% owned) is probably your best bet, and he's one I acquired this week in my own league. Like any small forward, he's prone to sub-60 scores, but I think he's worth the risk as a speculative bench pick-up. He averaged 81.5 in the last four games of 2012, and with 82 points in his first game this year; it looks like he's on the right track.
2. Bench Fodder
Early on in the season, we're always looking to find undrafted value before we hit equilibrium in a few weeks. Here's a list of guys you should think about snapping up as reliable bench cover, if not possibly more.
Harry O'Brien (B – 100 – 64% owned)
Harry O lined up on the wing and remained there all game this weekend, despite a similar player in Heath Shaw being a late withdrawal. It looks like Bucks wants to free him up through the middle this year, so maybe this rare ton won't be so rare for O'Brien this year. Given that he was only 23% drafted in the pre-season, a lot of coaches have clearly already got on board. Follow the pack on this one if he's free in yours.
Heath Hocking (C – 98 – 48% owned)
Hocking showed two years ago that he can be an affective tagger/DTer hybrid, averaging 87 points while following around superstars all day. I can't explain what happened last year, but his job on Dangerfield (51) alongside 98 DT points of his own shows that he's still capable of large totals when tagging, like Cornes/O'Keefe/Carrazzo before him.
Aaron Mullett (C – 89 – 16% owned)
Mullett is a real speculative pick, particularly as a midfielder. He fits into the same category as Anthony Miles and Magner – stocky running machines that get a lot of the footy but are always a chance to be dropped. Just ponder this though – in the last 3 games he's played where he's been unvested, he's notched scores of 78, 105 and 89.
Tyrone Vickery (R/F – 101 – 73% owned)
Like O'Brien, it seems many coaches have already jumped on Vickery (44% drafted). Be wary though, he won't kick 3 goals or take 9 marks on many occasions this season. I see Ty as a 65-75 point averaging R/F insurance at best, and I certainly wouldn't be starting him until I see more consistency from the big talent. In saying that, he's reasonably reliable to plug into your side if your first-choice ruck goes down, so he's still well worth a pick-up if he's available.
That's all from me again this week, and good luck with your Draft squad this week. Remember, don't be too harsh on your 'Keepers' if they had a poor Round 1 – hold on to them and give them the opportunity to justify why you picked them. As for fringe and bench players, however… It's open season! Teams will be released very soon, so make sure you don't miss a bona-fide Free Agent because you're too scared to give up a non-starter. As always, you have to give up something to get something!