DT Talk State of Origin League Challenge!
It's State v State and Mate v Mate. The DT Talk Writers have gathered groups from our own states to battle it out for DT State of Origin Supremacy!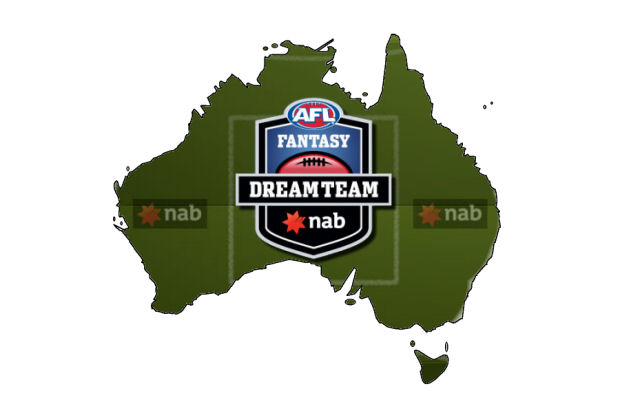 Last year we had the East v West challenge which the West took out quite comfortably.  This year though, the DT Talk writers got together and decided that we should have a challenge where we each got a group together to represent our states with the highest ranking state being the winners!
One thing that we will track throughout the season is the points per population etc, however we will wait until we get a few more points on the board and things settle down a bit.  But to see where your state sits in terms of DT participation, here is a what percentage the states and territories have this year (source: Rankings page on AFL Fantasy site) .
From this we can see that the three southern states are obviously the biggest and had a bigger pool of players to choose from.  Nevertheless the other states are certainly in there fighting!
Now that all of the leagues are set we can now show you who is in them and how they went in the first week!  We will put in an update every few weeks on how we are going.
1. DT Talk WA – managed by Tbetta
Western Australia led the way in the first week with an average of 1,970 in position 18.
There are some big names in this league that is for sure and they are going to be tough to beat!  Some noteable teams like Tbetta than you and The Next Minute which is managed by Sean T (Tbetta's brother).  But we also have Duckys Goldens who I have heard good things about.  The thing that worries me most is that all 3 of these teams are in the bottom third of the ladder and when they get going this team will be pushing for number 2 overall (behind the SA league of course).  We know that Tbetta got caught out with all those underperforming Premo's as he mentioned in the Bullets this week, so beware the WA league.
2. DT Talk Tas – managed by Aki
 These guys are ranked 30th with an average of 1,961 and are not far behind the WA guys.
This league is made up of a number of friends of the DT Talk guys Roy, Warnie and Calvin and include some people you might know like Tackling Tit-ed and the Beard (who does a lot of the backing music to the DTTalk episodes).  It looks like Tit-ed is well positioned to be fighting it out for the Tit-ed cup which is awarded to the winner of the bottom half of the ladder at season's end!  Aki got off to a solid start in the 7th position, I think that is a good spot to be in (see SA league!).
3. DT Talk SA – managed by myself
We had a solid start with an average of 1,956 and are ranked 43.
Our leading scorer this week was The Mighty Zombies who are coached by Josh, who happens to be my son!  I think I need some lessons from him! We had 5 teams score over 2000 and only two teams below 1870.  Our league looks to improve next week but we have had a good start!  There are plenty of guys in the league who had high finishes last year.  I am starting off in 7th place, I figure that is a good spot to attack from!  I am sure that the guys down the bottom just got caught out with those underscoring premiums and will certainly bounce back next week.
4. DT Talk Vic – managed by Douthteez
These guys are ranked 82 with an average of 1,944.
4 teams in Vic managed to top the 2000 mark with the league host, Cousins Coke n Ice finding himself in position 16.  Crutton Hutton, also of DTTalk is in position 6 with his team "the Fear Boners".  There are some experienced DT'ers in this league and they will certainly rise up the rankings over the next few weeks.  I know that Douth will be cracking the whip on the guys, and I can hear EJ in the background telling him to "stick it right up em".  I have no doubt that this group will be up towards the top when it counts.  Having Douth and Crutton in the same league always worries me, particularly with Abers95 as well.  These guys will spend more time trying to take each other's teams down than keeping an eye on the grand prize!
5. DT Talk Qld – managed by McRath
Qld are currently ranked 116th with an average of 1,939.  McRath put together the below comments for us.
Round One was a mixed bag for the Queenslanders, with 5 of us topping the 2000 mark and several more close behind. Mark from Surly Duffs had a great first round, scoring 2123 points and avoiding most of the carnage. On the other end of the ladder, the likes of Warhead Warthogs and Jimmy's Junk will need to lift if we're to push inside the top 100 in the next week or two. Overall it wasn't a bad result, however it seems that we'll have to fight our way to the top – effectively starting as underdogs. And any Queenslander will tell you that that suits us just fine.


6. DT Talk Territories – managed by Griff
Being ranked 527 and having an average of 1,887  isn't quite where they wanted to be after round 1, but I know that Griff had a bit of trouble with this league given that there are not as many DT people or indeed people in those areas of Australia!  But having said that he has got together 18 of the best with himself holding them up…. literally!  He, along with DTTalk regular Pettiger are down the bottom making sure that the stragglers are kept in line and that they keep pushing forwards!
7. DT Talk NSW– managed by Janine
NSW averaged 1,839 and are ranked 1,343 after the first week.  Janine assures me that the only way is up!  Looking at a couple of the teams in there I can certainly understand that.  Some good DT'ers in there that just had a bad week.  One average over 2000 but a 1,495 by Scumbag College unfortunately didn't help.  I have been told by Janine that this is just to get the rest of us into a false sense of security and that we should watch out as the year goes on.  One to keep an eye on is Thirsty Jacko, an ex SA boy now trying to make it big in NSW.  So he has no excuses for not knowing his footy!  But in the land of League it will be tough for Janine to keep her team focussed, however, we think she can do it.