DT TALK Live 2013 – Rd 2
Roy, Calvin and Warnie are back with their first Thursday night live show for 2013. Hear about Roy's misfortune, Ashlee Adams' team, the round two teams, questions from our tweeps and a fantastic competition thanks to WorkwearHub.com.au.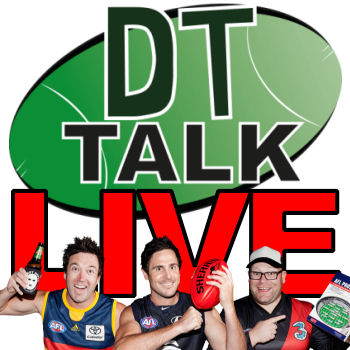 We are back with DT TALK LIVE for 2013! In our first episode for the new season we look at the week just gone and hear all about Roy's terrible luck that sees him ranked the worst he has ever been. We award the Golden Stubby to Ollie Wines who made a fantastic debut for Port Adelaide… and more importantly, our Dream Teams! Ashlee Adams (follow her on Twitter) let's us know how she went… despite missing lockout – hint: she scored more than Roy! The teams were dropped tonight so we chat about the DT relevant ins and outs. Twitter time sees a few questions answered from some DT Talk tweeps and we announce our #DTPUNCOMP thanks to our great friends at WorkwearHub.com.au.
ENTER THE COMPETITION: Tweet @DTTALK and @WorkwearHub your best DT Pun using the hashtag #DTPUNCOMP before Monday at 6pm AEST for your chance to win a $100 voucher to spend on Bisley products at WorkwearHub.com.au.