The Friday Scramble: Round 1 Part 2
The Partial Lockouts are now behind us and the next time we have a lockout will be the real deal! Now today isn't so much of a scramble as a bit of a leisurely shuffle. Why? Well we have the day off today and no footy to watch and lockout doesn't happen until the start of the Dogs v Lions game tomorrow!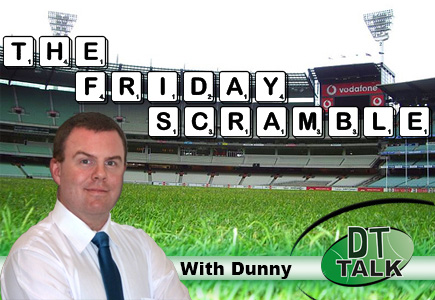 Well the first part of the round is behind us and we are all doing spectacularly given all our preseason research…. right?  Hell No!  I am one of the ones that took Danger and Scott Selwood into the round expecting a ton from each of them along with Goddard and Heppell!  I was sadly let down, but not to despair, I like most were saved by Gibbsy last night, however I did suffer from another Dusty fade out!!  But the one thing that gives me hope is that we have another 6 games left!
The Partial Lockouts are now behind us and the next time we have a lockout will be the real deal!  Now today isn't so much of a scramble as a bit of a leisurely shuffle.  Why?  Well we have the day off today and no footy to watch and lockout doesn't happen until the start of the Dogs v Lions game tomorrow!  So you can relax and just take your time.  This doesn't mean of course that things aren't getting desperate!  By tomorrow lunchtime you have to have all your players set, strategies locked and your fingers crossed that you managed to get it all just right!
We are a locked out from 6 teams now so your options are starting to be a bit limited.  But thankfully we now have the teams for the weekend and if you are not going away for the weekend you may want to wait for 'trimmed' squads to be announced tonight and make your last minute adjustments in the morning.  Remembering that by the time final lockout comes around you will know the starting subs for both Brisbane and the Western Bulldogs.
Wow the Partial Lockout Saved us!
Many people were thinking  about carrying Stevie J into the season given he was only going to miss the first round.  But thankfully the partial lockout has meant that we are still able to move him out of our sides and take someone that is likely to play before May!  The other place that it really helps is with the rookies.  We just don't know who is going to play and who isn't.  Many of us were very sure that Nick Vlaustin was a lock to play last night, but we now know that he didn't.
But this is nothing new.  Just make sure that before you hit "Save My Team" for the last time on Saturday at around 1:40pm EDT that you are confident that each and every guy on your squad is going to play!  With our 44 trades now we don't have to have another "Tom Couch" incident like last year where we hang on to a guy because we think he will play round 3 or 4 only to find he doesn't get out there and when he does he only plays a couple of games.
Monday Gambles
Whilst we all love having a game on Easter Monday it can play havoc with our teams!  We won't find out the final teams for Monday until Saturday night after lockout!  So be very careful if you are taking rookies from Geelong or Hawthorn into your side, particularly if they are named on an extended bench.  Make sure that if you are determined to take one of these guys that you aren't relying on them to be a scorer for you just in case they don't make the cut.
Selection Carnage!
So we were all locked.  We had our structures and rookies all sorted then BANG! It hit… the storm that was the Thurs night teams.  No Vlaustin, Terlich, Leuenberger  or Docherty.  However, we did get some help with Neade, K Mitchell and Blicavs all being named.  Blicavs has been named as first ruck!
There was a lot of restructuring going on, however, it is today that we can sit back, calm down and take an objective view of our teams.  By the time lockout comes tomorrow we will know final teams except for Hawks v Cats.  Just be careful if playing rookies that are named on the extended bench.
Probably the key difference to remember this year is that with our 44 trades you don't need to hold a player in the hope that they will play in the next week or so.  You need to be selecting guys that are playing this week.  However, having said that you should of course be thinking about the Job Security still.  No point changing over your rookies every single week because then you can't get to the main task of upgrades.
Big Decisions to be made
Today we have to make the big decisions.  If you haven't already got your rucks locked, then it is a fair bet that you were planning to go with Leuenberger.  So now that we know he isn't playing what are you going to do?  There are a couple of options that you have.  If you have the cash to go to a premium that hasn't played yet then you can do that.  Other options would be that you could go to a cheaper ruck like a Zac Smith or even to Berger's replacement in Billy Longer.
The other decision is on your rookies.  Personally I will be making my main decisions once the final teams (apart from Monday's teams) are known tonight.  Then we will have a much better picture from those extended Sunday benches.  One thing that I have heard a bit over the last day or so is that people are worried about how many Power players they have on their team.  I too am in that boat.  As a Power supporter I am extra nervous about the number of these guys in my side.  If they stink then not only does my real team stink, but my DT side will also stink!!  However, given the state that the Power find themselves in, they are probably the best option to give these rookies a game.  The guys that we have to choose from at the cheaper prices look like guys that should be in the best 26 so these guys should have good Job Security.
Rookie Research
Just to throw a few things out for you.  Last night I went to the West Adelaide v Centrals SANFL game and saw Brad Crouch rack up 101 DT Pts and if he doesn't get picked for the Crows this week I will be surprised.  Sam Colquhoun had 128 pts in an unassuming performance.  Early on he wasn't noticeable, but in the second half he really stepped it up.  Robbie Gray wasn't big on the stats sheet or the DT points (35 pts) but he moved well and his knee didn't trouble him.  As they say in the classics he will be better for the run.
Things To Remember
Don't leave it til lunch on Saturday – We have a day and a half to get our teams set.  Don't leave it until the last minute!!
If you haven't heard their name over the last two months… Don't start thinking they are the answer for your team!  There must be a reason you haven't heard of them until scanning through the player lists.
Don't let the bye's scare you  – With our new trading structure we have plenty of time to get the bye's right.  Don't ignore them but don't let them rule your team.
Trust your Research!!! – You have done the prep, you know what you are doing!  If not, then buy the Cheat Sheet and see what the Boys reckon!
"Keep Calm and Lock Swan"
Good luck in getting your teams set.  If you are like me you will be looking forward to lockout so that you can stop tinkering with your team!!  Keep on twitter throughout Friday and Saturday to keep up to date with any team changes and particularly make sure you check the final teams when they are announced tonight and also when the subs and late changes are announced tomorrow for the first game of the day.  If I hear anything I will let you all know on twitter, give me a follow @pkd73  Have a Great Easter weekend, enjoy the chocolate and have a great time watching the footy!!