The Draft Files – Round 1
Welcome to the first ever edition of The Draft Files! With the explosion of draft-based competitions and leagues this year, you'll need all the advice and tips you can get – hopefully this weekly feature will help you set your up your squad for premiership glory.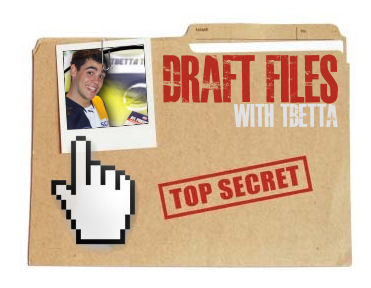 Welcome to the first ever edition of The Draft Files! With the explosion of draft-based competitions and leagues this year, you'll need all the advice and tips you can get – hopefully this weekly feature will help you set your up your squad for premiership glory.
Note: All references to leagues are based on a standard 12-team H2H Ultimate Footy league, with a 5-7-1-5 on-field structure and Captains disabled. All position eligibilities and ownership & drafted statistics are sourced from Ultimate Footy at the time of writing. If your League varies significantly, adjust the advice in this article accordingly.
Undrafted
You've just drafted your side after a hectic pre-season of crunching all the numbers, processing all the team changes and noting down all the role changes and off-season niggles. You're quietly happy with the troops on your list, and you're certain you're just 23 weeks away from inevitable glory. Unfortunately, drafting your side before Round 1 Teams have been announced is like a Richmond fan buying Finals tickets in advance – you're know they're going to be in the mix, but there's every chance they will just miss out. It's risky business.
If this is you, then don't panic. There's plenty of value left in the Free Agency pool in most Leagues. Here are a few guys who went undrafted in the majority of Leagues that you should be considering for a cheeky Add this week:
Clay Smith (C – 43% Drafted) and Koby Stevens (C – 29% Drafted)
With Boyd (calf) confirmed out for a 3 weeks, it's worth jumping on these young Pups for your last on-field slot or as an emergency. At the very least, they can provide solid midfield depth as they are unlikely to be going anywhere with the Bulldogs clearly in a rebuilding phase. They have both been reasonably solid this pre-season, with Clay going at 85 DT/100min and Koby 75 despite consistently getting pumped by stronger sides. Their Centre-only eligibility have scared coaches off I believe, but these guys are both worthy of speculative adds; don't forget that the Bulldogs/Lions match kicks off the lockout, so we'll know whether either of these guys are green vests (unlikely) before anything is set in stone.
Patrick Karnezis (F – 39% Drafted)
I thought this guy was a lock, and admittedly, his draft-trend numbers are slightly skewed as many leagues drafted before he became this pre-season's fantasy bolter. However, he's still available in 41% of leagues – if he's unowned in yours, then get on! 119 DT/100min is nothing to sneeze at, making Karnezis very worthy of a forward starting gig in standard leagues. He's been named on the wing this week, so snap him up and watch the points roll in.
Ben Jacobs (B – 38% Drafted)
Jacobs was hot-property in my main league, off the board well before coaches turned to rounding out their benches. I can see why he's gone unnoticed to this point, as his pre-season wasn't electric and he hasn't actually achieved anything to date. While 67 DT/100min isn't terrible, it helps explain why he has snuck under the radar to this point. In my opinion he is an excellent Add option if he's available in your league. He is one of the few defenders who are capable as of a breakout season that are left in the Free Agency pool, and you're not giving up too much by picking him up for free and stashing him on your bench. Jacobs has a spot at North, named on a half-back flank, so JS isn't an issue – it's a risk-free but high-reward acquisition.
Jasper Pittard (B – 20% Drafted)
The backline is one area that I've targeted for good bench cover because of the very few options that we have available to us should anything happen to any of our first-choice defenders. Who cares if he hasn't hit puberty yet, Pittard has a clearly defined role for the Power and he certainly has the potential to average enough to become a starter in standard leagues. Again, Pittard is a risk-free but high-reward add if he can regain confidence in his body after a tumultuous 2012 with injury.
Seek

/

Stash

/

Shop
Matthew Boyd, Mark LeCras
Short-term injuries to first-choice fantasy studs like Boyd and LeCras are nothing to stress about. As we know, premierships are own in August and not April. Don't be lowballed in a trade for these guys; bunker them down on the bench and go after depth in those lines in the Free Agents if you have to – they'll be back to pumping out big scores for you by the MBR's, so no need to reach panic stations!
However, if you can hustle these guys from disgruntled owners, then by all means go for it. Just don't expect them to accept any disrespectful offers like a certain coach I know received – he had offers of Gaff, Ziebell and Ward for an injured Boyd. At least dress it up if you're going to try and trade rape someone! Remember, you have to give up something to get something.

Verdict: Stash, Seek
Patty Dangerfield, Patty Ryder, Luke Shuey, Brock McLean
One bad game from your Premos shouldn't have you shopping them to anyone who'll listen. As dejecting as a below-par score can be from a high draft selection like Dangerfield (51), Ryder (45), Shuey (52), McLean (63), etc, you're only going to be getting unders in any trade for them. Give them a couple of weeks to justify selection before you send them off to the abattoir.
Verdict: Stash, Seek
Scott Thompson
It might finally be the year that Scott Thompson drifts back into obscurity. He's been fantasy relevant for the past two seasons now, averaging 108.5 and 104.5 in those seasons. But he's on the way out, especially if last Friday's game is a good indication – he was lucky to get to 75 in the end. He's like Renee Zellweger – she was one of the best in the business at the top of her game, but lately she's been looking much more Bridget Jones than Chicago. My suggestion is to pull a 'Bradley Cooper' and engineer a deal to get rid of him while he still has brand power, because you won't be able to get much for a 29 year-old former fantasy Gun – just ask past Joel Corey owners. Or Renee Zellweger.
Verdict: Shop
Danyle Pearce, Nick Suban
While Pearce (99) and Suban (97) both had sensational season openers; they are easily playing above their fantasy potential at the moment. They won't kick multiple sausage rolls every week, so it's safe to assume their scores are a little misleading at this point. If you are the lucky owners of either of this pair, try and capitalise on the buzz surrounding these guys and get value in a trade – especially if you can convince a rival coach that you are only doing it for 'positional' or 'structural' reasons.
Verdict: Shop
Throw Away The Key
We've talked a lot about 'handcuffing' this pre-season, but for those who don't know what that involves, it's basically drafting a player's backup as insurance if they get injured. Obviously, this is a particularly handy tactic with ruckmen because of how influential injuries for the scoring of the second-string big men.
It's only Round 1, but we're already seeing coaches getting huge returns on their handcuff investment. Obviously, we'd prefer our top line players weren't injured, but having a back-up ready to go is a significant silver lining, kind of like how Chris Judd gets to go home to the Twigg even when Carlton lose a heart-stopper.
The most effective handcuff so far is easily the Sandilands/Griffin pairing. Firstly, because Sandi was injured in the pre-season, most owners were able to get on much later than he's worth (ADP of 59.3), which is excellent value given he is an undisputed second-rounder when fit. Griffin wasn't if the Top 20 ruckmen taken in drafts this year, so to complete the handcuff you're only using a late pick once the other coaches have rounded out their starting ruck slots. Griffin had 77 on the weekend, and the points will flow against easier opposition as he averaged 81 without Sandi in the side last season. With Sandi expected to miss most of the year due to hamstring surgery, this is a massive win for owners who could have been in serious trouble otherwise.
Other winners are Leuenberger/Longer owners, who'll have the Number 1 ruckman for Brisbane playing for them on any given week. With Leuey missing this weekend and no certainty to return for Round 2, Longer was an inspired pick-up if you locked him down with a paltry 250+ selection. The Jacobs/Jenkins, Mumford/Pyke, Kreuzer/Hampson and Maric/Vickery handcuffs have also shown great signs so far. Who have you handcuffed this season?
The Bandaid Station
Every week we'll take a look at some of the popular issues facing coaches, and where you should look for a quick fix.
1. Forward-Line Cover
With a bounty of forward-line players out with short-term injury/suspension – I'm looking at Wellingham, Harvey, Stevie J, LeCras and the like – finding cover up forward is a priority for a lot of coaches. Who should you be looking at to fill that gap.
Jamie Elliott (F – 38% owned) is available in the majority of leagues and should be considered for your side, regardless of any forward-line pressure. His pre-season has been solid without scoring a heap of points, but you can't look too much into NAB Cup form with the Pies because they simply don't give two squirts. He's shown he can score well, but he's always going to be a vest concern playing for a champion team like Collingwood.
Keiran Harper (F – 28% owned) is a similar type of player to Elliott, but probably more reliable in terms of job security as a Kangaroo. He has a very fantasy-friendly game, and he's had a solid pre-season behind him, going at 90 DT/100min. He's named on a wing, so don't hesitate in jumping on.
Rohan Bewick (F – 24% owned) has snuck under the radar, probably due to the emergence of Karnezis, in the same way that Casey Affleck will always play second fiddle as long as his brother Ben has a heartbeat, or at least avoids a Botox disaster. Bewick's enjoyed a very impressive NAB Cup himself, travelling at 90 DT/100min as well. His last pre-season outings have delivered scores of 95 and 93, so I wouldn't let him go unnoticed for too long – you won't find quality like this in the Free Agency pool for long.
2. Back-up Ruck
With a few ruckmen down (Sandilands, Leuenberger, Naitanui, McIntosh, Clarke) you might find yourself searching for a stand-in big man. I know one coach in our league had to give up Armitage to secure Griffin, after Sandi/Clarke both went down for him – so there's definitely a squeeze in the big man department at the moment.
The obvious short-term bandaid is Billy Longer (R – 24% owned) who'll lead the ruck solo while Leuenberger is out. Beware though, his value and output will decrease like he's Dustin Martin and it's the 2nd half once the Berger is back, but until then he'll be good for 60-odd points a game. The Lobbe (R -50% owned)/Redden (R – 24% owned) duel for ruck supremacy at Port is an interesting one, and it could be worth hedging your bets on one of them – Redden was named in the guts over Lobbe this week which I found very fascinating. If Pyke (R – 52% owned) is available I would grab him for sure, especially as I've been hearing dodgy things about Mumford's fitness and he has a place in the side with or without Mummy's assistance.
3. Lillypadding
I once saw a team of Farren Ray's carried to a Finals victory on the back of Nick Maxwell, who scored 107 that week as a speculative add. There is definitely room to take risks in this format, especially with defenders and particularly when you have injury concerns over some of your fringe players. I'm specifically interested in the peripheral Power, Crows, Lions, Saints and Swans players given their soft early draws.
The Sam Reid (F – 31% owned) of the Sydney variety is a prime example of someone who could 'run train' on his weaker opponents (Giants and Suns in the first fortnight). We've seen key forwards destroy these expansion clubs in the past, and while you'd never draft Reid, he's worth a look for a cameo in your side.
Clinton Jones (C – 57% owned) and Dylan Roberton (B – 3% owned) could be worth a look depending on their roles, as the Saints play both expansion clubs inside the first 3 weeks. Brisbane forwards Ash McGrath (B,F – 55% owned) and Aaron Cornelius (F – 14% owned) are similar prospects as they have the Bulldogs and Suns in their first three.
That's all we have you you in the world of Draft-style fantasy this week. If you think I've missed anyone in this article, or have some interesting success/fail stories from your Draft league so far, then let us know in the comments!