The Friday Scramble: Round 1 Part 1
Footy's back and that means that we spend our Friday's trying to scramble to put the best team we can on the park. Today I have had a look at some of the things you should be considering for this first week of the season.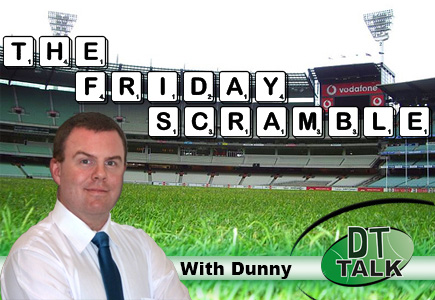 This is it.  All your research is done.  No more stressing, you simply have to make a decision and go for it.  But why are you worried?  No need to be, you have done plenty of research, heard all the rumours, watched all the preseason DTTalk episodes and even been to some NAB Cup and Practice games.  What could possibly to go wrong?  You are the only thing that can go wrong, you can doubt yourself, you can listen to last minute rumours with no source and you can tinker with your structure that you have already decided on.
Let's be honest, this week and next week will be the most important scrambling that you will do all year.  The initial set up and player selection are amongst the most important things to your season.  They will set you up for the rest of the year.  Whether it is GnR or Midpriced Mayhem it is your plan and that means it is right for you.  So trust your gut and go with it!
Having said all of that, let's look at a few things that are important to consider today.
What is Locked Out Today?
Well in case you missed it from Warnie's article on Tuesday night "Lockout Dates, Times and Hot Tips" (I know you all read it already), tonight we see our players from Adelaide, Essendon, West Coast and Fremantle all being locked into position.  Our next lockout comes next Thursday night before the Carlton and Richmond game.
What this means for you is that not only are you locked with those players, but your structure is locked also.  E.g. if you had Dean Cox as your R1 and then you had Leuenberger for R2, but swapped him for Sam Jacobs you would be locked into that two Premo ruck strategy and it would take you a couple of weeks of using both trades to set everything back to how you had it if the big Berger comes back in.  However, by starting a second Ruck that isn't playing this week, you at least give yourself until next week to see if Leuenberger does actually come up and you can keep your original structure.
Aye Captain, I see a Loophole off the Starboard Bow!
Any split round brings joy to the heart of our very own Irish Pirate, Calvin!  It means that he gets two cracks at finding you the perfect captain to get your season off to a great start!  However, this week you shouldn't be wanting to use a Loophole as you should have all your players playing!  Check out Calvin's article from Wednesday night and get all of the low down in Calvin's Captains!
Should I be worried about the Byes?
Last year saw many of us (including me) spend an inordinate amount of time structuring our starting teams around the bye rounds making sure that we have cover everywhere.  What eventuated was that we got to the bye rounds and we had various injuries and suspensions that meant our structure had been blown completely out of the water, and worse still we compromised our starting squad because of it.
This year with 2 trades every week and only 18 of our players on the field counting during the bye rounds, we don't need to worry as much.  The strategy that I am taking in to the season in regards to the byes is to make sure that I have a fairly even spread of players across the byes.  However, I am not stressing if one week has more than others in it as I know that as I get closer to the byes I can start to focus on it a bit more and with 2 trades every week I don't have to worry about wasting trades and can trade in and out through the byes to cover any deficiencies.
Rookie Stress
One thing that we all discuss and argue about at the start of the season is which of the rookies are going to be named and playing round one.  With this split round it makes it difficult as we won't have all of the team lists in front of us to help us make decisions.  Worse still is that the team most rookies are coming from is Port who don't play until next weekend!
The main one that we are worried about this week is Nick Kommer who is playing tonight.  So this is a good thing as not only will we know if he is a late out or not, but we will also know if he will be wearing the green vest.  This means you have time to either dump him from your side if he isn't in and get a guy that is playing or at worst one from a team that isn't locked out yet so you still have options, or if he has the vest you can move him to your bench and wait til next round to see who is playing and put them on your ground.  There are a number of options that you will have here.  We were all thinking we would have Crouch tonight, but he was named as an emergency, so nothing is a certainty when you are a rookie.
At the moment we still have time with the majority of our squads to tinker over the coming week.  Our big calls don't need to be made just yet, but the ones we are making tonight will most defnitely shape them!  So make sure you are confident with your plans now as next week you will be restricted in what you can do.
Things to Remember!
Saturday Night's teams are locked tonight – I hope you have got this by now… we have drummed it into you!
Allow yourself some flexibility – Unless you are completely married to your structure, allow yourself some flexibility so that you can still make some tweaks next week.
Re-introduce yourself to social meda on Friday afternoons – This is where you will find out all the latest info leading to lockout.
Tonights game starts at 8:30 EDT – Yes it is a late start because AAMI Stadium is bloody hard to get to after work on a Friday night, so it is an 8:10pm start local time.
Don't leave it til the last minute to make changes as the VirtualSports servers will get very busy, you don't want to get stuck with Tambling in your starting 22 right Warnie?
You still have a family – Over the next 24 weeks your family will still be there.  Try and find some time to say hello between Mon and Thurs cause Fri – Sun you will be a slave to DT!
Good luck for the season coming up folks and I hope you have a stack of fun.  Stay tuned to DTTalk throughout the year as we try to bring you all the info you need to take out your league.  Give me a follow on Twitter if you don't already, @pkd73 I generally tweet from all Power home games if I see anything (and the network gives me some bandwidth to use) as well as random thoughts throughout the weekend's games.