Which Mid Priced Midfielders?
Anthony completes his midpriced player series with the midfielders. He sent out a tweet asking which midfield players with in the $200k to $400k price range coaches are looking at. Here's Anthony's analysis of Brent Moloney, Josh Caddy, Anthony Miles, Devon Smith, Nick Lower, David Swallow, Adam Cooney, Jack Newnes, Koby Stevens and Kane Lucas.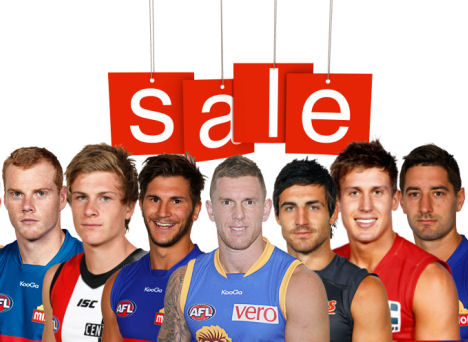 Without expansion clubs this year it seems coaches are finding it harder to trust rookies. There are a lot of rookie options in the midfield this year so I wouldn't recommend too many midpricers over rookies her. But as always in some cases you may be safer to pick a mid priced option, as they could score better, usually have better job security or are less likely to wear the vest of shame. I sent out a tweet asking which midfield players with in the $200k to $400k price range your looking at and the players below were the top mentioned. Here's my analysis of them.
Brent Moloney $309,800
 Why is he so cheap?
As Melbournes most experienced and dangerous midfielder around stoppages, Moloney spent last year frustrated with facing opposition tags and struggling to get game time in a team heading in a new direction. Throw in a couple of sub affected games and Moloney is priced at a 60 point average.
Why Should I pick him?
Recruited by Brisbane as a free agent, you can guarantee that Moloney will play the majority of games this season so his Job Security is relatively solid.Moloney is a fairly consistent scorer.  Before last year he had averaged over 80 points a game since 2008.  He's slipped into the Lions midfield well, averaging 102 points per 100 minutes in the NAB competition.
Verdict
The only reason not to select Moloney this year would be his slightly awkward mid price range not fitting in with your structure.If he can lock down an 80 point average then he should rise roughly $80k by the time the byes come. If he goes a little better and can hold a 90 point average till the byes he will make you closer to $150k.Considering how he's travelling so far neither of these seem out of the realm of possibility.
Lock him in if you have the cash. 
Josh Caddy $328,600
Why is he so cheap?
The only reason you could consider Caddy cheap is if you believe that playing for Gold Coast last year limited his output.
Caddy played 22 games at an average of 65 and is priced accordingly.
Why Should I pick him?
Caddy has a lot of potential and is an extremely hyped played. Moving to Geelong and playing in a winning team this season could see his numbers improve. He's already recorded a career high score this preseason with 93 in Geelongs thrashing of Collingwood this weekend.
Averaged 70 points per 100 minutes in the NAB Competition.
Verdict
The biggest thing that sticks out for me while watching Caddy play is the amount of running he does for minimal reward.
If he can get this timing aspect of his game right then his numbers will improve as he starts impacting more contests as opposed to getting to them too late. Hopefully playing for Geelong can take the pressure to perform off and allow him to focus on improving his game and becoming the fantasy player we know he can be.
Too risky and inconsistent to start with. Look elsewhere but keep an eye on him, he will break out eventually… 
Anthony Miles $346,400
Why is he so cheap?
Found himself on the outer at GWS last season only managing 7 games at an average of 74 
Why Should I pick him?
Miles is an incredible Fantasy player. His gut running ensures he gets to many contests throughout games and scores almost at will.
His NAB outings this preseason show this with a massive average of 128 points per 100 minutes. Put simply he scored 115 points from 90 minutes on the ground.
Verdict
If Miles can break into the Giants best 22 then he'll be a walk up start in every Fantasy team. Unfortunately he still seems to be behind most of the Giants midfield for game time and considering the minimal TOG he played over the NAB cup this could still seems to be the case.
If he can ever get consistent games then lock him in. Until then he's just a waste of a spot.
Devon Smith $352,100
Why is he so cheap?
Managed to dodge most of the high rotations at GWS last year to play 20 games. Unfortunately a couple of sub effected games and playing as a forward in a few games devoid of opportunity saw his average drop to 70 
Why Should I pick him?
A big positive for Smith is the work ethic he showed in his first season. Always willing to chase and apply pressure to the opposition, Smith averaged a huge 4.3 tackles a game! At 4 points a tackle that's between 16 – 20 points a game just due to the defensive pressure he puts on. Not to mention if those tackles earn him a free kick (+1) which he then kicks (+3) that's an 8 point tackle! Had a nice run of games after a week off last year where he scored over 100 points three games in a row. Showing that his scores last year may also have been affected by first year fatigue.
Averaged 79 points per 100 mins in NAB.
Verdict
With another preseason at AFL level under his belt you can assume his natural progression will increase his scoring ability, add to this the fact that he is improving along with his Giants team mates it's really hard to say how much Smith will increase this year. Personally I'd put money on a 10 point increase on his yearly average and consider that a safe bet.
Price may put people off and even if he can maintain an 80 point average he may not be worth it. But if he can join his buddy Toby Greene and start accumulating the 100's more often then jump on!
Nick Lower $352,200 
 Why is he so cheap?
Lower couldn't break into Fremantles team last year before they eventually delisted him (personally I'm thinking it's due to Lyon's hate of DT coaches…). Only managed 3 games but still produced an average of 97.
Should be priced at around $500k for that average…
Why Should I pick him?
He's a walk up selection in the Bulldogs best 22 as a mature body.
Lower is a very capable scorer, a gut running ball magnet who loves to tackle, a coaches dream. Averaged 24 Disposals and 7 tackles a game last year.
Averaged 81 points per 100 minutes in NAB before this weekend… 
Verdict
Until this weekend I would of said I believe he could average close to 100 points per game and should certainly be considered.
Then Lower was given the tagging role on Cotchin.
Lower wore him like a glove, restricting Cotchin to 57 DT points for the game, while only managing 54 himself.
Expect to see Lower given more tagging roles now.
Taggers are the bane of Dream Team, avoid. 
David Swallow $380,400
 Why is he so cheap?
Swallow picked up a knee injury a few games into last year. He tried to play through the pain but could not produce the same pace or effect as many contests, severely hampering his output before opting for surgery.
Priced at an average of 73.
Why Should I pick him?
Swallow was the Number 1 draft pick in 2010 for a reason, he is all class.Started last year with a bang, averaging 88 before his knee injury. 
Verdict
Hasn't particularly impressed during the NAB competition, only averaging 63 points per 100 minutes.
Far too risky to start and at an awkward price. I can't see him being too relevant this year when there are so many better options around him.
Adam Cooney $388,200
Why is he so cheap?
Cooney has played the last 2 seasons with a cracked patella that's deteriorated into a degenerative knee problem. Severely limiting his ability to walk let alone play football at a competitive standard. It's a testament to his ability that he was still able to average 75 last year.
Why Should I pick him?
Cooney has returned from a specialist in Germany and from all reports it was a success.
His NAB average was 79 points per 100 mins, but if Brad Johnson is correct about Cooney being back to his 2008 brownlow winning best then an average of 90+ may not be out of the question.
Verdict
Unfortunately Cooney's price will rule him out of a lot of teams (including mine) but if your after an interesting POD in your mids the he could definitely be your player.
Probably not the best option but keep an eye on him as a possible steal in the late rounds of your draft leagues… 
Jack Newnes $271,600
Why is he so cheap?
Debuted last year with 7 games, 2 of which he wore the vest. Priced at an average of 55.
Why Should I pick him?
With the Saints aging list they are needing to develop their youth. Newnes showed promise last year in his few games with his  attack on the ball and decision making. So far he has played every NAB game for an average of 81 points per 100 mins. Being among the Saint top 4 scores in every game.
Verdict
Newnes could be a fantastic choice as a POD player if he can continue his NAB form and avoid the vest. His is highly rated by Saints fans. I do believe there are better options at his price (some even on this list) but he is definitely worth keeping an eye on.
This kid could be anything. Keep him on your watchlist. Might be worth a sideways trade if he goes bang and the midprice option you bet on goes bust

.
Koby Stevens $204,800
Why is he so cheap?
Sat on the West Coast Eagles list for a couple of years while struggling with injury.He finally found himself injury free last year but found it difficult to break into the Eagles midfield. Only managing 4 games last year, 3 of which he was a late inclusion and wore the vest, he is priced at an average of 39.
Why Should I pick him?
Put simply, Koby is the definition of a bargain. Priced at only $20k more than #1 draft pick Whitfield but should see a lot more game time. Seeking a trade at the end of last year for more opportunity, he should slot comfortably into the Bulldogs best 22.Koby can definately score, training with West Coast young midield he has built up a considerable running tank and last year averaged 20+ disposals per game in the WAFL for East Freo including a season high 38 disposals against Perth.In his only full AFL game last year Koby scored 83 points.So far in the NAB preseason competition Koby is averaging 75 points per 100 mins.
Verdict
Koby has always had the potential to be a relevant DT player but could not get a decent run of games at West Coast, finding himself behind the harder working Tom Swift in the pecking order for games. The biggest downside to Koby's is that he tends to sometimes drift out of games, lacking in applying pressure to the opposition which can be seen by his consistently low tackle numbers. If he can grab the opportunity he has at the Bulldogs and work on the weaker elements of his game then Koby could be 2013's steal!
Koby is the perfect storm of variables. Bargain price + a 3 preseason AFL body + new young club opportunity could = Gold. 
Kane Lucas $251,200
Why is he so cheap?
2012 saw Lucas play 8 games, wearing the vest of shame 6 times. Also the 2 occasions he wasn't wearing the vest he was given a tagging role. This saw his average greatly effected so he is priced at 48
Why Should I pick him?
Kane Lucas has threatened to break out the last couple of season, but this year may be his last to impress. He's done his chances no harm by stepping up in the NAB cup grand final with a 34 disposal, 101 point game.If Malthouse allows him to continue playing his natural outside running role then we may see a lot more scores like this. With Lucas finding himself as a release outlet for Carlton's talented inside midfielders.Lucas has scored at 86 points per 100 minutes in the NAB competition.
Verdict
As part of Carlton's midfield group you can pretty much bank on the fact that Lucas will not be the player getting tagged.
With Malthouse's midfield friendly 'play the ball around the wings' tactic in full flight we should see Lucas as part of a lot of cheap possession chains. Lucas could be the pick of this mid bunch.The only possibly concerns could if he's truly cemented himself in the Blues best 22 and whether he's shaken the dreaded vest. If NAB is any indication it is a yes to both but the Home and Away season may throw up something different. Luckily for us we will know the blues starting line up and sub before he is locked in on Thursday night.
At this price and with his potential there are definitely worse options you could take. Wait till the teams are announced next Thursday before locking him in.
You wouldn't be wanting to start too many of these guys in the same team with so many decent cash cow rookie mid options this year but fitting in one or two could provide some decent job security and scoring with other rookies cows fatten sporadically. Do any fit your structure? Who are you considering? Are there any smokies I missed in the midfield?
Join the conversation below and let us know what your thoughts?