Calvin's Captains – Rd. 1 (Part 1)
Arrrrggggg a hoy there… I'm the Irish Pirate and welcome to the very first edition of Calvin's Captains for 2013. Will you be going with your captain in the opening 2 games or waiting?… it's ok – I'll tell you what you need to be do.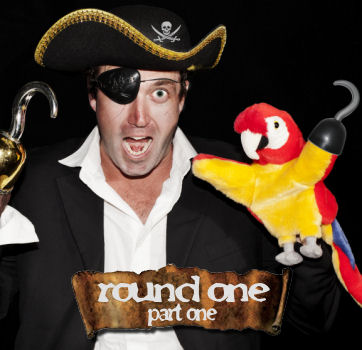 Arrrrggggg a hoy there… welcome to the very first edition of Calvin's Captains for 2013. For those who don't know me ha ha ha – as if you don't… but maybe you were just reincarnated or something. My name is Calvin the Irish Pirate and the greatest DT captain picker in Australia, or at least the most famous. Let's face it… there's not many Irish DT Captain picking Pirates are there?
Anyway, I have been doing this for over 8 years and I'm pretty bloody good at it (and modest). I spend up to 6-8 hours a week crunching numbers to come up with my best options for you each week. I analyse form, history, opposition, ground, taggers and the list goes on and on. But at the end of the day, I give you the best that I have in the order that I would pick them! You then use this advice to selection your own captain. I steer you in my ship called "The Right Direction"… then you click who YOU want.
The Loop Hole
Over the course of the season you will hear the term that was created by yours truly @DT TALK and adopted by many… "The Loop Hole". This means…  a second chance for you to get a good score from your captain in a rolling lock-out situation (which we have this week). Simply… put your VC on someone playing in early games, such as Adelaide/Essendon or Fremantle/West Coast this week and if you like their score, place your 'C' on a player NOT playing (read on). This will score you a 0 and the score from the VC is doubled and stays. Make sure you have also selected an Emergency in this position so their score replaces the 0 as well.  If you don't like the score from your VC, then place your 'C' on another one of your superstars as you normally would. Easy hey!
WARNING: Although this is a great option… I strongly advice not doing it at this early stage of the year as you want ALL your players playing! You don't want to have guys scoring 0 at this stage of the year. If by some chance that Leuenberger doesn't get up for Rd. 1 and Blicavs/Currie (your emergencies) are named there to cover for you… then you might have a Loop Hole move that you can make. My tip: Don't play for it this week unless it falls into your lap.
Eager Beaver
So you really want a captain this week do you? Someone to pick so you don't have to worry about it next week? Ummm, I'm actually advising you against this and begging for you to be patient and wait for the big guns you have coming in the second part of round 1 starting on Thursday 28th March.
But if you must click someone then… what about Patrick Dangerfield. He scored 130 on the Bombers last year and averaged 134 at his home ground in his last 3 games there in 2012, he will be a beast. Scottie Thompson might be a decent option as well. He has scored 6×100+ scores on the Bombers in his last 9 games and should do again with most of the attention these days firmly set on Dangerfield. Another great option is the Big Dean Cox…I know you have him in your team! As you should know, Nic Nat will be missing the first part of the season meaning that Cox will do the majority of the rucking by himself. Last year when he did this when Nic Nat was out… Coxy racked up a nice 110 and 131. Plus, add to that the fact that Sandilands won't be there for the Dockers either and therefore we should see Coxy pushing the 115+ mark on Saturday night. Surely!
Be Patient
Although I'll be doing another Calvin's Captains article next Wednesday here is a sneak peak of why you should be patient and hold off on your captain till then.
Gary Ablett – Had 4×135+ scores at Metricon Stadium last year from 9 games! Plays St Kilda.
Dane Swan – Although he didn't play the Roos last year he had 148 and 162 on them in 2011.
Matthew Boyd – Had 125 on the Lions in his last game against them and scored 115+ in 62% of his games at Etihad last year.
Joel Selwood – has scored 125, 104, 91, 108, 134 in his last 5 against the Hawks with a huge 185 back in 2009.
Trent Cotchin – had 118 and 120 on the Blues last year.
Dayne Beams – had 129 on the Roos last year and had 129 and 137 in his last 2 games at Etihad.
Josh P Kennedy – plays the GWS at ANZ where he averaged 121 in 2012 from 3 games including a nice 153 in his last.
That's enough for now….
NOTE: Calvin's Top 5 will be released in next week's article when it is more relevant.
Follow @CalvinDT for all this to do with your Fantasy captains and to chat DT