AFL Dream Team Cheat Sheet 2013
The DT Talk AFL Dream Team Cheat Sheet is here! We have worked hard to put together our best ever edition of the Cheat Sheet including all of the stuff you need to know to set your teams, Calvin, Roy and Warnie's teams PLUS this year we have 2012 winner, Skinny Boys, team ahead of Round 1. Get it now!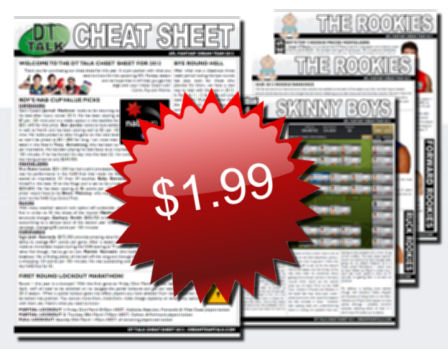 The 2013 AFL Dream Team Cheat Sheet brought to you buy DT TALK is here. After the success of last year (hey… the winner purchased it!!), we thought we would put something together again. This time, it is much bigger and better! 7 pages… including information on NAB Cup Value Picks by Roy, our best rookie options in each position and our teams ahead of the first lockout. But best of all, we exclusively have the team created by last years winner Dave, coach of Skinny Boys! All this for $1.99 via PayPal.
VERY IMPORTANT: Once payment has been received, you will need to click the "Return to DT Talk" link to download your Cheat Sheet PDF. You should be on a computer or device that will allow you to save the document (eg. it is not recommended to do this from your mobile device).