ESPN FootyTips Fantasy Footy
The ESPN FootyTips Fantasy Footy game is back for 2013 and it's bigger and better than ever. The much improved game has some new features including the 'Super Sub'. Be sure to sign up and take us on.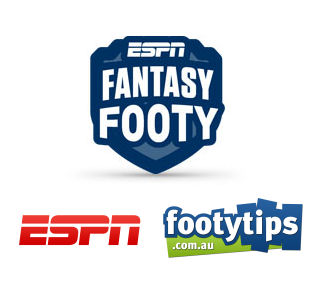 The ESPN FootyTips Fantasy Footy game is back for 2013 and it's bigger and better than ever.
The game has had a facelift and is much improved on last year. Head 2 Head leagues have been integrated into footy tipping comps (be quick in join ours) for up to 32 people and start from Round 1.
Overall you can battle it out to win an iPad mini if you have the most points overall at the end of the season and there is a second one up for grabs if you can have the highest single round score for the year. The odds are pretty good if you know your fantasy!
The set up is similar to most salary cap fantasy games we've all played. You start with a $100.00 budget and players are priced according to previous performances. Most first year players start at $1. Be on the look out for underpriced players. Price changes start after round one, so you will be rewarded with picking the cheaper options. It is a challenging salary cap to work with – much harder than DT. We're massively enjoying the challenge this pre-season! The scoring system is the same as DT, so you should be on top of how it works.
ESPN Fantasy Footy will continue with it's a rolling lockout (players who have started playing will be locked in position but you can trade/sub everyone else) and the two free trades per week (extra trades incur a 50 point penalty of your round score for that week) . Please note that there are no reversible trades.
The feature we're really liking is something that sets this game apart from others on the market – the Super Sub. Each coach gets one per round without penalty. So how does it work? Let's say one of your players goes down injured, plays terribly or is a late withdrawal for the week… you would normally have to live with this, but now you can make a decision over the weekend to Super Sub them. Basically, you can trade them to another player yet to play. There will be some big strategy coming into when and where you'll pull this move over the weekend. The NRL game started last weekend and there were some very interesting Super Subs played in Round 1.
Click here for more info on how to play ESPN Fantasy Footy.
We get plenty of questions every year from people visiting our site for us to join their DT leagues. Unfortunately we don't have enough leagues to go around… I wish we could have more. So ESPN FootyTips have added us as 'Experts' to the game so you can have us in your leagues to play against. If you've been wanting to play Fantasy Footy against us, then here is your chance! Bring it on!
I lap up all Fantasy Footy competitions and I like a challenge. This game is that… plus it gives me another chance at beating Roy and Calvin.