Draft Watch – NAB Week 4 Review
Welcome to the fourth edition of the weekly NAB Cup review – written with your Draft team in mind. Most leagues draft over the next week, so make sure you check out the latest movers and shakers in the draft format here!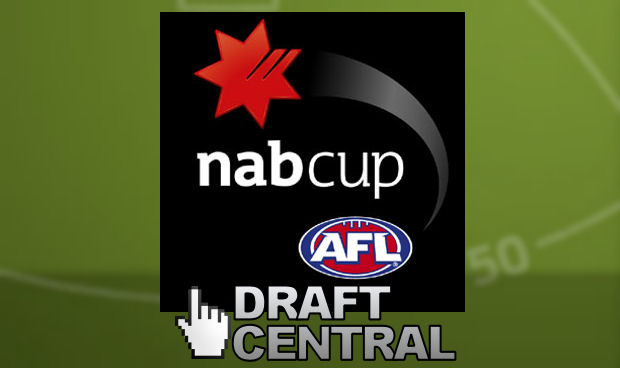 Welcome to the fourth edition of the weekly NAB Cup review – written with your Draft team in mind. The more actual footy we see, the more our expectations and opinions of fantasy players change as a whole – clever coaches will use this to their advantage. So let's look beyond the kicks, marks and tackles and into what really makes your Draft-style league tick – perception!
Note: All references to draft value are based on a standard 12-team H2H Ultimate Footy league, with a 5-7-1-5 on-field structure. If your League varies significantly, adjust the advice accordingly. Also, A huge thanks to Dream-Stats, Fanfooty, Footy Prophet and Fantasy Freako for all their data!
PREMIUMS
Steele Sidebottom (C) – Scored 104, 112 DT/100min, 46.3 ADP (36th). When a player loses their DPP status and becomes a MID only they often get overlooked, especially in salary cap competitions. O'Keefe, Deledio and Sidebottom were all in the Top 20 scorers by average last season, but are struggling to get a gig in our sides just a year on. They also get ignored somewhat in draft-style formats, as coaches flock to backmen and forwards after the first round due to positional scarcity. So guys like Sidebottom, who currently has been the most productive Pie onballer this pre-season, find themselves sliding down the pecking order.
Whether coaches think that he'll suffer in a packed midfield this year (which given that Ball and Thomas aren't fit yet, won't even be happening in the near future), or they are rebelling against his lack of Forward status, I don't know, but he's worth much more than pick 36 in your draft. If this is where most Leagues are taking him, you can safely pick forwards and defenders with your first two picks, and snap up a gun centre like Sidey in the 3rd round!
Beau Waters (B) – Scored 61, 88 DT/100min, 71.0 ADP (68th). I've been keeping a close eye on Waters this season, mainly because he is a top 6 defender when fit. Unfortunately, there are questions over his health as he's in the latter stages of recovery from off-season hip surgery. It seems that he pulled it together in time for the Eagles last NAB Cup outing against Port though, notching 15 disposals and 4 marks. West Coast must have been adamant that he gain match fitness, indicating to me that he'll line up in Round 1, so there should be no immediate injury concerns in the way of missed games. Defenders with the offensive capabilities that Waters possesses are rare, so while he's currently the 9th backman off the board on average in drafts, he has the tools to outscore 4 or 5 of those over the course of a season. Strongly consider in the 5th and 6th rounds, especially if you're light on in the backline.
Bachar Houli (B) – Scored 102, 104 DT/100min, 125.6 ADP (119th). It's interesting to talk about a player who averaged 79 points last year and is being drafted in the triple-digits as a 'premium', but he'll effectively be inside the 2nd or 3rd defenders in whichever team he lands at, making him one of the prime movers in the backline. Houli had 24 touches and 9 marks on Saturday, making him the Tiger's second most potent player this pre-season after Deledio. I like his fantasy-friendly style of footy, and I would definitely prefer to spend a pick on a running defender like Houli, than other aging backmen going in his range like Enright and Lake.
Dustin Martin (C/F) – Scored 52, 85 DT/100min, 55.6 ADP (47th). Martin is hearing his name read out in the top 50 selections more often than not this season so far, despite his somewhat disappointing 84.8 point average last season. Coaches are expecting big things from him this year (does that ring any bells?), mainly on the back of an avalanche of positive pre-season propaganda, resulting in this boost up the draft rankings. Dusty's pre-season has been solid without being remarkable, which included the 52 points against the Hawks on Saturday. Unfortunately I'm not seeing him play in the midfield significantly more often as has been touted this off-season, but he has still been scoring consistently across half forward in spite of that fact. Keep him on your radar, but make sure you don't overpay for an unproven performer, regardless of positional scarcity or your neck tattoo fetish.
BOLTERS
Brandon Ellis (B) – Scored 74, 89 DT/100min, 275.2 ADP (300th). Brandon Ellis has come from nowhere to be a legitimate consideration for your 6th or 7th defender. He averaged just 58.3 in a sub-affected debut season, but early indications are that he's come on in leaps and bounds since we last saw him. He's currently going at 89 DT points/100mins, which is certainly premium territory for a defender. While he was the 300th player off the table in drafts on average a week ago, that surely won't be the case after the weekend, so expect his ADP to shorten considerably. If he continues this Birchall-style role, he's definitely worth considering for a late selection once things start getting hairy, around pick 180 onwards. If he's still there by the time you've filled all starting slots in your squad, he's perfect for a speculative pick as your backline emergency.
Isaac Smith (C/F) – Scored 85, 90 DT/100min, 139.8 ADP (133rd). Isaac will always be that Mid/Fwd rookie that saved my season a couple years ago in my eyes, right alongside Mzungu as mid-season downgrade targets. It seems I need to get up to speed, because he's currently being snapped up miles ahead of where I intuitively felt he should have gone. Closer inspection shows that he actually averaged 78 last year, which is certainly start-worthy as a forward. His pre-season has been encouraging thus far with 90 DT points/100min, and if other coaches don't respect his ability like I did before I ran the numbers, then you could potentially unearth a late-round steal.
Leigh Montagna (M) – Scored 92, 136 DT/100min, 64.3 ADP (59th). St Kilda's age profile is so poor that it's almost impossible for them to improve as a club this season, and the fantasy cloud has adjusted expectations accordingly. Leigh was a monty first-round selection just three years ago, the year after he posted a huge 115.8 average to rank third behind fantasy legends Swan and Ablett in points per game. Now, he's a 6th round afterthought, or at least we assumed he'd be. Despite St. Kilda's apparent lack of young talent and dearth of stars passing their prime, Montagna has still managed to post the highest points/100min over the NAB Cup (minimum 150mins played) in the league. Joey might just be worth keeping an eye on in the 4th and 5th rounds, because if he keeps putting up these numbers, it'll be seen as a masterstroke by season's end.
Patrick Karnezis (F) – Scored 80, 124 DT/100min, undrafted ADP. Karnezis is the definition of a bolter. I always thought it was interesting that Patrick played as a midfielder in the NEAFL, but as a third tall when promoted to the Lions senior outfit… No wonder his reserves and AFL statistics were so out-of-whack. Well, he's definitely running through the guts now, putting up giant ppm numbers this pre-season. His numbers are very start-worthy as a forward, but it's hard to get a good read as to where you pull the trigger on him. There's been quite a bit of buzz about him the last fortnight, so expect other coaches to be as aware of his prolific ball-winning in the NAB as you are. There is always an element of risk in drafting unproven players inside your first 18 selections, but Karnezis is one name I wouldn't hesitate in calling out for a starting forward berth, possibly partly because it's fun to say.
SLEEPERS
Tom Bellchambers (R) – Scored 92, 80 DT/100min, 129.5 ADP (123rd). It always confuses me as to why coaches get involved in rushes for ruckmen. In standard leagues, you only have to start one on your field. Even if you have 12 coaches in your league, and coaches play the forward DPPs (Ryder, Roughead and Cox) in their forward line, then you're still going to find a quality ruckman before inside your first 18 picks no matter what. Bellchambers is a perfect example of someone you can draft in the mid-to-late rounds who can still average 80, yet are left on the board because most coaches already have a starting ruck – who they probably overpaid for. With 80 DT/100mins this pre-season, he presents as a solid pick up if you miss some the premium rucks early.
Brad Ebert (C) – Scored 103, 137 DT/100min, 41.5 ADP (29th). With an ADP of 41.5, it seems most coaches are starting to clue into the fact that Ebert is a fantasy jet. He is yet another in the ilk of Priddis/Tuck/Simpson, the DT guns who often sneak under the radar. Ebert hasn't missed a beat this pre-season, scoring at a rapid rate when on the park. Marking midfielders (Stanton, Gibson, Rosa, Grigg) aren't the most fancy DTers going around, but they do score a bunch of points in bursts with their frequent +6's. If you notice a run on forwards or defenders in the 2nd – 4th rounds, consider going against the tide and locking in Ebert.
Sam Gibson (C) – Scored 52, 96 DT/100min, 86.7 ADP (77th). Like the man above him, Gibson will drift slightly while coaches scramble for defenders and forwards. We were witness last year to his highly fantasy-friendly style of football, and his pre-season has been pleasing while not spectacular, travelling at an impressive 96DT/100mins. While he's a little too obscure to consider in salary cap formats, Gibson is exactly the kind of sleeper that can set you up for draft-style success.
Daniel Wells (C/F) – Scored 54, 89 DT/100min, 73.4 ADP (69th). I can safely say that I've never considered picking Wells in any format in years past. This is mainly because he's never moved out of the 'promising excitement machine' category and into the 'reliable ball-winner' realm, at least for DT and SC. As for draft-style leagues, he's been an erratic mid-tier midfielder for the last three seasons. However, now that he's forward eligible in Ultimate Footy, he's worth another look. He's put together 19+ games for the last three seasons, so he's reasonably reliable – especially when compared to other forward options like Higgins, Rioli and Sylvia. He's certainly not my first choice, but you'll find yourself considering some pretty ordinary forwards in the 7th and 8th rounds while Wells, a lock for an 85-point average, beckons.
TREAD CAREFULLY!
Matt Suckling (B) – DNP, 98.1 ADP (99th). I heard a pretty average story a few days ago, where a workmate proudly selected Suckling in the 4th or 5th round. 5 minutes later, once the laughter subsided, he learned that Suckers had done his ACL just 24 hours earlier. Don't be that guy – make sure you're aware of who is and isn't going to be playing this year, because you don't want to throw away an early pick like old mate!
Daniel Currie (R) – Scored 77, 95 DT/100min, undrafted ADP. Currie is all the rage in fantasy circles at the moment, but you need to remind yourself that it's all salary-cap related. He's one of the only rookie-priced ruck options, so coming off a solid game against the Cats last week there's no wonder he's created a buzz. However, he's still not the Number 1 option (which still hangs by a thread with Goldstein) and there's no guarantee he can coexist with Goldy – let alone score well in tandem with him. As such, the only reason to pick him up is if you want to spend a bench selection handcuffing him with Goldstein. I don't recommend this however, because you have to pick Goldy to make it work.
Nat Fyfe (C) – Scored 107, 103 DT/100min, 28.4 ADP (22nd). With an ADP rank of 22, Fyfe is going off the board in the 2nd round in a lot of cases. This of course includes keeper leagues (in which he's significantly more valuable), but still – a 2nd rounder is a crazy selection to spend on a relatively unproven injury magnet. I know he's amazing to watch, but if guys like Stanton, Josh P Kennedy and Sidebottom are still on the board, which they often are, then you have to make the smart play.
There's your draft-style movers and shakers from NAB 3. Did anyone burst onto your DT radar in NAB 2, that I may have missed in this article? Have you recently taken part in a draft, and drafted yourself a steal? Let us know who caught your eye in the comments!