NAB Cup AFL Fantasy Hype Team
The NAB Cup always gives us a few hype players… those that people are locking in. This year is like all others; there are plenty of players that coaches are sold on based on NAB Cup form. Warnie has put together a bit of a team based on pre-season hype.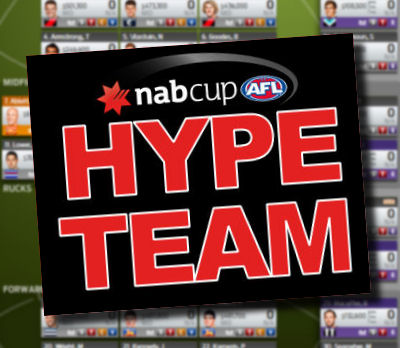 I posted a sample team before the NAB Cup started to spark some discussion and give coaches a bit of a guide as to some thinking heading into this season. Anyway, that was a month ago… we've seen 4 weeks of NAB Cup action and there are a fair few players being hyped up around the place. So I thought I'd pick a team based on that.
Anyway, the premise is pretty simple… I've picked a team – under the salary cap – which can be a bit of a guide of players that people have got a little excited about over the last few weeks. There are definitely players that aren't in this team that you would pick, but that's not the purpose of it. Also, no thought has been put into the byes.
Alrighty… this is far from my current team. Probably half of the players are in there at the moment and the structure is hella different. But this is what I've come up with.
Of course Brendon Goddard and Bryce Gibbs are there. They have done nothing this pre-season to justify not selecting them; the opposite really. Dyson Heppell will go bang this year. Get on him while he is still a defender! Swan Tony Armstrong makes the cut after his last two weeks scoring 92 and 89 – could be a huge bolter this year. Richmond's first round draft pick Nick Vlastuin looks set to go for Round 1 and gets a gig on the ground as a result along with Brett Goodes, who is a sure thing to get upgraded off the Bulldogs rookie list. Goodes has pumped out some impressive scores and will be an integral part of the Western Bulldogs back line; and hey, he even kicks it to himself out from full back. Lewis Stevenson and Sam Colquhoun make up the bench but could also be interchanged with Power team mates Jasper Pittard or Campbell Heath.
I have Dane Swan in my starting team, but with this structure I couldn't fit him in. So it's Gary Ablett (who hasn't really missed a beat and is warming up nicely for Round 1), Matthew Boyd (averaging 115 points per 100 mins in the NAB so far), Patty Dangerfield (smashed the Cats with 124 points even when they got thumped), Nat Fyfe (despite a shoulder injury worry on the weekend, still had 30 touches and 107 DT points to be an underpriced gun) and Nick Lower (who switched over from Freo to the Dogs… had an awful game on the weekend, but prior to that was pumping out 108 points per 100 minutes to be the better midpriced option). I had enough money to get in Koby Stevens who has always been hyped, and is ok at the moment… but is probably lucky to get a gig here really. It's probably just because of his job security he makes this list. Ollie Wines and Kane Mitchell looked locked for the Power while Brad Crouch and Jaeger O'Meara sit on the bench, but have probably posted numbers that warrant a position on the ground.
Dean Cox and Matthew Leuenberger would have to be the most popular ruck combo this pre-season so that's why they're there. We haven't even seen more than half a game from the 'Berger, but we'll stick with it for now. Majak Daw and Daniel Currie are the bench boys. You'd think at least one will play every week. Currie has especially been a hype player of the NAB after his 38 hitouts and 78 points on the weekend while Goldstein was playing in the twos.
In the forward line Paul Chapman has been looking good – even though there was a groin worry a couple of weeks ago, along with Brisbane duo Dayne Zorko and Tom Rockliff. Rocky will be definitely spending more time through the midfield… so lock him in to be a 100+ average this year. Crow Matthew Wright was going at 100 points per 100 minutes but his stocks dropped slightly after a tagging role this weekend. Of the mid-pricers, I have Josh Kennedy and Patty Karnezis as the most hyped guys (Varcoe just misses out here).  With few forward rookie options, I have put Brent Macaffer and Matt Spangher on the bench. Maybe Neade gets a gig or Sam Rowe, but these are probably safer. Spangher might be fortunate enough to slip into the Hawks side.
Anyway, there it is… not my finest work, just something whacked together to provoke some responses. I want to hear about who you think are the big hype players of the NAB Cup this year.  Get chatting in the comments. Who should be in or out based on ripping up the NAB. Start posting now!
FOLLOW ME ON TWITTER: @WarnieDT