Giants v Lions NAB Cup Review
Our friend in the fine town of Wagga checked out the Giants v Lions game down at the local footy ground. He was our 'roving reporter' for the non televised game and had a few words to say for the DT Talk readers out there. Check them out now!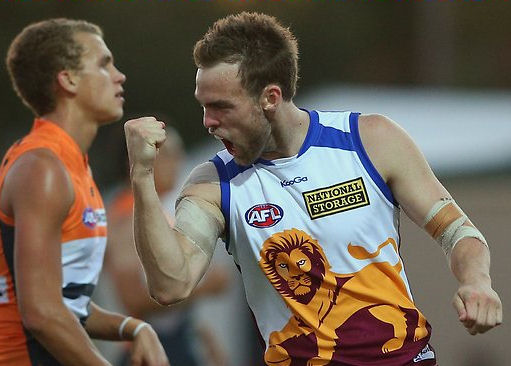 The 4th of 5 Saturday games in Round 2 of the NAB Cup saw Greater Western Sydney and Brisbane travel to the city of Wagga Wagga in NSW. Both teams fielded reasonably strong teams with only a few stars missing from each. After a see-sawing contest in which neither team could hold an advantage for long, the game boiled down to the last few minutes, when Brisbane rookie Sam Michael was awarded a contentious free kick and slotted the winning goal.
Onto the fantasy stuff!
GWS
Toby Greene
Greene started as the sub, but once subbed on in the 2nd quarter he made his impact felt around the contests, gathering the ball at will and delivering ball forward well. Contributed with a goal and a very handy 16 kicks for 83 DT points (from 3 qtrs remember). Well worth a spot in your mids, as he should improve on his 96 average from last season.
Lachie Whitfield
The #1 draft pick played his first game for the Giants as if it was his 50th. Looked very comfortable as an outside mid, receiving ball on breaks forward and feeding it inside 50. In addition to his 9 marks (a number of these great contested ones) and 12 kicks, I was impressed by his tackling intensity, racking up 4 for the night. As the top draft pick he does come at a decent premium, but after tonight's showing, I'd put him on your watchlist.
Adam Treloar
As we know from his 2012 season, this kid has talent. He showed it off tonight being the Giant's top scorer with 90 points. Treloar was playing right around the bounces, peeling off and delivering ball to Cameron and Patton up front, before resting forward and kicking 2 excellent snap goals. Based on tonight's game, he could back up his 82 average from last season. However, most will agree there are more solid options in the $400-450K price bracket.
Jonathon Patton
Looked good early on, running hard and marking well, resulting in a single goal for the key forward. Still looks to be very much a developing player, but plenty of good signs. Sustained what appeared to be a quad injury late in the second quarter and was helped from the ground before being subbed off. Word came back later however it was just a cork, and appeared to be fine later on whilst using an exercise bike. His 24 points in the time he was on ground was encouraging, but based on this performance, it's a pass.
Jonathan Giles
I knew there was a reason we rated this guy high enough in 2012 for him to stay in so many of our teams. With his 89 points, including a dominate 19 hit outs and 2 goals, Giles has reminded us that he's still around. With a price point of $422,200 however, I don't think he'll be appearing in too many teams. Still, a good night at the office.
OTHER NOTABLE PLAYERS: Callan Ward (85), Devon Smith (76)
BRISBANE
Tom Rockliff
To steal a most awesome quote from another DT Talk writer, "more like Tom Lockliff". The guy is awesome. Started as sub (don't read into it….just don't) and appeared on ground early in 2nd half, heading straight to the mids! I went and grabbed a beer, chatted to a mate and suddenly he was on 30. Finished on 53 from less than a half of footy, which included a goal, a couple of tops contested marks and some tackles. The man is a gun, lock him in.
Brent Moloney
After putting out similar numbers to Rocky last weekend, many of us were waiting with baited breath to see what Moloney would do this week. Well, if you were hoping to see him secure a spot in your midfield, might need to see a little more of him. After 3 kicks, 7 handballs and a single tackle, he was subbed off at the half for 27 points. Unsure what I would do from here; the guy has proven talent, but for me I will be watching again next week before dropping him into my side for good.
Stefan Martin
A few requests came in via Twitter to keep an eye on him, and it wasn't that hard. He's a big unit! Here's the positives: worked hard around the ball, ran to contests and presented reasonably well. Unfortunately here are the negatives: He was sh*t. Lost count of the number of times the ball came to him and he fumbled it, he missed shots/snaps on goal (4 in total) and had 5 frees against (that's like Buddy on a bender). For $350K+ I think you want more than 22 points for most of the game. PASS.
Dayne Zorko
After this game I am going to petition the Oxford dictionary to include the word "mancrush" in the next edition with a picture of Dayne Zorko beside it. The reigning Golden Stubby holder went out there, gathered kicks (11), handballs (6), marks (7), tackles (5) and goals (2) on his way to a game high 96, in the process impregnating 3 men in the crowd just with his football skills. Seeing him first hand tonight has confirmed what most of us already knew: he is an excellent option up forward. LOCK.
Jack Redden
Overall an industrious night, with 20 disposals (13 kicks) but only 1 tackle (down on his usual output). Found lots of easy ball around the outside of the contest, and whilst he looked good in the first half he dropped of a bit in the 2nd (most probably due to Rockliff being subbed on).
Patrick Karnezis
Who? Oh that guy who got 26 possessions (13 kicks, 13 handballs) 4 marks and a goal on his way to 80 points. One RL Griffin told me earlier in the week to keep an eye on him tonight. Well well Griff, He was impressive. Spent much of his time on the wing, and ran through the middle at times too, also pushing into his traditional role as a forward where he scored that goal. Priced at $238,500 he is worth considering, although the competition is fierce (Varcoe, Byrnes etc). Will be watching closely.
Matthew Leuenberger
Now to the man who is locked in as the most selected ruck at this stage of pre-season. He has the potential to be great this year, but most of us are selecting him due to his tasty price of $233,600. Unfortunately for us DT boffins Berger was a starting sub and only came on the field around halfway through the 3rd quarter. Not a lot of time to show us how he has recovered from his season ending injury, and if indeed he is worth that cash we're spending on him. From what I saw, he is. Looked strong enough in the ruck (even if Giles was having a blinder and looked better), but also was decent down forward, where he spent a lot of time. 25 points from a quarter and a bit, and I think he can do better than that given a full game. Still, I will be watching closely next week again.
OTHER NOTABLE PLAYERS: Claye Beams (68), Aaron Cornelius (94)
Follow on Twitter: @tnargus