52 Pickup – The Hearts
The Hearts. Le pièce de rèsistance! These guys are genuine guns in the position they can be selected in, however are generally overlooked and don't grace anywhere near as many Dream Teams as their more fancied counterparts.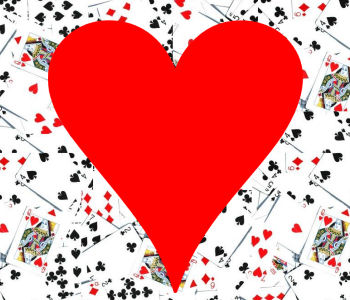 Introducing 52 Pick Up – the players that weren't looked at in the #DeckofDT, but who are well worth considering for a spot in your starting squad!
Up next – the Hearts. Le pièce de rèsistance! These guys are genuine guns in the position they can be selected in, however are generally overlooked and don't grace anywhere near as many Dream Teams as their more fancied counterparts.  These are the players that are out and out guns, yet generally don't get the kudos or Fantasy attention they deserve. If you are a draft player – keep an eye on these players that you may pick up for nothing more than a late round pick!!
HEARTS

Scott Pendlebury (COL) – $568,700
Now I know he won't fall in draft leagues, he is a sure-fire top 5 pick. And I know he will be a highly selected player in 2013. But it would be rude to go through the entire Deck of DT and 52 Pick Up to not mention him at all. This year, he is priced at nearly $120K cheaper than Dane Swan.  His last three years he has averaged 106.5 (2010), 116.6 (2011) and 110.3 (2012). To me – he is the biggest lock of 2013, taking into account that starting price and his amazing consistency. Take out his debacle of a game when Carrots tagged him out of their Round 3 clash when he finished with a total score of 62 (when the pies got smashed by the blues also), and the Round 10 game against Gold Coast when he took a knock to the knee and was subbed out at half time with a score of 59 (which subsequently saw him on the sidelines until Round 16), and his 2012 average would have been 117. Not much more to say about him – just lock him in.
Scott Thompson (ADE) – $541,200
Thompson has always been super consistent, without ever quite cracking the "uber premo" status. You know he will average around 100-105 by the time the season ends. But the other point to remember, which possibly sets him apart from other premo players (even Swan, GAJ, Pendles etc), is his games played. Since he came to Adelaide via Melbourne prior to the 2005 season, he has only missed four games. FOUR! Although he is super reliable, he doesn't have a super massive ceiling (top score of 141 in 2012), however you can just about guarantee he will score you 100+ most weeks, and will play every game. Should be a first round pick in draft leagues this year – and if he isn't, jump on when your next pick rolls around.
Andrew Swallow (NM) – $528,800
I write this on Andrew Swallow the day after he dominates NAB Round 1 with scores of 50 and 48 (in effectively a half of half-paced football). Like Scott Thompson above, he doesn't miss games. He hasn't missed one in the last four years, and in his 6 seasons of AFL football, he has played in all 22 in 5 of them. 2012 was the first season he averaged more than 100 for the season, which included 6 scores above 125 with a ceiling of 160. However it's the consistency that probably makes you hesitate when it comes to picking him… He is the Shane Watson of AFL Dream Team – 9 scores in the 90's! Can't be selected as a Captain with any confidences – his 4 games in 2012 against the Gold Coast and GWS – he averaged a measly 91.25 – not what we are looking for when it comes to premo players playing against the minnows! However I think we might see Andrew Swallow take his game to the next level in 2013, given he is entering the prime of his career.
Josh P. Kennedy (SYD) – $523,900
Man crush time (it's not only Toby Greene I have a man crush on). The Kennedy name is synonymous with the Hawthorn Football Club, but unfortunately he left seeking greener pastures (which he accomplished – but let's not get started on that). Three years at the swans, and he hasn't missed a game. His ferociousness on the football, and the team-oriented mind he has, perhaps is what was missing from the Hawthorn team in the 2012 Grand Final (didn't I say let's not get started on that?!?).  A steady increase in DT average in his three years at the Swans (73.7 in 2010, 86.5 in 2011 and 101.5 in 2012), while not missing a game, shows you what he has been able to achieve. We all know he will improve again this year – but by how much? It's not unreasonable to suggest he will be 110+ this year, given his rapid improvement in the last three years, not to mention the support crew around him. He pushes forward and kicks goals, racks up possessions and tackles hard… the three main ingredients for a bona fide DT star.
Sam Mitchell (HAW) – $523,500
This one should appeal to the "fixture traders". Sammy Mitchell is a ball magnet, and is possibly unlucky to not have a Brownlow Medal around his neck. An undoubted DT star, and his season in 2011 saw him average 112 points per game. Now why will he appeal to fixture traders? He comes this year with a slightly lower price tag, considering he (only) averaged 101 in 2012. However: take away the two games against the swans (who the hawks will play twice again this year) who he scored only 63 and 51 against last year (and only 79 in the GF), and his average from 2012 is 106! If you will look at trying to use the fixture to your advantage in 2013 with two trades per week, then look no further than Sammy Mitchell – he won't let you down (unless he's playing the swans).
Brad Ebert (PA) – $511,900
Where did that come from?!? After averaging a measly 62.2 in 21 games with the West Coast Eagles in 2011, he crossed to Alberton in the off-season, and ended up averaging 98.6! I think he was the biggest improver in 2012 (including Beams, Sidebottom and Dangerfield) given where he started, and he did it with a battling club. Now a Vice-Captain at Port Adelaide, I can't give you a reason why he won't improve again this year. He is a ball magnet, is highly skilled, and the young power midfield isn't anywhere near as inept as it has been in years passed. Will be a great pick up in Draft Leagues, and should also be appealing to you for a spot in your midfield as M3-M5.
Paul Chapman (GEE) – $502,600
Chappy is a late-inclusion into 52 Pick Up, after Stevie J was suspended and will now be absent in Round 1. Entering his 13th, and possibly final season, the last time Chappy averaged fewer than 92 was in 2005. Now while we can't ignore the fact his averaged has decreased from 113 in 2010, to 102 in 2011 to 97 in 2012, with our forward premium guns from 2012 (Beams, Sidebottom, Dangerfield) now MID only, he has to be considered, especially with what appears to be a relatively weak uber-premium FWD pool to choose from. All reports coming out of Geelong is that he is as fit as he is ever been – so ask yourself this question… Do you really think Chappy's production will decline in 2013?
Callan Ward (GWS) – $501,300
It's easy to forget that the Co-Captain of the up-and-coming GWS Giants is only entering his 6th season – which also means he is entering his prime. Averaged 97.4 from 20 games in 2012, and copped a hard tag in a number of games, yet he still scored 100+ on 11 occasions. Now let me tell you why he is going to improve on his 2012 season: Scully, Greene, Treloar, Palmer, Whitfield, Coniglio, Shiel… the list goes on. All young players who, in their own right, are to be treated by opposition teams with due respect. With another year under their belt, Callan Ward is a monty to average over 100 PPG in 2013, and I think he might even get close to the 110 average, given the young quality and depth that surrounds him.
Matthew Pavlich (FREO) – $489,400
He keeps on keeping on. Started the 2012 season in average fashion – I'd put that down to game plan teething problems under Ross Lyon, yet ended up just falling short of the Coleman, and there is no evidence to suggest he wont be a star this year as well. Ended up with a 94.9 average in 2012, the 8th consecutive year he has finished the season averaging 90 or higher, while only missing 10 games in that span. Top scored with 144 (twice!) in 2012; however season lows of 58 (twice!) and a slow start to the season (averaged 73.4 in the first 4 games) were a minor blemish on an otherwise pretty decent season. In 2012, a season devoid of many FWD guns, you can pick the Pav safely knowing that he will play nearly every game and he will score you 90+ points most games he plays.
Matt Priddis (WCE) – $482,500
Matt Priddis was a fantasy star in 2011, averaging 105.4 and playing every game. In 2012, his average dropped by 12 points per game, which obviously wasn't assisted with a red-vest affected 17. Like Grant Birchall (below), he is super consistent, is highly respected by the coaching staff and is a player the eagles cannot do without. I get the feeling he is severely underpriced, and he will return to the super-premium player he was in 2011. He is always around the ball! There are not many players who are constantly at every stoppage and under every pack like he constantly is. The eagles midfield is now scary dominant, yet so much of it relies on him to get the pill out to the likes of Gaff, Shuey, Kerr and others (who can all get their own ball in their own right as well). If he is still around in the 5th round of your draft – snap him up!
Ben McEvoy (StK) – $457,900
At a time where getting a ruckman to play a full season is a rare as the Tigers not finishing 9th (let's see how many take that bait), enter Big Benny Mac. Big Ben is well known for his incredibly humorous falcon in his first game, when you would be forgiven to think he might not make it in the big time, but he has been sensational in the years since. He did miss 6 games in 2012 after he injured his knee at training after the Round 5 win against Melbourne, and after a sluggish 64 in his return game in Round 12, went on to average 94.7 in the last 10 games of the season. Finished the 2011 and 2012 season with averages of 90.4 and 88.9 respectively, and he is now in the upper echelon of DT ruckmen in the competition – you can't go wrong with Big Benny Mac.
Grant Birchall (HAW) – $455,400
As a Hawthorn supporter, I'm actually a little ashamed to admit that Birchall has not once graced my own Dream Team. I'm not sure why, given he has a very respectable record for a defender in this game. He might even be classified as "frustratingly consistent". He seldom scores huge (only 5 games in 2012 above 100 points), but you can guarantee he will score you 80 most weeks. This year, with a shored up backline for the hawks, I can see Birchall playing more of his traditional sweeping role, pushing up onto a wing and snagging the odd goal more regularly. He is a set and forget player, you can pick him at the start of the season and reap the rewards of the consistency that follows.
Dyson Heppell (ESS) – $439,000
At this stage, there is still some uncertainty with the Essendon Football Club; however for some reason I don't think it will faze this kid – he is a star. Looked like he has bulked up over the pre-season, and as a DEF (in what I think will be his final year as a DEF), you need to be on him. Entering his 3rd season, after a very good first two seasons, I think he will be in the top 5 defenders come the end of the season (along with Goddard, Grimes, Gibbs and Waters). He averaged 83.4 in 2011 and 85.3 in 2012, whilst only missing two games. Sublime skills, and doesn't skirt a contest, I think he will get that additional "midfield time" we are always harping on, and will average 100+ this year. At a considerably low starting price – I don't think you want to miss this boat!
And so that concludes the first series of 52 Pick Up – I hope you've enjoyed it – designed to give you some food for thought when it comes to selecting your 2013 Dream Team, and also for valuable information for those in Draft Leagues. You have four weeks to finalise the starting squad of your 2013 DT, and if you're anything like me – your team will change a countless number of times. Good Luck!
Don't forget to follow me on twitter @cruttonhutton, and use the hashtag #DTsmokies for anything and everything DT smoky related, and inane banter in the lead up to season 2013!