Versus – Round 3: Rockliff v Zorko
Today in Versus we have two young Lions who are both solid in stature and outstanding when it comes to fantasy potential. They share the same position, club and have a hell of a lot else in common – so who comes out on top?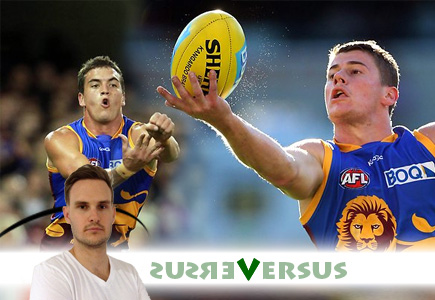 Versus
A head2head analysis of Dream Teams Elite
Each year we are faced with selection decisions that turn into headaches that effectively shape our seasons as Dream Team Coaches. It is imperative to look at all of the issues; all of the positives (and negatives); and get an accurate, well-informed opinion before you make that call. This preseason, McRath (with the help of Rob Rusan) will again look at a series of players who, for whatever reason may find themselves in one of these 50-50 calls. This analysis will help you to make an informed decision and let us handle the headaches.
Next up we have two young Lions who are both solid in stature and outstanding when it comes to fantasy potential. They share the same position, club and have a hell of a lot else in common – so who comes out on top? Tom Rockliff is fresh from a disappointing year, which was compounded (or rather created) by his coach's choice to play him out of position. Where as our other suitor, Dayne Zorko is fresh from a brilliant debut year that saw him average the 2nd highest DT points for his team in 2012. Which one will continue to rise? Which one will back up in 2013 and be the best choice in your Dream Team? Let Round 3 begin…
Tom Rockliff
Price: $481,700
Position: Midfielder, Forward
Age: 22 (23 in 4 days)
Bye round: 11
2012 Details
Average: 93.5
Games played: 22
High score: 143
Low score: 43
No. Of 100+ scores: 8
No. Of sub 80 scores: 8
 
 

Dayne Zorko
Price: $487,800
Position: Midfielder, Forward
Age: 24
Bye round: 11
2012 Details
Average: 94.7
Games played: 16
High score: 140
Low score: 26 (sub-affected)
No. Of 100+ scores: 7
No. Of sub 80 scores: 5
Fixture Analysis
The boys from the Sunshine State have been given every chance to succeed in 2013, having been handed a fantastic draw by the AFL. They will play AFL battlers the Bulldogs, Demons and Suns twice in 2013 – as well as both of the Scott Brothers'-led teams, North and Geelong. This bodes well for both players, with Rocky smashing the Dogs (141), Demons (130 & 119), Gold Coast (143 & 110) and North (128) in 2012 despite his role-obscurity getting in the way. Zorko on the other hand only managed a big score against the Dogs (120), failing to manage a 100+ against any of the others from his 16 games. In terms of getting off to a good start, I can see both players getting off to a flyer in 2013 with Rockliff playing his personal favourites (Dogs, Dees and North) in the first 5 rounds; and Zorko getting the chance to post a big score against the Dogs and the Swans (140 v Sydney in 2012) inside the first 6 rounds.
Verdict: Despite having the same draw, Rocky's experience and proven results against their opposition in 2013 gives him the edge in this battle (Rocky 1, Zorko 0).
Scoring Potential & Consistency
With 6 of his 8 tones (75%) in 2012 being 119 points or higher, Tom Rockliff knows how to go big. Although, Zorko came away with some ripper games in his debut year as well – posting a 120 and a pair of 140's to go with his other 4 x tones. The main selling point for the Zorkmeister is the fact he hit the hundred mark 7 out of 16 games (44%) as opposed to Rocky, who could only manage the mark on 36% of occasions in 2012. What must be addressed however is that the majority of Tom's 2012 seasonal scores can be taken with a grain of salt given Vossy's penchant for making Rocky their interim fix in the forward line. Given he hit the same target 68% of the time in 2011 – this battle is far from a clean matchup. Add to the mix Zorko only debuted last year (in R7 as sub I might add), and we're looking at a lot of circumstantial evidence here. One thing I can say beyond doubt is that both of these boys know how to score and hit the DT scoreboard with enough regularity to ease your mind as a coach.
Verdict: With so many circumstantial issues on the table here, it's not fair to draw a conclusion on this one yet, so we'll call it a draw (Rocky 2, Zorko 1).
Durability & Current Health/Fitness/Offseason Reports
After playing 19 games in his first proper year of AFL foot in 2010, Rocky has played the last two seasons in their entirety – showing amazing resilience and durability in an age where soft-tissue injuries and bone-jarring clashes are as regular as a Harlem Shake video being uploaded to YouTube. He has often played through minor injuries (and with enough heavy strapping to give Juddy's shoulders a run for their money) to show he is one tough mutha. As for this offseason, all recent reports have him feeling happy and confident about Season 2013 and has spoken of a return to the midfield in what has many coaches (including our own destROY) chirping like lorikeets as we near Round 1. Dayne on the other hand was considered a lock in our forward lines this time last year, with a recurrent hip injury plaguing his chances for a Round 1 berth. So it didn't surprise many to see him make the team and stay there once he was back to full fitness as at R7. In what was great news for his coaches, the former-Broadbeach Cat didn't miss a beat from then on as he went on to play the first 16 games of his career without missing anymore. With a bit of talk around the place in the preseason pertaining to more expected attention for the Mask of Zorko in 2013, the challenge will be set early to see if our superstar rookie from 2012 can back it up and go one better.
Verdict: Whilst it's a bit difficult to compare players who've only played one season, any young player who's played 63 out of 66 games at the age of 23 cannot be overlooked – Rocky takes this round too (Rocky 3, Zorko 1).
Bye Week Relevance
This section is barely applicable in this scenario given the two lads share the same week off, but lets lay it out just for fun. The Brisbane Lions will be watching from the stands in Round 11 in 2013, which means our boys Rocky and Zorko will be jostling for positions in your team amongst the company of Martin, Buddy, Roughead and popular mid-pricer Chris Knights. How many R11 players can you fit in your forward line? That question depends on how many others you have in the rest of your team. But if you've exceeded 10-12 R11 players, I think you've had enough. And for clarity's sake, if you're thinking of starting either of them in the midfield, you might have to weigh up whether you can fit them next to the likes of Cotchin, Redden, Mitchell and a swag of gun rookies from Port. There is not verdict to be had here, so move right along.
Value
Value is a concept that is derived from perception, which is essentially what we believe something is worth. In the case of a player's Dream Team value, the things we must look at are their 2012 output, potential for improvement and circumstances (fitness, form and draw). When it comes to Tom Rockliff, I believe he is one of the most under-valued players in Dream Team based on his sub-$500k price. Let's map it out: he is the fittest he's ever been; we already know he is ready to take back his spot in the Lions' engine room; and he has a dream draw to help him back to the heights of his 2011 glory. All considered – he has more value than any other player in his class. So how does Dayne Zorko match that? Well we know that last year's super-rookie didn't have the preseason he'd have wanted; he has a few scores that we can easily write off due to various reasons; and he's a hardworking, durable ball magnet who is stepping into his prime years as a footballer – so he's got a lot going on too. In my mind he's also well undervalued. But is it enough to beat out Rocky?
Verdict: I can't really give anyone else much more of a talk up than that – the value offered by Rocky in 2013 is unmatched by any other (Rocky 4, Zorko 1).
Numbers to Consider
Rockliff
Owned by 27% of coaches currently, displaying his popularity and public confidence in his ability to rise to his 2011 standards

Averaged a massive 112 in 2011 – an increase of 25 points per game on the previous year

Had half as many 30+ disposal games in 2012 as he did in 2011 – indicative of his increased time spent in the forward half
Zorko
Only owned by 10.2% of coaches currently, which makes him somewhat of a unique – at least compared to Rockliff

Average of 101.43 without injury and sub-affected games in 2012

Had the most pun-related comments made about any given rookie since Michael 'bar-low' in 2010.
Conclusion
Will 2013 see the popular 'RedRock Berger' Combo be changed to the 'RedZork Berger' Combo; or will Zorko merely be a side note on what will hopefully be a year full of improvement for the young Lions team? Personally, I can't see Zorko bettering Rocky on the field in 2013 from a DT point of view. He's got him covered in all of the main categories, with his durability, scoring potential and draw working in his favour. Aside from being too 'vanilla', Rocky should just about be a lock in everyone's side at the moment – although I can't think of any justifiable reasons to exclude Zorko from your plans at all either.
Final Verdict: Choose one; or both – just make sure that if you only choose the one, that player is Tom Rockliff.
McRath's 2013 Projections
Rockliff's Average: 108
Zorko's Average: 102
FOLLOW ME ON TWITTER: @McRathDT to share your thoughts on the 2013 Preseason or our Versus Series.