Versus – Round 2: Swan v Ablett
For some, there is no question, it's "I'm having both", but the debate we have year on year is here… Swan or Ablett. Robdog looks at both players in Versus.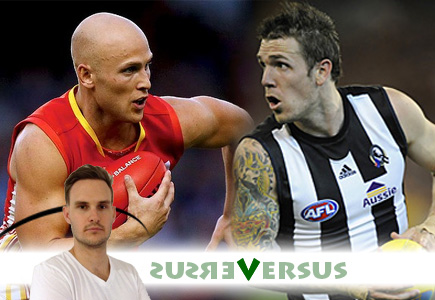 Versus
A head2head analysis of Dream Teams Elite
Each year we are faced with selection decisions that turn into headaches that effectively shape our seasons as Dream Team Coaches. It is imperative to look at all of the issues; all of the positives (and negatives); and get an accurate, well informed opinion before you make that call. This preseason, McRath (with the help of Rob Rusan) will again look at a series of players who, for whatever reason may find themselves in one of these 50-50 calls. This analysis will help you to make an informed decision and let us handle the headaches.
As the two premier Dream Team players from 2012 (and for several years preceding 2012) Ablett and Swan come with big price tags in 2013. Factoring in this along with the fact that they share the bye with many other DT relevant midfielders, coaches could be at a struggle to fit both of these proven superstars into their squads come round one. So that leaves the painstaking question of which one of these two guns to pick if you can only fit in one of them? Hopefully this round in the 'versus' series will help answer that question for you come my final verdict.
Dane Swan
Price: $688 100
Position: Midfielder
Age: 28
Bye round: 13
Average Last 3 Years: 133.56, 120.95, 123.09
2012 Details
Average: 133.3
Games played: 18
High score: 187
Low score: 95
No. Of 100+ scores: 17
No. Of sub 100 scores: 1
Price: $642 500
Position: Midfielder
Age: 28
Bye round: 13
Average Last 3 Years: 124.7, 112.15, 119.05
2012 Details
Average: 124.7
Games played: 20
High score: 186
Low score: 61
No. Of 100+ scores: 16
No. Of sub 100 scores: 4
Fixture Analysis
Based on 2011 & 2012 Stats (Injured games are excluded)
Dane Swan
Teams Played in the first 4 rounds:  North – 155avg (2 games against), Carlton – 107.66 (4), Hawthorn – 132.33 (3), Richmond – 123.5 (2)
Total average against teams played in the first 4 rounds: 129.625
Teams Played Twice: Hawthorn – 132.33 (3), Carlton – 107.66 (4), Essendon – 158.25 (4), North – 155 (2), Sydney – 125 (1)
Total average against teams played twice: 135.65
Swanny has a decent record against the teams he comes up against in the first month, especially against North in round 1 where chances are he could pull out a massive score and get your season off to a nice start as captain. Another positive for Swanny is that he carries a record of a combined average of 135.65 (over the 2011 & 2012 season) against the teams he comes up against twice in 2013.
Gary Ablett Jnr
Teams Played in the first 4 rounds: St Kilda – 107.33 (3), Sydney – 152 (1), Brisbane – 107.5 (4), Port Adelaide – 94.5 (2)
Total average against teams played in the first 4 rounds: 115.33
Teams Played Twice: St Kilda – 107.33 (3), Port Adelaide – 94.5 (2), GWS – 102.5 (2), Melbourne – 113 (2), Brisbane – 107.5 (4)
Total average against teams played twice: 104.96
As you can see from the stats above Ablett has a poor record (by his standards) against both the teams he plays in the first month and the teams he plays twice throughout the season. Also, in light of his 2012 scoring breakdown displaying that when the suns win or play against the lesser teams his scoring is affected, possibly by the reduced reliance on him, the suns weaker draw seems as though it could play against him.
Verdict: Overall it appears as if Swan has a rather favourable draw for his DT scoring while Ablett, despite arguably having the easier team draw, is seemingly worse off in terms of his fixture for DT output. Therefore Swanny gets the points here (Swan 1 – Ablett 0).
Scoring Potential/Ceiling & Consistency
Both Swan and Ablett are in a league of their own when it comes to consistently smashing out huge scores and that is why they do not come cheaply heading into the 2013 season. The following graph displaying the comparison between the two in a deeper break down of their scores:
Verdict: Keeping in mind that Swan was injured in his only game below 100 and unable to finish the game he displayed greater consistency than Ablett throughout the season which grabs him the points once again given their similar ceiling (Swan 2 – Ablett 0).
Durability
Swan missed just 3 games from to 2006-2011 before missing 4 in 2012, 2 due to a club imposed suspension and the other 2 being attributed to a hamstring complaint of which he had no further issue with throughout the season. From this we can say that yes, Dane is very durable, but like most is prone to have the occasional minor injury. On the downside he can also get into a bit of trouble off field which is something to worry about but is only a minor issue. Throughout the same period of 2006-2011, Ablett missed a combined total of 11 matches before missing a further 2 in 2012. However none of these matches missed can be attributed to a major, recurring injury.
Verdict: Both have relatively strong records that show their durability is quite good. Ablett has missed more games however Swan is prone to the occasional off field misdemeanour, so they can't be split in this category (Swan 2.5 – Ablett 0.5).
Current Health and Fitness Reports
According to newly re-instated Collingwood captain Nick Maxwell, Swanny is apparently having one of (if not his best) pre-season to date and is absolutely tearing up the track following a supposed positive change of attitude.
Ablett on the other hand suffered a back injury pre-Christmas, which put him out for a month. He did, however complete a main session just before the Christmas break and is well on track for round one.
Gary Ablett back on deck for Gold Coast
Verdict: Due to his early interruption in the preseason, Ablett may not live up to his price tag in the early part of 2013 whilst he climbs to peak fitness, however I could very well be wrong and it may not affect him at all. With a quality pre-season to date however, Swanny could be absolutely flying from round 1. If he does come out firing then look out if you don't have him from the get go. Swan again by a small margin (Swan 3.5 – Ablett 0.5).
Bye Week Relevance
Given the Best-18 approach Virtual Sports has taken this season and the fact that both Swan and Ablett share the same bye round (13) there is no 'winner' or comparison that needs to be provided in this category. However an important thing to note is that Collingwood and Gold Coast also share the same bye; as do Adelaide, Carlton, Essendon and GWS. Meaning that Swan and Ablett will be missing at the same time as midfield players such as: Beams, Pendles, Watson, Murphy, Stanton, Dangerfield, Thompson, Sidebottom and Toby Greene. Despite the Best-18 being introduced this year I wouldn't be overly confident heading into the season with any more than 3 of those players mentioned, including Ablett and Swan, so be weary of this when selecting your initial squad.
Verdict: They share the same bye, so no there is no point's differential (Swan 3.5 – Ablett 0.5).
Value
Taking into account their starting prices and likelihood that they won't improve on their averages very much (if it all), neither player offers any great value in 2013. To put it simply: you will be paying for either the most (or second most) proven; consistently high scoring; captain option in Dream Team. You will be picking them with the mindset that they are likely to be in the top 3 scoring players for 2013 – and ideally, #1. Therefore in this category they once again can't be split and will share the points (Swan 4 – Ablett 1).
Numbers to Consider
Dane Swan
Average of tons: 135.82
Average Pre Bye: 125
Average Post Bye: 141.67
Average in winning teams: 138.77
Average in losing teams: 120
Average against eventual top 8 teams: 128.71
Average against eventual bottom 10 teams: 136.64
The breakdown of Swan's 2012 season tells us no more than what we already knew. The man is an absolute freak and is consistently good regardless of who and where he is playing. There is a couple of little things to note however: Swan likes to bully the weaker teams – averaging almost 8 more points per game in matches against bottom 10 sides in comparison to matches against fellow top 8 sides. He also plays a lot better when his team is performing better, evidenced by his massive 138.77 average in winning sides compared to his 120 average in losing squads. However, given the fact that he topped the ton in all but one (injured and subbed on 95 with almost a quarter to go) of his 18 matches, including 14 of those scores between 116 and 187, I wouldn't be looking into his 'weaker' performances that seem to come in losing games and against tougher opponents.
Gary Ablett
Average of tons: 134.25
Average Pre Bye: 126.2
Average Post Bye: 123.2
Average in winning teams: 105.33
Average in losing teams: 128.12
Average against eventual top 8 teams: 139.125
Average against eventual bottom 10 teams: 115.08
It can be noted from Ablett's 2012 season that his performances against top 8 teams and in losing sides, far exceeds his performances against bottom 10 teams and in winning matches. I believe this can be attributed to the belief that against the lesser sides his team mates do not have to rely upon him as heavily as they do in their matches against top quality opponents. It can also be seen that in the second half of the season Ablett averaged marginally less than in his first half of the season. I believe that this, in a sign of things to come, is associated with Gold Coast's improved team performance in the second half of the year slightly relieving the heavy reliance on Ablett and in turn affecting his scoring output.
Verdict: If one was to base their selections purely on 2012 statistics Swanny would easily get the nod here following his unprecedented 2012. Great Dane gets the final points (Swan 5 – Ablett 1).
Conclusion
Gary Ablett Jnr will no doubt be a quality selection in 2013. However with the likelihood of a lighter reliance on him due to the likely progression of the Gold Coast list, I can't see him reaching the same heights as his 2012 season. In a bold statement likely to backfire quite heavily on me, I actually believe Gaz Jnr will struggle to be in the top 3 DT players come season end. Now onto the Great Dane – Swanny is an unparalleled force so far in the Dream Team world and there is good reason to believe that this will more than likely continue in 2013. He may slip in his average this year with a possible reduced load in the midfield due to the natural progression of Collingwood's young midfielders and Ball returning to the field.
Final Verdict: Discounting injury, Dane Swan will be the #1 player in Dream Team come years end and remains a deserving selection in your initial team despite his hefty price tag; and in my opinion worth the extra $45k over Ablett in 2013.
FOLLOW ME ON TWITTER: @robertrusan8 to share your thoughts on this Round of 'Versus'.