Basic Draft Strategy
With AFL Fantasy Elite already opening up their doors for drafts, and Ultimate Footy not too far away, it's time to look at some basic drafting strategies for you to think about, ahead of your own Live Draft.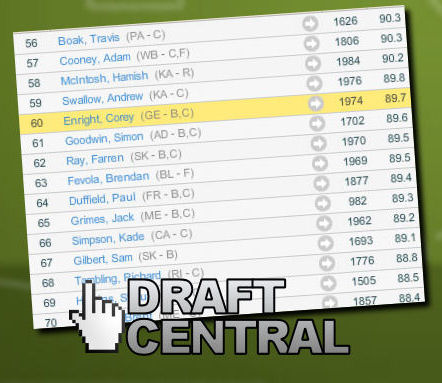 With AFL Fantasy Elite already opening up their doors for drafts, and Ultimate Footy not too far away, it's time to look at some basic drafting strategies for you to think about, ahead of your own Live Draft.
For the purposes of this article, a 'Standard' league will have the following settings. If I don't specify a league niche, this is the type of league you can assume I'm talking about:
12 teams

Point-Scoring (DT standard), H2H league

5-7-1-5/7 squad structure

Non-keeper league

Captains enabled

Snake draft
Pre-Draft
Make no mistake, your Pre-Draft preparations are the most essential ingredient in manufacturing a champion squad. If the Draft is the foundation of your side for the season ahead, then your Pre-Draft Rankings are the builders that lay that foundation. The boy scouts know what they're talking about – 'Always be Prepared' is definitely a motto you should adopt for your draft.
The best way to set your Pre-Draft Rankings for a Live Draft is to simply rank them from your highest predicted average to your lowest. Obviously, this won't be your preferred drafting order for positional reasons, but as you can filter your Rankings during your live-draft by position, it won't matter. Hopefully, this will help you to avoid 'reaching' for a player just for their positional eligibility.
Despite what you might think, it is not enough to spend half an hour fiddling with the order. Like your Dream Team, where every selection is given due diligence and is fully justified, you need to be confident to be able to back in your research while under the pressure of a live selection. At an absolute minimum, your preferences for the top 60 players (the first 5 rounds) should be finely combed, and this can't happen without spending hours agonising over who you'd prefer out of random players like Daniel Cross and Liam Anthony.
First Round
I've said it before, but your prized 1st pick should always be a reliable Captain option. While this is obviously applicable to leagues that enable Captains, it's also important for those that don't; taking someone like Stanton or Franklin first up is risky because they have such fluctuating scores and availability. You'll find it's an uphill battle to win the games where the nucleus of your side, your #1 pick, drops a 60-point game or misses through suspension.
The best pick to have, without a doubt, is the 2nd pick. You can throw a blanket over fantasy freaks Ablett and Swan for the first selection, so to not have to make that decision (as well as getting an earlier 2nd-round selection) is a blessing. It also gives you plenty of time until your next two picks (picks 23 and 26 in a 12 team League) to nail down a strategy based on the pace of the draft set by your fellow coaches.
The Turn
This is what we call the first and last picks in a Snake draft, as you end up with back-to-back selections at the turn of the rounds. It is both a blessing and a curse – while you have the security of knowing that if you pick this midfielder you can still take this defender with your next pick, you also don't have the options to capitalise on 'sliders' that might be available during the large break between your blocks of picks.
If you end up with a Turn pick, my advice is to use them as one-two punches to lock up value and positional needs. I experienced this last season; I went into the draft with Pick 12 and therefore pick 13. At 12 I took Scott Thompson as my Captain option, and given that he averaged 105 (10th highest in the AFL) from 22 games, I was pretty happy with that. With my next pick, I locked up a premium forward in Buddy Franklin, who was somewhat surprisingly still on the table. Later on I took another top-line Midfielder in Griffen, and then locked up an elite ruckman with Sandilands.
This strategy should keep your squad pretty even across all lines if you play it right.
Rushes
It's not uncommon to see a rush for a particular kind of player, especially early in the draft. Typically, this avalanche of similar players usually involves Ruckmen or Defenders, given the lack of premium options on the table.
If you notice this happening, you have two options:
1. Get in quick. You don't want to be sitting at the end of a rush where you're likely paying overs for a player, but if you can still grab that premium at a decent price, then it could be time to pounce. For instance, if you see that Cox and Maric are off the table, it could be wise to jump on Sandilands while you can, given the large void between those three and the next tier of ruckmen. Often, this will start a rush from other coaches as well.
2. Swim against the current. If everyone is rushing for ruckman, then chances are that some players are slipping past their ADP (average draft position) which means there's plenty of value left on the board elsewhere. Instead of reaching for a Ruck, maybe a backman like Carrazzo (defender eligible in Ultimate Footy) is still available and has gone underappreciated to this point. Given that someone like Leuenberger should still be left after the Top 11 ruckman have been snaffled, you might be able to find some value later in the draft.
Mid-Late Round Value
After all the big dogs are off the board, this is where things get interesting. You might have heard coaches say that mid-late rounds is where the battle is won – provided you don't screw up your early picks.
This is where your AFL and fantasy knowledge really comes to the fore. Break-out gems are there for you to unearth late (I took Maric in the 23rd round last season) and underappreciated or unattractive players will definitely slide below their expected output (Nathan Jones went undrafted in our League last year, yet averaged 88.5 point per game – just slightly up on the 85.8 from the year before).
It's a good idea to make a list of possible 'Break-Out' contenders pre-draft, as well as a 'Sleepers' list, so that these guys are still on your radar when you're in the latter stages of your intense live draft.
Handcuffing
Handcuffing is an extremely effective method of insuring your premium players for when/if injury strikes. It involves taking a player's back-up or sidekick, the guy who will be the beneficiary if your gun starter misses for any reason.
An example of this would be if you took Shane Mumford with as your starting Ruck. Given that he's had an injury-interrupted run lately (and especially with his back issues), you might find it advantageous to pick his back-up in Mike Pyke after you've filled your starting positions. If Mumford goes down, you simply swing Pyke onto the field for him, who will likely see a spike in numbers with the extra exposure. This will help limit the damage you receive from having one of your star players out.
This tactic usually involves key position players due to their importance to AFL teams' structure. Getting on Josh Jenkins if you've got Taylor Walker is definitely on option now that Tippett has left, as is Lachie Hansen if Petrie was ever to miss games.
Dual Position
While in most cases DPPs are rendered useless as coaches tend to play them in their 'weaker' position over a whole season, there at times when it becomes extremely important. For instance, Def/Fwd eligible players are gold because if you draft them, you are left with positional flexibility for the rest of your draft, as well as through-out the year.
The most powerful DPP has to be the Ruck/Forward. Being able to stash two starting-quality ruckmen on your field is extremely handy, because it means that if your starting ruckman goes down, you don't have to turn to a handcuff or the free agent pool/waivers to find a replacement. Strongly consider taking guys like Ryder, Cox, Roughead, Hale and even Pederson at different points of your draft, to compliment another ruckman on your list.
Hopefully this should give you a few things to think about when planning for your Live Draft. Note that there is not just the one way to do things – there are many different paths you can take to success in a Draft-style League. However, all start with the same mentality – "Always be Prepared".
Follow me on Twitter: @Tbetta9