The Good Word with Tom Rockliff
I got in touch with "my boy" Tom Rockliff to get an inside scoop on what is happening up at the Lions den, which conveniently is looking a lot like a happy hunting ground for Fantasy coaches this year.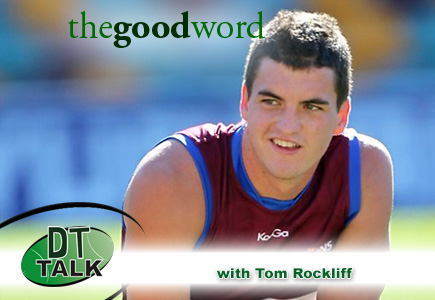 I got in touch with "my boy" Tom Rockliff to get an inside scoop on what is happening up at the Lions den, which conveniently is looking a lot like a happy hunting ground for Fantasy coaches this year.
How is your pre season going? Can we expect a return to your high scoring ways of 2011, this year?
Pre season has been really good for me to date. I have done the whole preseason and running PB's in my time trials. Ready for games to come around. Well I hope I find some good form again and build on last year and spend a lot more time in the midfield.
Last year we saw you play a lot of footy deep in the fwd line. Where do you see yourself playing the majority of your footy this year?
I think I will play a lot more in the midfield and just drift forward for smaller periods of the game. I think we tried a different role for myself later in the year, but I personally think my best position is an inside midfielder.
What teammates do you think will take their game to a new level this year?
I think the most of the boys have had really good preseasons and are ready to take the next step now. I think Hanley and Beams will be valuable players and also the likes of Redden.
With the retirement of Josh Drummond, does that open the door for Sam Docherty to come in and have an immediate impact for our Dream Teams?
I think Sam will play senior footy this year and will be valuable to Dream Teams.
How is Matthew Leuenbeger going? Is he on track to play in round 1?
All going well he will play during the NAB and we all know how good he is when he is up and going. He has started to join in full training and moving well. He will win a lot of hit outs and covers the ground really well.
How is Sam Mayes going? Will he be in the mix for early games?
Sam is a really good kid and should play senior footy this year. He can run and also he is a footballer which I love.
You have picked up Brent Moloney who is coming off a shocking Dream Team year. How is he fitting in and what role can you see him playing?
He will be massive for us and has set himself up for a huge year. Watch this space but I am sure he will have a really good year as he has fitted in amazingly.
How is Brent Staker going? What sort of role can we expect from him?
Yeah he is flying mate going well!! Will play a key role for us! 
We hear that you and Jack Redden have stopped living with each other….. bromance over? Are you pissed off he averaged more Dream Team points than you last year?
Yes we are parting ways. He has decided its time to grow up and fallen head over heels for a lovely young lady. She will be moving up in the new year and they will be living together so I am in the gutter as we speak.
Who will be your first picked player this year and why? (from any club)
Myself, nah just joking. I think Jack is a great pick he does everything and his ability to score extra points through tackles is amazing. He is elite.
Were you as angry as me at Vossy for playing you out of the goal square in 2012?
Ha ha, it was certainly frustrating at times playing forward. But angry at Vossy, never. It was a team role that I needed to play and give us some structure down there. We have a really young forward line and we needed to add a little experience down there.
Can Dayne Zorko maintain or improve on his awesome work last season where he averaged an impressive 95?
Yes, he has had another big preseason and is ready to go. Will clearly attract more attention this year but I am sure he is more than capable of breaking his opponents.
Rate the top 5 Lion players we should be watching through the NAB cup for our Dream Teams
1. Beams
2. Mayes
3. Close
4. Docherty
5. Karnizes
Thanks very much to Rocky for his insight into so many Fantasy relevant players! Can't wait to see him back in the midfield! Make sure you give him a follow @rockwiz38 and follow me @RoyDT.