Jeppa's Juniors – 2013 Ruckmen
With our rookie ruck stocks limited this season, it is time to take a good, hard look at the handful of options available.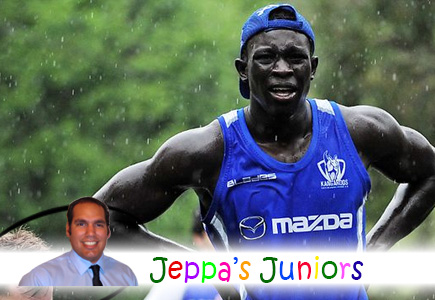 Ruck rookies are always very important and this maybe more important than ever. I think you'd agree that there are no standout ruck rookies this year, so let me point you in the right direction. Here is my opinion on the best ruck rookie options for 2013…
Brodie Grundy
Price: $107,200
Predicted Average: 70
Grundy is your typical modern day ruckman. He is extremely agile for a big man and his athleticism allows him to dominate at stoppages. Grundy gathers plenty of possessions around the ground and he's more than capable of going forward and taking a contested grab. Many consider the top ruckman in last years draft as a steal at pick 18. He has a body ready for AFL and he will be given plenty of opportunities this year. Rumour on the street is that Grundy is out rucking Jolly at training! He will get games this year, that's for sure, and I'd love to say lock him in as your 3rd Ruck but let's see what he shows in the NAB cup before making any concrete decisions.
Daniel Gorringe
Price: $129,800
Predicted Average: 60
Who? Daniel Gorringe, you know, the number 10 pick in the 2010 draft. Remember now? Numerous leg and achilles injures have ruined Gorringe's first two years in the AFL but he is now fit, firing and ready to go in 2013. With Tom Hickey departing in the offseason and Josh Fraser retiring, Gorringe comes up the pecking order at the Suns. He won't be an amazing dreamteam scorer but he should get games and given the limited ruck choices available this year, he is an option.
Majak Daw
Price: $108,500
Predicted 2013 Average: 67
Everyone is waiting for this bloke to play a senior game of footy. Daw boasts a massive leap, is incredibly powerful, and very quick for a big bloke. Take a look at this goal he kicked in the VFL in 2011, Majak Daw VFL Goal of the Year 2011. His VFL form was pretty good in 2012 but I am not sure how he is going to fit into North Melbourne's best 22. Will North play two ruckman?  Will they play Goldy and pinch-hit Petrie in the ruck? Or will they go with Currie? Truth is we just don't know and we probably won't know until Round 1. If Daw plays well in the Nab cup, I'd say he'd be given some opportunities in the season proper.
Setanta O'hAilpin
Price: $157,700
Predicted Average: 69
The big Irishman is ahead of his rehab program and is looking to take part in full training very soon. With Folau out of the picture, O'hAilpin should get games (Source). His Ruc/Fwd eligibility makes him very appealing so if you can afford to spend the extra fifty odd thousand, I think it is worth getting O'hAilpin over Sam Rowe as your 4th ruck.
Daniel Currie
Price: $102,700
Predicted Average: 63
This mature age ruckman was picked up by North Melbourne to boost their ruck stocks after the departure of Hmac to Geelong. He spent five years at the Sydney Swans before being delisted at the end of 2011. In 2012, Currie had a dominant year at North Adelaide in the SANFL where he was named in the bests on 8 occasions. If not at North Melbourne, Currie would have found a home at another AFL club. He is very athletic and an exceptionally hard worker. After the disappointment of being cut from the Swans, I think Currie will take this second chance with both hands and do everything he can to make his mark at the Roos. Ultimately, the battle between Currie and Daw looms as an interesting one so watch this space!
Many coaches are considering Sam Rowe and Liam McBean as their cheap 4th Ruck because of their DPP eligibility. The strategy is recommended however, just be prepared that Rowe and McBean are unlikely to play any games this year. Rowe is probably third behind Casboult and Hampson as preferred full forward and he'll need to find form in the VFL before he is considered for the big time. As for McBean, he is a very lightly framed kid who will be given time to develop like most young tall prospects. I expect 0 games from McBean this year.
It's worth noting that Geelong's Dawson Simpson, Melbourne's Jack Fitzpatrick, Freo's Jack Hannath and Richmond's Tom Derickx are all back up options at their respective clubs and are unlikely to get games, so don't pick them.
Look out for my post NAB Cup analysis on ruck rookies who looked good, rookies who struggled and those who snuck in under the radar!
Catch you on Monday evening for my take on the best rookie defenders.
Remember you can follow me @JeppaDT for all rookie relevant topics and more!
READ JEPPA'S PRE-NAB CUP ROOKIE REPORTS
Defenders / Midfielders / Rucks / Forwards