The Good Word with Matt De Boer
Matt De Boer shares with us the 'good word' about Fremantle's pre-season to date. Who is killing it and who he'll be picking in his team this year.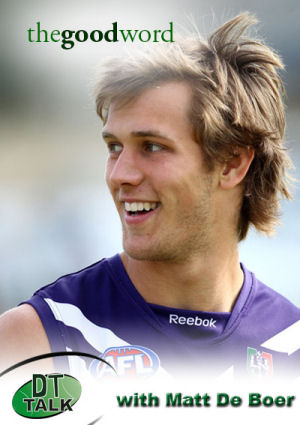 Yep that's right! Matt De Boer up close and personal… not too close though, but I did have a chance to interview the great man recently (31/1/13) about his Dream Team and the progress of some of his team mates during the pre-season. Thanks big time to Matt who is a fanatical DT player himself  – This is unreal information, enjoy!
Your Team
Who will be the first player you pick this year?
Dane Swan – a proven DTer and from all reports is doing no wrong on the track. Also a lock for captain most weeks. (Arrg, I'll be the judge of that… but yes)
After your average rose a massive 22 points last year, can we expect that to rise again, possibly crack the 100 average mark (currently at 84)?
Don't expect much from me boys!
The Duffman!
How do you see Broughton's departure affecting the scores of Paul Duffield?
Depends how many times he kicks to himself kicking out from fullback!! (Ha ha gotta love it)
Seriously though, Duff is training really well and him and Ibbotson could get a bit of it across half back. If Danyle Pearce plays back it could free him up even more.
From Twitter, @CruttonHutton would like to know – Do you see Duffy playing much of a defensive forward tagging role?
Duff has been training down back and looks settled there.
The Giant, The Rookie & The Fyfe
What about Sandilands? Is he 100% fit and travelling well?
Big Spider is travelling really well. Ran a PB for his 3km time trial. Helping our young ruckman along but still the number 1 big man.
Hayden Crozier a chance to be a regular? Is he in the best 22?
Crozy was unlucky last year coming down with Glandular fever after cracking into the team by the middle of last year. He is well and truly over that and training well. His NAB cup form should be followed closely.
@DanielMcLean40 from Twitter would like to know – Is Nathan Fyfe worth the risk? So… How is Nat Fyfe travelling so far this pre-season? Will he be 100% to start round 1?
Fyfey is over his shoulder issues and has put on a couple extra kilograms this preseason and has maintained his running form. Unsure of his price but could be well worth the "risk".
Pearce's Off
@NathanMagor from Twitter land would like to know how the Pearce's have been training so far?
Clancee Pearce has been training predominantly with the midfielders and for the right price is definitely DT relevant. Danyle Pearce has been training around the midfield but beauty of a player like him is he good be pushed forward or back. Dual position on him surely!
Barlow His Best?
Finally, a quick questions from @happyfrosty… He'd love to know whether Michael Barlow looks similar on the track to when he first arrived?
Clearly over his leg issues and does look similar to when he first arrived at the club however stronger in the gym and obviously more experienced around the stoppages.
___________________________________________
Matt…  brilliant stuff. All the best in 2013! Our tip for you in 2013 mate: Kick, mark and tackle… GOAL! Thanks again and it's appreciated by all in DT.
Twitter: @mattdeboer9  & @CalvinDT for all things Fantasy.