Jeppa's Juniors – 2013 Midfielders
Over the next four days I will look at the best rookie options at each position, starting with the all-important midfielders.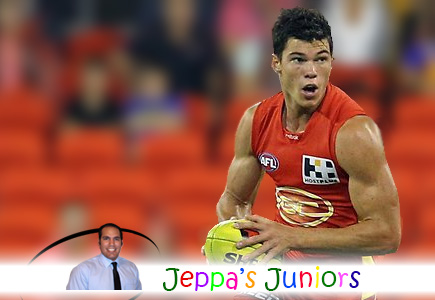 Our selection of rookies in NAB AFL Dream Team will be very different this year. Gone are the days of countless Gold Coast and GWS youngsters with overwhelmed job security, we now need to go that extra mile to find those rookies that will score well and earn you the big bucks fast.
Don't let the rule changes sway how many rookies you start with this season. Yes, more trades give you more options but the objective is still to have 22 premium players in your side as quickly as possible. To achieve this, you are going to need a balance of the best rookies available.
Rookie midfielders are a plenty this season and thus strategy comes into play. How many rookie midfielders do I start? What's their job security? To let you in on a little secret, I am starting 3 midfield rookies this season.
Here is my take on the best midfield rookie options for 2013…
Jaeger O'Meara
Price: $108,500
Predicted 2013 Average: 84
LOCK! No questions asked. This kid is going to be a jet if he isn't one already. To paraphrase Guy McKenna's comments on @6PRSportsToday last week 'Jaeger is a terrific young footballer who would have played a fair chunk of senior footy last year if the rules allowed him to.' O'Meara will have no problems finding the pill and he's put in the work in the gym to be able to mix it with the big boys around the packs. The current favourite for the Rising Star award will be named on the wing for Round 1.
Jack Viney
Price: $102,700
Predicted Average: 79
Viney is another rookie who will play Round 1. He's an inside midfielder who loves to tackle (I love a +4) and compete for the contested ball. He will fit straight in at Melbourne. Viney's weakness is his disposal efficiency but he'll still be given every opportunity to develop his game at senior level. Not only did Melbourne pick him up for a steal at pick 26, Dreamteam coaches get him for a mere $102,700!
Ollie Wines
Price: $156,700
Predicted Average: 82
This man-child is set for numerous appearances for the Power this year. He's a good size for a midfielder with great footy smarts and a strong work ethic. It is likely that Wines will be given a handful of games on a half forward flank before he's thrown into the midfield. With so many cheaper midfield rookie options this year, Fantasy coaches will need to decide whether Wines' higher price tag is justified. In my opinion, it is.
Jimmy Toumpas
Price: $170,200
Predicted Average: 64
Toumpas is an outside, linking midfielder who only needs a handful of possessions to damage the opposition. His strengths are his accurate kick and big tank. Toumpas has had some hip trouble over the preseason and as a result has been nursed through training. I doubt he'll be ready for Round 1 so he'll be one to watch when he comes in later in the season.
Jesse Lonergan
Price: $129,700
Predicted Average: 71
Lonergan is another big-bodied midfielder with a physique undoubtedly ready for AFL. He's a great tackler and good clearance player. The boy from Launceston is highly rated at the Suns and he'll slot straight into a midfield role. Count him in for the majority of games this season barring injury.
Brad Crouch
Price: $108,500
Predicted Average: 73
Why were the Crows so willing to relinquish their first two picks in last year's draft? Is it because they knew they already had a prized youngster in Brad Crouch? Maybe. This hard-nosed midfielder has had a season in the SANFL to prepare for 2013. He boasts a long kick and reminds me a bit like Andrew Embley. Crouch should get plenty of games this season but I'll need to see him in the NAB before I am fully convinced.
Tom Mitchell
Price: $108,500
Predicted Average: 80
Injuries got the better of Mitchell in 2012 but he began preseason training earlier than his teammates in the hope for a big season this year. This ball magnet loves the contest and is another rookie midfielder physically ready for the AFL. His ability to win the footy and gather countless possessions justifies fantasy selection but I can see him getting a green vest or 2 or 3! Watch him closely in the NAB cup and if he is able to stay fit, pencil him in for one of your midfield bench spots.
Nathan Hrovat
Price: $107,200
Predicted Average: 70
At just 175cm, Hrovat won Vic Metro's MVP and achieved All-Australian honours last year. What he lacks in size, he makes up with speed, ferocity, versatility and leadership. Hrovat is highly rated down at the Bulldogs and he'll definitely get games this year. Just be mindful that he'll probably score similar to other pint sized first year players like Dion Prestia and Devon Smith.
Jackson Macrae
Price: $161,200
Predicted Average: 65
This smooth mover was snapped up by the Bulldogs at pick 6 in last year's draft after a dominate display in the national championships. He's got a side step that will put Stevie J to shame and he reads the play really well. Something Macrae needs to work on is his kicking penetration, at the moment he kicks it as long as Chad Fletcher. When he does play senior footy this year, it will probably be from the half forward. His price tag does not warrant selection in my eyes but he will be given numerous opportunities at the Bulldogs this year and could prove to be a unique selection.
Lachie Whitfield
Price: $183,700
Predicted Average: 75
When you think of Whitfield, think of Andrew Gaff. Whitfield's will be a 200+ game player, there is no doubt. His greatest assets are his clean disposal and his elite running ability. His likely role in his first year at the Giants will be as an outside midfielder. Personally, I don't think he will dominate the world of dreamteam and his high price tag is too farfetched. If you wana be different then pick him but Whitfield won't be in my initial side no matter how good his NAB cup campaign is.
Jonathan O'Rourke
Price: $179,200
Predicted Average: 66
There is no doubt that this prolific ball winner is a star of the future. He's another outside midfielder with great foot skills and he will be given games this year at GWS. Like Whitfield, O'Rourke's high price tag does not reflect value for money. I'm not riding him off completely but if I was going to spend big, I'd probably go Whitfield ahead of JR.
Kane Mitchell
Price: $119,300
Predicted Average: 85
The raining Sandover Medallist found his way on to Port's rookie list after a stellar 2012. Mitchell averaged 103 dream team points playing for Claremont last season and notably kicked 30 goals for the year. If you watched DT Talk's Pre Season Episode No. 1, you'd know that Mitchell is being groomed for a defensive half forward role at Port. No doubt this will dent his scoring potential. Pay special attention to Mitchell when the NAB cup comes around but keep in mind that he is still a rookie listed player!
Other midfield rookies to watch closely in the NAB Cup include George Horlin-Smith, Elliott Kavanagh, Sebastian Ross, Tim Broomhead, Dylan Buckley, Josh Cowan, Tom Sheridan, Dean Towers, Lachlan Hunter, Mark Hutchings, Matt Jones and Dean Kent.
Look out for my post NAB cup analysis on midfield rookies who looked good, rookies who struggled and those who snuck in under the radar!
Catch you tomorrow at the same time for my spin on the best Ruck rookies.
Remember you can follow me @JeppaDT for all rookie relevant topics and more!
READ JEPPA'S PRE-NAB CUP ROOKIE REPORTS
Defenders / Midfielders / Rucks / Forwards