Scott Selwood – Deck of Dream Team 2013
With a few extra slots in the midfield and a few extra trades in hand this season, the time is ripe for gambling on that break-out player. Before you lock yourself into a midfield structure, see what Tbetta has to say about one of the competitions future guns.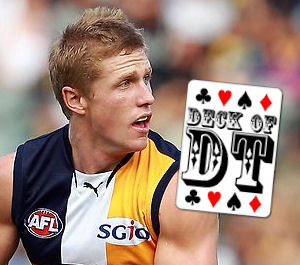 Name: Scott Selwood
Club: West Coast Eagles
Position: Midfielder
Assistant Coach 2013 Price: $503,500
Bye Round: 12
2012 Average: 97.2
2012 Games Played: 22
Predicted Average: 108
Why should I pick him?
Last year, being the Eagles supporter that I am, I was asked a few times what I thought about Scott Selwood as a DreamTeamer. Most replies were kicked off with a scoff, a chuckle, or a slow shaking of the head. Why did I see Scooter as such a dud pick in 2012? Because there was nothing to suggest he was about to forge his way into Premium territory with a 97.2 average, while playing all 22 games.
The role wasn't there – he spent the bulk of the 2011 season as a tagger (and a very good one, averaging 8.1 tackles per game, best in the league), preferring to lock-down opposition play-makers rather than add to his 18.7 disposals per game. The value wasn't there – he averaged 87.1 over 22 games the year before, meaning he was very awkwardly priced in that twilight zone between Premium and Mid-Pricer. The ceiling wasn't there – his highest score was 114 DT points, one of just 3 scores above 100 points all season. Most importantly, the fitness wasn't there – he spent most of the off-season recovering from back surgery, regularly seen walking laps deep into January while his teammates completed full running sessions. Despite obvious ability and a promising future ahead of him, 2012 just didn't look to be his year.
I was wrong.
Scooter started with a bang, averaging 29 disposals and 5 tackles for 115 DT points over the first 6 games, as Worsfold released him as an attacking inside midfielder. This was very surprising given his non-existent pre-season, and it soon showed; after a slow month, Selwood was again reassigned to defensive tagging duties. He still averaged 96.2 points per game in this role, the most of any pure tagger in the AFL. While he was unable to continue his exciting start, 2012 was still a career-year for Selwood, averaging new highs in disposals, marks and goals, winning his Club's Best and Fairest – all while improving his DT output by 10 points per game.
This year, I'm very excited about his prospects. The fitness is there – he's participated in the entire pre-season, apparently "challenging the Eagles' benchmark, Chris Masten, in their running sessions". The role is there – It's reasonable to assume that he'll be able to maintain a high level of fitness throughout the year thanks to an actual pre-season, so expect Worsfold to utilise Scooter as an attacking midfielder in a similar fashion to early 2012. The ceiling is there – Scooter scored over 130 points thrice last year, with ten games above the century mark overall. And critically, the value is there – if his output over early 2012 becomes the norm this season, he is under-priced by about $90k, and that's without projecting any natural development.
To put in in perspective, an improvement of that magnitude would be very similar to Cotchin's 2012, who increased his average from 93.6 to 110.4 to become a Top 6 midfielder.
Why shouldn't I pick him?
There's always the possibility that Scott is deemed by the coaching staff to be more important to the Eagles as a tagger. This seems unlikely given his untapped potential as an attacking midfielder, but his track-record as an excellent stopper works against him.
His tackling has also come into question, having averaged a huge 3.2 less tackles (roughly 13 DT points) per game less in 2012 than the previous season. This is both worrying and pleasing – it's a big sacrifice in point scoring, but it does show that he's paying more attention to his offensive side of the game on a regular basis.
The biggest concern for me is that, while there is no way that he'll average less than he did last season (injuries permitting, of course), will he average enough to become a keeper? Given we have 8 starting MID slots now, I'd be stoked filling them with any of the Top 10 midfielders. Last year, the tenth-highest scoring MID was Scott Thompson, with 105 ppg – this is the figure that Scooter needs to overtake to make him a successful under-priced selection for mine. Will he get there?
Deck of DT Rating.
KING – There is not a lot of downside to picking Scooter, but the potential is huge. If you had Cotchin, Watson or Kennedy last season, you'll appreciate the advantage your side earns by nailing that break-out Super-Premium. There's a handful every year – and the signs are all there for Scott Selwood. Just remember, if he fails to impress you after a few rounds, you always have the option to sideways him to a fallen Premium with all the extra trades we have in 2013. So, if you've got the sack to take a punt, Scooter's your man.
VISION:
FOLLOW ME ON TWITTER: @Tbetta9 for all things fantasy.