Dean Cox – Deck of Dream Team 2013
Happy Australia Day! What better way to celebrate this awesome day than with a look at the best ruckman we've seen in AFL Dream Team. Okay, probably the backyard cricket, BBQ and beer is better… but we can start our day looking at the one and only Dean Cox!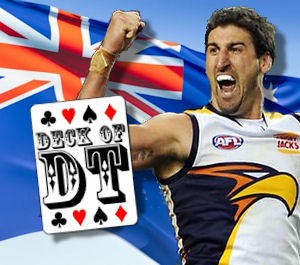 Name: Dean Cox
Club: West Coast Eagles
Position: RUC/FWD
Assistant Coach 2013 Price: $512,400
Bye Round: 12
2012 Average: 99.45
2012 Games Played: 22
Predicted Average: 95
Why should I pick him?
Dean Cox has been the best AFL Dream Team ruckman we've seen over the last few years. His career stats are a thing of beauty… especially since 2005 where he only averaged under 95 once with 4 of those years averaging over 100.
| | | | | | | | | | | | | |
| --- | --- | --- | --- | --- | --- | --- | --- | --- | --- | --- | --- | --- |
| | 2001 | 2002 | 2003 | 2004 | 2005 | 2006 | 2007 | 2008 | 2009 | 2010 | 2011 | 2012 |
| Average | 40.9 | 58.7 | 63.5 | 77.5 | 95 | 98.6 | 100.5 | 106.7 | 107.3 | 84.7 | 107.5 | 99.6 |
| Games | 17 | 19 | 18 | 22 | 22 | 17 | 19 | 22 | 13 | 22 | 22 | 22 |
Alrighty, so his season by season numbers look great up there. Adding to that – even though he is 31 and has a massive 203cm and 106kg frame – he has been one of the most durable ruckmen going around. He hasn't missed a game for 3 years and played every game in 6 out of his last 9 seasons. Durability hasn't proven to be an issue… just yet.
The big selling factor for Dean Cox in 2013 is the he has been named up as a RUC/FWD along with his partner in crime at West Coast, Nic Naitanui. This is based on the role the two of them are playing… and doing so well for the Eagles. NicNat is moving towards being the number one ruckman at West Coast as noted in the AFL Prospectus saying the side has more success at centre clearances when NicNat is there. Being a RUC/FWD means a lot of flexibility when picking Cox. He can be picked for either position and linked up with a fellow Dual Position Player – someone like Liam McBean (Richmond, $102,700) or Sam Rowe (Carlton, $108,700) as a throw away bench position.
Nic Naitanui had groin surgery in the off-season and according to recent news reports, he may miss some early games (Source: West Coast ruckman Nic Naitanui could be sidelined until Round 8 by groin injury), although our friend @FootyRhino spoke to NicNat a couple of days ago saying everything is on track and he's still "aiming for Round 1". Either way, it looks like Coxy will be the number one ruckman for the early part of the season and with that, pumping out the scores that we'd expect from the guru. Scott Lycett (FWD, $162,300) has been named up as the potential early season replacement for NicNat.
We all know what he can do and if we can get a season with 10 DT tons in it – including some monsters like the 148 vs NM and 147 vs Geelong – then we would be silly to not have him in our calculations.
Why shouldn't I pick him?
Even though the last three seasons he hasn't missed a game, his body has taken a bit of a beating over the years and he often plays through injury. When NicNat returns and if Lycett can show a bit early on, maybe we can see some resting and 'player management' for Coxy this season?
Cox's disposal count was down last season. His scoring in a full on team (ie. With NicNat) could slide slightly as… but if last year is anything to go by, it wouldn't be by much.
To be honest, I'm finding this section hard to write… feel free to discuss some 'Why shouldn't I pick him?' things in the comments.
Deck of DT Rating.
KING – Dean Cox is still close to being an ace in my eyes… and possibly playing without NicNat for those early rounds (or at least not at 100%), he is a dead set lock as a starter in my team. His DPP eligibility will probably place him as a forward to start with for me (with McBean sitting on the pine as my throwaway R4). While he may not finish the year with an improved average, his value to us in the first couple of months is huge. The new trading rules makes Coxy a great pick to start with and if NicNat comes back and Coxy's scoring drops, he will be easy to trade thanks to our two trades per week. Now off to get the BBQ going, tape up the tennis ball and smash down a few beers!
FOLLOW ME ON TWITTER: @WarnieDT for all things DT (and more). Got something to say about the deck? Use the hashtag… #DeckofDT.