Jack Grimes – Deck of Dream Team 2013
Whether you love him or hate him, Jack Grimes averaged an impressive 92 last year but obviously comes with the risk that he is always injured. He's only just played over 50 games in his 5 year career but after knocking up 21 games in 2012, the Melbourne captain appears to be ready to make your DT backline in 2013!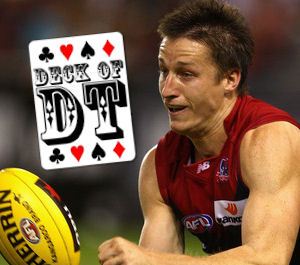 Name: Jack Grimes
Club: Melbourne
Position: Defender
Assistant Coach 2013 Price: $474,000
Bye Round: 12 (Shared with Geelong, North Melbourne, St Kilda, Sydney & West Coast)
2012 Average: 92
2012 Games Played: 21
Predicted Average: 93
Why should I pick him?
Because we all need defenders and last year, Jack Grimes was one of the best. He averaged 92, which ranked him as the 3rd best defender from those who played 20 games or more. After a slow start to the season that saw Jack average 65 in his first 3 games he came home strong due to seeing more midfield time. In his last 8 games for the year, Grimes averaged a very solid 105 with 5 scores of 100 or more.
Another reason to pick Jack is because Melbourne suck. They need quality players around the ball and Grimes is certainly one of these.
But he gets injured all the time? Yeah maybe so (I'll go on about that below) but I have a question for you. How many defenders who averaged 85+ last year played all 22 games? The answer is NONE. Grimes and Heath Scotland played the most with 21 each.
Why shouldn't I pick him?
Although Jack is only 23 years old, he has the body of a 70 year old man. Over the last 3 seasons, Jack has only played in 62% of the games available. In fact, this Melbourne captain enters his 6th season with only 53 games against his name. With that said, he only missed 1 game last year in Rd. 4 after being KO'ed in the previous match.
So is he fit in 2013? Surprise surprise! He hasn't been 100%. He did say that he was right back on track with his training after a modified training pre-Christmas.
"Personally, it's really good to be back. I missed a little bit of training before Christmas, so it was good to come back into the full session…" he said. Ummmm
Deck of DT Rating
QUEEN – Ok, so we can go on and on about the injuries and the bad run he has had over his career. With that said, he did play 21 games last year and did average 105 in his last 8 games. We all need good, reliable defenders who float through the midfield and Jack certainly ticks most of these boxes. Will he be able to play 22 games this year? Let me check my crystal ball. I think he might, or come bloody close!
Make sure you are picking the right "Jack Grimes" too. Not the KKK leader you can see on Jerry Springer (VIDEO) or the musician (VIDEO) oh and the character on the Simpsons… nah, that's Frank Grimes – they must be related though!!
FOLLOW ME ON TWITTER: @CalvinDT for things Fantasy