Shannon Byrnes – Deck of Dream Team 2013
Remember when Chris Dawes was in the Deck of Dream Team? Lol. Boy did that go well! Anyway, on an unrelated note here's another new Melbourne recruit who will be playing forward for the Demons in 2013. Will he be in your teams in 2013? He should be. Re-introducing; Shannon Byrnes.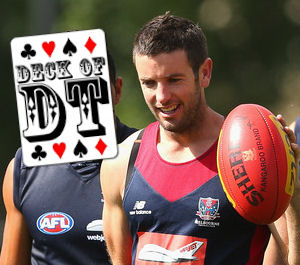 Name: Shannon Byrnes

Club: Melbourne
Position: Forward
Assistant Coach 2013 Price: $229,300
Bye Round: 12 (Shared with Geelong, Melbourne, North Melbourne, St Kilda, Sydney & West Coast)
2012 Average: 43.5
2012 Games Played: 4
Predicted Average: 86.5
Why should I pick him?
What the hell is the hype amongst some Dream Team coaches about Shannon Boo-urns? I mean, yes, last season Byrnes played only four games, following on from his five games in 2011, so he is heavily reduced in price. And yes, Byrnes has changed clubs from premiership contenders Geelong to cellar dwellers Melbourne. I mean, yes, he has been voted into Melbourne's leadership group in his first year because of what he has been showing during preseason physically and is expected to play the entire season, and yeah, maybe he is only 29 and… Hmm. I think I'm starting to get it.
Priced at $25,000 less than the other club-changing popular-forward mid-priced option Chris Knights, Byrnes attraction here is value. At only $60,000 above top-rookie prices, Byrnes offers you one thing most rookies can't – job security. Byrnes hasn't been placed in Melbourne's leadership group because of his ability to give a speech, he is there because it is expected that he will lead by example on the field, each and every week for the Demons.
After falling out of favour with the Geelong selection panel the past two years, Shannon has managed just 9 games in two seasons. In 2011 it was knee and calf injuries that kept him out of the line-up, but in 2012 it was simply a matter of youth before experience for the Cats. Byrnes was relegated to the VFL where he went on the war-path. In his 16 games at VFL level he didn't drop below 18 disposals once and he applied amazing forward pressure, racking up 17 tackles against North Ballarat, and featured in the 'best players' voting numerous times.
Forward pressure and Melbourne Demons are two terms not often associated, unless the words lacking, none, or disgraceful are used to bind them. This is exactly what Byrnes offers the Demons, and with Chris Butter-Fingers Dawes joining the club for 2013, there should be plenty of opportunity for Byrnes to make an impact this season when the ball hits the turf.
Why shouldn't I pick him?
Okay, so he is kind of old at 29 and he is at a new club, which always has you asking questions. He also has never had that 'amazing season', with his best dream team seasons coming in 2009 when he averaged 85.3 in 19 games & his next best in 2010 averaging 79.4 from 20. Then again, he was sharing the forward line crumbing roles with Ablett, Bartel, Johnson & Chapman. At Melbourne it will be Sylvia & umm. Neville Jetta? Anyway…
His price is also a little awkward. He is double what you would pay for a forward rookie, if you can find one who will play, but he won't score double what they would; so he won't make you as much money purely on output if you are looking for a traditional cash cow. Add to this that he has never played a full season and I am now going back to my original question, why are some coaches considering him?
Deck of DT Rating
JACK. It's hard enough finding solid rookies in the forward line before the NAB Cup, with Macaffer, O'hAilpin & Staker all appearing in squads because of this. Even with those three there are question marks over where they fit in the best 22, and if their bodies are fully fit. With Byrnes, you don't have those questions. He is well and truly in Melbourne's best 22 and his body is right. Last year he smashed the VFL in tackles, scoring impacts and an ability to win the ball, averaging 23 disposals and 93 points per game. Oh, I hadn't mentioned that? Yeah, he averaged 93 points per game in the VFL  over 16 games. That's probably why some coaches are considering him at less than $230,000.
FOLLOW ME ON TWITTER: @RLGriffin85 for all things fantasy. Got something to say about the deck? Use the hashtag… #DeckofDT.