David Mundy – Deck of Dream Team 2013
He is often forgotten about because he plays for the Dockers. However, Mundy wasn't able to reach his potential last year due to his interupted preseason. This year he has been able to get a good preseason in and I beileve he is capable to get back to his B&F form of 2010.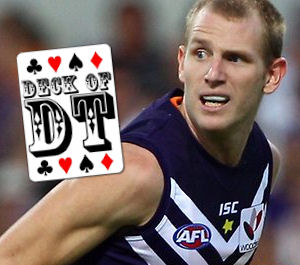 Name: David Mundy
Club: Fremantle
Position: Midfield
Assistant Coach 2013 Price: $451,800
Bye Round: 11
2012 Average: 87.7
2012 Games Played: 20
Predicted Average: 95
Why Should I Pick Him?
Mundy is one of Fremantle's key midfielders and he has the pedigree to score very well.   Last year he was coming back after an injury interupted 2011 season.  He missed the first two games of the season and then copped a green vest in the third round and scored 49.  He also had a red vest in round 17 with a 57.  If you take those two games out of the equation then he averaged 91.5.  In his last 5 games he had a nice run of 121, 73, 130, 125 and 111.  This clearly showed that he grew in match fitness and confidence as the season went on.
In his previous seasons he had averages of 79, 89 and 96 (in his injury year) before last years 87.  So there is evidence that he was improving and he is certainly one of the most dangerous Fremantle midfielders.  Last year he had an average of 22 disposals of which nearly 14 of them were kicks which is good for us DT'ers.
His injury in 2011 was a broken leg, so it isn't like a soft tissue injury that is likely to re-occur.  It was a freak accident so I am not concerned injury wise with the Docker midfielder.  2012 wasn'this best statistic wise, however, a full preseason for him leading into the 2013 season should see him head back to that 96 that he achieved before his was struck with that broken leg in 2011.
One of the biggest advantages that he has over the rest of competition is that he has the big 211 monalith Sandilands feeding him first use of the ball the majority of the time!  Another thing that is going to help him is that the more time that Matthew Pavlich spends in the midfield then the less attention he is going to get.  So if Pav, Barlow and Pearce are going to get the best taggers, this could leave Mundy out there to just rack up the possessions.  It is a very similar situation that Dayne Beams found himself in last year with all the talent around the Collingwood midfield.
Why Shouldn't I Pick Him?
One of the main reasons that I would be wary of Mundy is the ever increasing midfield quality at Freo.  The main one of course being our best mate Michael Barlow.  Now they have added Danyle Pearce from Port Adelaide and they have said that he will be one of their main midfield players.  Throw in there Nat Fyfe and there are quite a few guys to spread the points amongst, however, as we have seen at Collingwood there is no reason that all of these guys can't all get some good points.
One area that he doesn't match other midfielders in is his goal scoring.  Across his career he has only been averaging around a half a goal a game.  If with the bolstering of the Freo midfield and a fully fit Barlow and Fyfe he may be able to float forward to try and get a few more goals.
Deck of DT Rating
Queen.  Mundy is a quality player who is going to get his points.  He will be a steady flow of points for your team and is not at a super premo price.  With a full pre season under his belt this year there is no reason as to why he can't get back onto the path that he was on before his injury.  When he was last fully fit with a full preseason he won the Fremantle B&F.  I see no reason why he can't get back to that in 2013.
Follow Me On Twitter: @pkd73  I will try and help you throughout the year and hope to have some fun along the way.
Have your say on the Deck by using #DeckofDT