Dustin Martin – Deck of Dream Team 2013
Dustin Martin was written off by a lot of AFL Dream Team coaches after being a let down in 2012, but he created some buzz in early December because he was 'smashing up the track this pre-season' and consequently went into a lot of Team Picker squads. Will you forgive and forget and get back on board Dusty?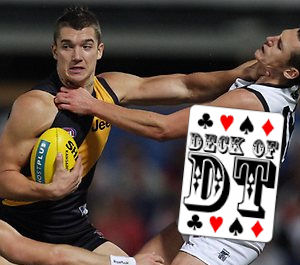 Name: Dustin Martin
Club: Richmond
Position: Midfielder/Forward
Assistant Coach 2013 Price: $437,100
Bye Round: 11
2012 Average: 85
2012 Games Played: 20
Predicted Average: 95
Why should I pick him?
Last season, Dustin Martin was one of the most selected players. We were all expecting a breakout season after a promising debut season of 21 games at and average of 71 and then backing that up with an 89 average playing all 22 games. We expected it to be all up from there going into his third year in the system but alas, he went backwards (albeit slightly) finishing with an average of 85.
It is a new year and with it comes new opportunity… an opportunity for Dusty to build on his solid first three years and show the AFL world how good he can be.
Martin is a cult figure amongst Richmond fans and the greater AFL community. The way he goes about his footy is pretty exciting. The don't argues, the booming kick, etc make him great to watch… despite the neck ink. His place in the Deck of Dream Team and subsequently in a lot of planned teams is due to his pre-season he is having. There have been plenty of good words coming out of Richmond about his efforts in the lead up to the 2013 season and none bigger than in this article on the Tigers website.
In a nutshell it's just another article that is churned out during this time of the year saying someone is smashing it on the track. The gist of the story give Martin a lot of positives about the way he is going about his training; mostly thanks to new assistant coach Mark 'Choco' Williams. The former Power premiership coach has Dusty under his wing, along with other young players, and as a result he is "right up there with his fitness".
This increased fitness is a must for Martin to become a better Dream Teamer. Some interesting stats that were thrown around by Kristian from Footy Tragic (@kristianpisano) highlighted his need for increased fitness. Last year in Dusty's first halves he averaged 48.25 Dream Team point but in his second halves he averaged almost 12 points less with 36.75 points. While this is a trend with quite a few players if you look into the numbers a bit more, there is some room for improvement. It's refreshing to hear he is building on his tank and this should have an effect on his DT scoring.
Martin has had no real injury concerns as a player. He has only missed 3 games in his career… one in his first season for 'soreness' (read: being rested as a rookie) and two through club suspension last year. Don't stress here about him missing games through injury (touch wood).
Heading into his fourth year of AFL, I expect Martin's midfield time to increase as that is what he's all about. The NAB Cup will be quite telling for his role, but priced at 85, there isn't too much risk in him.
Why shouldn't I pick him?
Looking across Martin's scoring last year, it was a very up and down season for him. He only scored 4 DT tons in his 20 games (20%) and threw in the same number of sub-70 scores. His standard deviation wasn't awful, but it didn't get him up there as one of the big dogs of the season – ranking 22nd overall on average of all forwards.
Dusty's lower scores were off the back of spending a fair bit of time up forward. This isn't great for anyone's fantasy scoring, let alone a natural midfielder with limited opportunity in the forward half of the ground.
Dustin Martin is also a bit of a loose unit. If we remember back to July last year, he and his good mate Daniel Connors slept through a compulsory training session and was suspended for two weeks (Connors AFL career was ended with this offence being the straw that broke the camels back). There have been plenty of unsubstantiated rumours about Dustin Martin's illicit drug use and while they are likely just that, rumours, trouble seems to follow him. All of this can't be good for an AFL players mindset all of the time.
There's a bit of risk with picking Martin, but hopefully being another year old and maybe some extra maturity, those risks are limited.
Deck of DT Rating.
KING – Going to have to throw Dustin Martin a king rating here. If you're picking him, he is a keeper (what does that mean with 2 trades per week though?!)… and he should be improving to be a king – with my predicted average of 95, he'll most likely be a top 10 forward. At this stage I'm on. With his MID/FWD eligibility retained, he again may be a popular selection in Dream Team this year.
FOLLOW ME ON TWITTER: @WarnieDT for all things DT (and more). Got something to say about the deck? Use the hashtag… #DeckofDT.