Matthew Boyd – Deck of Dream Team 2013
"He's too old" isn't a valid excuse not to pick Matthew Boyd. Not when he has played more games than any other premuim midfield over the last 5 years missing just 2 games in his last 7 seasons. Too old? Pffthhh, I don't want to hear it!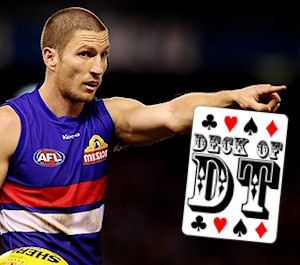 Name: Matthew Boyd
Club: Western Bulldogs
Position: Midfielder
Assistant Coach 2013 Price: $593,700
Bye Round: 11 (shared with Brisbane,  Freo, Hawthorn, Richmond and Port Adelaide)
2012 Average: 115
2012 Games Played: 22
Predicted Average: 112
Why should I pick him?
Matthew Boyd is a proven DT gun. Over the last 3 years he has been ultra consistent averaging 115, 116 and 115 again last year. Each year, DT coaches claim that Boyd is old and 'past it'. They have been saying this for the last 3 years! Add to that the fact he is one of… if not the most durable player in the league after missing just 2 games in the last 7 years, playing 152 out of the possible 154 home and away games avlaible. Not bad for an old guy who is 'past it' hey? Let's compare this to the other 'must have' premuims out there over the last 5 years keeping in mind that Boyd has played 108 out of 110 games = 98% during this time.
Swan 105/110 = 95%
Ablett 98/110 = 89%
Pendlebury 103/110 = 93%
Marc 103/110 = 93%
Selwood 101/110 = 92%
Thompson 108/110 = 98%
Watson 99/110 = 90%
Wholey sh*t! I didn't think I'd find that! I didn't think I'd find that Boydy (the old vet) is the most durable premo midfielder in the league (equal with Thomo). Bugger me. At the end of the day, Boydy has to play. The Bulldogs are sh*t and unlike other teams who can rotate and rest players, Boydy has to play every week just to keep the scoreboard respectable.
Ok… so let's have a look at his 2012 season. He cracked the 100+ mark 77% of the time and posted some beast-like captain scores of 130+ in 32% of his games including a 162 in Rd. 7. The Bulldogs can't be as bad as they have been in the past few years when Boyd has carried them on his back…. surely they must be better in 2013. With this said, maybe if the Dogs can lift, maybe Boyd's numbers will too? This guy is a leader, a proven DT jet… durable, consisent and he'll play every week for you, maybe even when his team has the bye. Maybe not. But Boydy is a DT warrior and he'll fight through injuries to get on the park for you each week.
Why shouldn't I pick him?
He's tooooo old. Ha ha, he is starting to get there I must admit. Matty will play the majority 2013 as a 30 year old gun and then turn 31 later this year. But as I've mentioned he keeps ticking over better than anyone else!
The main reason you shouldn't pick Boyd this year is because I see Boydy only maintaining or slightly decreasing his average this year, compared to the other young guns out there who may push their averages beyond what Boyd currently sits at today. Boyd did have scores of 82, 70 and 84 last year and if he repeats some of those in 2013, he is certainly a quality and very reliable upgrade target.
Deck of DT Rating.
ACE – …. and don't agrue this with me! He's averaged 115.4 over the last 3 years and has played 99% of the games over the last 7 years. For these reasons alone, you can't pick Boyd based on the fact that "he's too old" this is not a valid excuse. There are many other reasons not to pick him but this can not be one of them. Personally, I will not be starting with Boyd. I will be targetting a younger gun who has the potential to push their average above the price their at whereas I see Boyd holding his value or slightly decreasing it. He's a perfect and reliable upgrade target throughout the year.
Twitter follow: CalvinDT – For more words of wisdom